Our On-Camera Masterclasses give students the unique opportunity to work on scenes and audition sides from television shows, films, and commercials. Each workshop focuses on the different acting techniques needed to excel in that particular art form. Workshops are taught by prominent industry pros including NYC and L.A. Casting Directors, L.A. TV/Film Directors, On-Camera Actors, and Scouting Talent Representatives.

April 2020
May 2020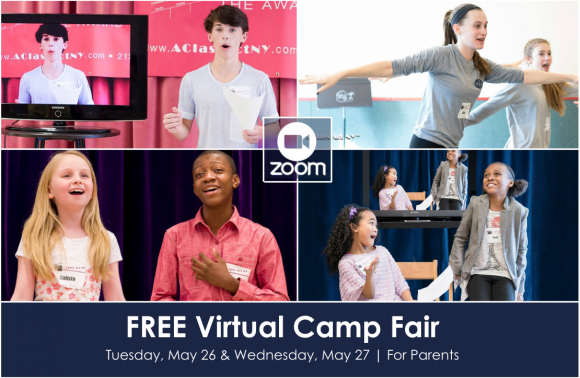 Tuesday, May 26 & Wednesday, May 27 | For Parents and Prospective Campers | Free
We know a lot of you have questions about an online summer program and we're here to address your concerns!
Parents are invited to join A Class Act NY, the award-winning acting studio, on ZOOM for a FREE preview of what Summer 2020 will look like online!
For summer 2020, we will be offering online musical theatre, on-camera and dramatic arts programs taught by amazing Broadway Veterans, Los Angeles Casting Directors and Television and Film Directors.
Join us for some or all of the sessions and feel free to Zoom in and out as you wish!
ACANY has been offering programs online since early March to great success. Our virtual camp fair is for parents who would like to see what separates our online performing arts education from the rest!
We highly recommend watching the session with your child!
We know a lot of you have questions about an online summer program and we're here to address your concerns!
Each session will include:
• A quick introduction to the program
• A demo of how camp will be run featuring ACANY students and a member of our faculty (Broadway Stars, Music Directors and a Top Disney & Nick TV Director)
• A Q&A with ACANY's administrative staff to answer any parent questions
These sessions will just scratch the surface of what we'll be covering throughout the summer. You'll walk away with a better understanding of what a typical online summer camp day will look like.
Camp days will be approximately 3-4 hours long, and will include both private and group instruction.
Campers will also take specialized workshops throughout the week!
Workshops may include: TV and Film Work, Voice-Over, Dance, Uta Hagen and Meisner Acting Techniques, Stage Combat, Dialect Coaching, Monologue Study, Shakespeare, Vocal Technique, and more!
June 2020
September 2020
January 2021
February 2021
March 2021
April 2021
May 2021
June 2021
July 2021
August 2021
September 2021
October 2021
December 2021
January 2022
April 2022
May 2022
July 2022
September 2022
October 2022
November 2022
April 2023
May 2023
+ Export Events