Our On-Camera Masterclasses give students the unique opportunity to work on scenes and audition sides from television shows, films, and commercials. Each workshop focuses on the different acting techniques needed to excel in that particular art form. Workshops are taught by prominent industry pros including NYC and L.A. Casting Directors, L.A. TV/Film Directors, On-Camera Actors, and Scouting Talent Representatives.

July 2022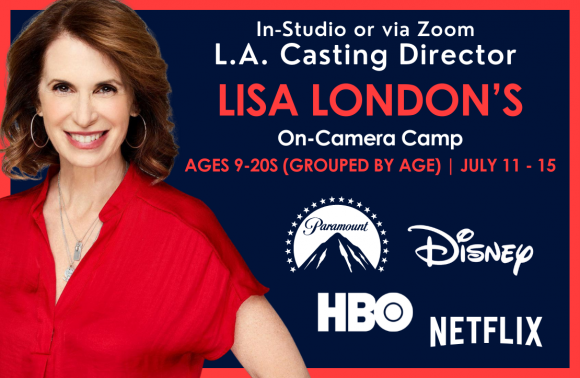 No Audition Required | Teens & Adults | Wednesday, July 13 | 6 - 9 PM ET | Cost 195.00
Take this workshop In-Studio OR Via Zoom!
Performers have the unique opportunity to work with Award-Winning L.A. Casting Director, Lisa London on on-camera acting and auditioning skills.
It's no secret that the past few years have been challenging for the industry, but Lisa and her office, London/Stroud Casting have remained busy including casting 7 films in 2020. Recent 2021 projects include: NOTHING IS IMPOSSIBLE which filmed in Knoxville, Tennessee, STRONG FATHERS, STRONG DAUGHTERS which filmed in Los Angeles, and they are consulting for a film company, PARADOX PICTURES.
Impressively, Lisa London gave the following actors their big break in Hollywood: Emma Stone, Jonah Hill, Yara Shahidi, Miley Cyrus, Selena Gomez, Mark Ruffalo, Giovanni Ribisi, Adrian R. Mante and Adam Irigoyen, to name a few.
Currently, Lisa has over 15 projects in pre- and post-production.
Focus of Intensive:
• The class will cover what casting directors are looking for in auditions, the self-taping process, how to get your agent/manager to work best for you, why some people get callbacks and why you need to research a role.
• The intensive includes on-camera audition technique and will include playback as a teaching tool.
• Each participant will get to read for Lisa and receive one-on-one coaching and feedback. Sides will be sent approximately one week to a few days before the class, emulating a real audition.
+ Export Events