Be anywhere in the world and take an award-winning one-day on-camera masterclass from the comfort of your own home utilizing the video conferencing app ZOOM!

November 2020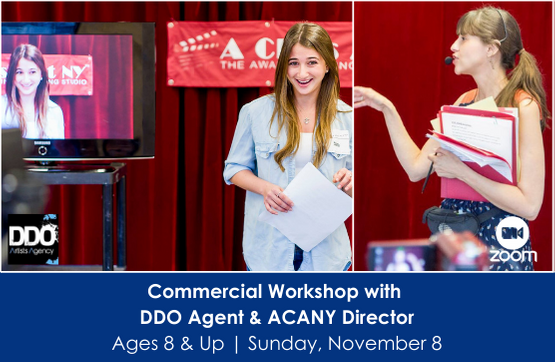 No Audition Required | Ages 8 & Up | Sunday, November 8 | Cost 100.00
Receive one-on-one coaching from the comfort of your own home with Artistic Director, Jessica R. Grosman. Before founding A Class Act NY in 2005, Jessica worked in commercial casting in both NYC and CA!
In this workshop, you will learn the art of commercial acting and audition technique!
Learn how to analyze commercial copy and find the acting beats within the copy to make a lasting impression in the audition room!
Class will conclude in a mock audition for top scouting Talent Agent, Mallory Levy of DDO!
Focus of Class:
• How to analyze and break down commercial copy to find the selling points within the text
• Learn how to nail your slate
• Learn how to sell a product without being too over the top
• Work on proper commercial acting and audition technique
• Learn lingo that is specific to commercial auditions and on-camera acting
• Perform a mock audition for a Top Scouting Talent Agent, Mallory Levy of DDO
+ Export Events