Our On-Camera Masterclasses give students the unique opportunity to work on scenes and audition sides from television shows, films, and commercials. Each workshop focuses on the different acting techniques needed to excel in that particular art form. Workshops are taught by prominent industry pros including NYC and L.A. Casting Directors, L.A. TV/Film Directors, On-Camera Actors, and Scouting Talent Representatives.

July 2021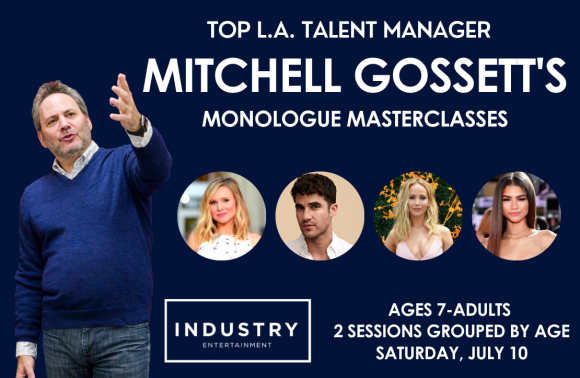 No Audition Required | Ages 7-Adults, 2 Sessions Grouped by Age | Saturday, July 10 | Cost 205.00
Work with powerhouse L.A. Talent Manager Mitchell Gossett of Industry Entertainment Partners in his famous Monologue Masterclass! Mitchell's storied success has allowed him to refer talent to agencies in NY, L.A. and across the USA.
Mitchell believes the most exciting way to explore material is not through thoughts alone, but through "ACTIONS" – through what you are DOING with your body. Bring ACTions into the work creates a stronger, more visceral connection to the material. But as importantly, it also provides a means of showing the most unique feature any actor can present: THEMSELVES in the work. Students will receive monologues in advance of class and Mitchell will offer direction and coaching to lucky participants!
Focus of Class:
• Learn Mitchell Gossett's 'ACTions' Approach to Delivering a Memorable Performance
• Perform a Monologue for Mitchell Gossett
• Receive Insightful Coaching and Feedback from Mitchell Gossett
• Perform a Mock Audition for Mr. Gossett
• Walk Away with a Personalized Feedback Form
• Q&A Open to his Students and Parents of Minor Students (if time permits!)
Throughout his career as a manager and agent, Mitchell has represented and discovered many noteworthy actors, including Jennifer Lawrence (THE HUNGER GAMES, SILVER LININGS PLAYBOOK), Rachel Brosnahan (THE MARVELOUS MRS. MAISEL), Darren Criss (AMERICAN CRIME STORY, GLEE), Zendaya (THE GREATEST SHOWMAN, EUPHORIA), Kristen Bell (FROZEN 1 & 2, THE GOOD PLACE), Brandon Victor Dixon (HAMILTON, JESUS CHRIST SUPERSTAR), Dylan Minnette (13 REASONS WHY), Kiernan Shipka (THE CHILLING ADVENTURES OF SERENA, MAD MEN), Jojo Siwa (DANCE MOMS, THE J TEAM), Miley Cyrus (THE LAST SONG, HANNAH MONTANA), Lucy Hale (PRETTY LITTLE LIARS) and many, many others.
LEARN MORE or CLICK TO REGISTER
August 2021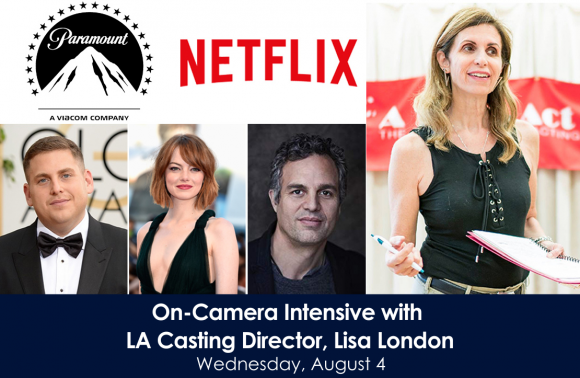 No Audition Required | Ages 15+ | Wednesday, August 4 | 6 - 9 PM Eastern | Cost 195.00
Have the unique opportunity to work with Award-Winning L.A. Casting Director, Lisa London on on-camera acting and auditioning skills.
In the very challenging year of 2020, Lisa and her office, London/Stroud Casting, cast 7 films that went into production. These included THE INHERITANCE which filmed in Georgia, BASEMENT which filmed on Long Island, OLD HENRY which filmed in Nashville, CANYON DEL MUERTO which filmed in New Mexico, STATE OF CONSCIOUSNESS, EDDIE AND SUNNY and LOVE ON THE ROCK which filmed overseas in Italy and Malta, respectively. Lisa and her partner, Catherine Stroud cast actors from all over the USA, and even the world for these different movies.
Impressively, Lisa London gave the following actors their big break in Hollywood: Emma Stone, Jonah Hill, Yara Shahidi, Miley Cyrus, Selena Gomez, Mark Ruffalo, Giovanni Ribisi, Adrian R. Mante and Adam Irigoyen, to name a few.
Focus of Class:
• The class will cover what casting directors are looking for in auditions, the self-taping process, how to get your agent/manager to work best for you, why some people get callbacks and why you need to research a role.
• The intensive includes on-camera audition technique and will include playback as a teaching tool.
• Each participant will get to read for Lisa and receive one-on-one coaching and feedback. Sides will be sent approximately one week to a few days before the class, emulating a real audition.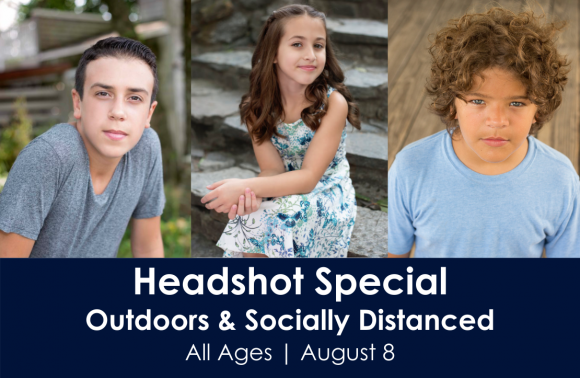 All Ages | Sunday, August 8 | Cost 155.00
Stephanie Hedges is a renowned headshot photographer whose philosophy is to create a relaxed, successful atmosphere that allows her to capture the personality of aspiring young actors!
Outdoor Socially Distanced Mini-Session includes: 30 min. session outdoors | Online watermarked low res gallery within 3 to 5 business days | 2 High-Resolution Retouched images within 5 to 7 business days
+ Export Events