Our Dramatic Arts Masterclasses expose students to a variety of acting techniques and give actors the tools necessary to succeed on stage, on-camera or in the voice-over studio.
Instructors are prominent Broadway, On-Camera and Voice-Over Actors and Industry Pros from NYC and LA who are all working in the field today!

October 2021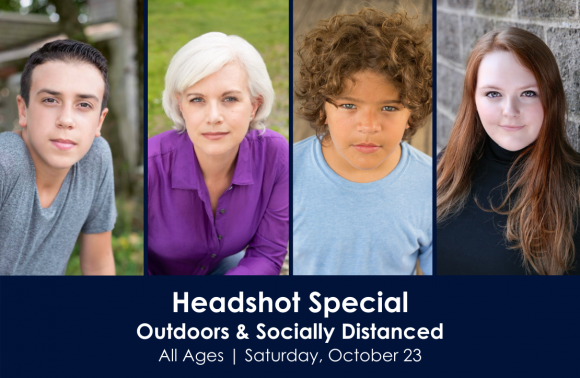 All Ages | Saturday, October 23 | Cost 155.00
Stephanie Hedges is a renowned headshot photographer whose philosophy is to create a relaxed, successful atmosphere that allows her to capture the personality of aspiring actors!
Outdoor Socially Distanced Mini-Session includes: 30 min. session outdoors | Online watermarked low res gallery within 3 to 5 business days | 2 High-Resolution Retouched images within 5 to 7 business days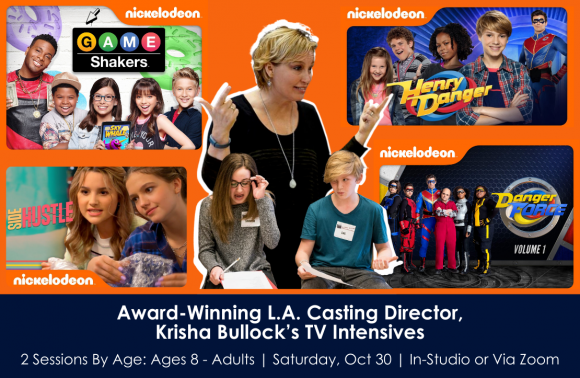 No Audition Required | 2 Sessions Split By Age, 8 & Up  | Saturday, October 30 | Cost 195.00
Take this workshop In-Studio OR Via Zoom!
Take one or more intensives with powerhouse L.A. Casting Director, Krisha Bullock of Bullock & Snow Casting, who will be both LIVE in our NYC Studio or beamed into your home via Zoom!
Krisha is one of the most prolific Casting Directors in the industry. She specializes in youth casting, from hit children's television shows on kid-friendly networks to feature films and commercials.
Bullock & Snow Casting are the go-to Nickelodeon Casting Directors in the business! Impressive credits include TV shows, films and pilots such as DANGER FORCE and SIDE HUSTLE, and the recently released DRAMA DRAMA - now streaming on Amazon Prime Video! Upcoming projects include the film THE LONGEST SLEEP, and the highly anticipated FAIRLY ODDPARENTS reboot coming to Paramount+. Other notable credits include hit series such as HENRY DANGER, GAME SHAKERS, SAM AND CAT, DEGRASSI: THE NEXT GENERATION, iCARLY, DRAKE AND JOSH, ZOEY 101, VICTORIOUS, and TRUE JACKSON VP!
Focus of Class:
• Perform scenes for Krisha and receive one-on-one feedback and coaching
• Start creating a relationship with a top L.A. industry insider
• Learn what Krisha and other casting directors look for in actors
• Learn how to leave an impression in the audition room
• Informative Q&A for students and their parents
LEARN MORE or CLICK HERE TO REGISTER
December 2021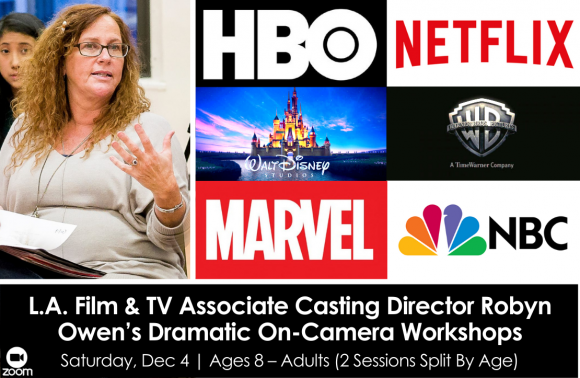 No Audition Required | Ages 8 - Adults (2 Sessions Split By Age) |  Saturday, December 4  | Cost to Participate 195.00 | Cost to Observe 55.00
Work one-on-one with L.A. Associate Casting Director, Robyn Owen of Robyn Owen Casting, a 20-year veteran of the casting industry!
Robyn works as an Associate Casting Director on important big-budget feature films and television series, many from acclaimed Academy Award Nominated Director, Writer, and Producer, Ava DuVernay. Some of her most recent projects include: the upcoming CW TV Series from Ava DuVernay, NAOMI* (WB/CW) which stars our alumna, Kaci Walfall, DMZ (HBO MAX) also from DuVernay, CHERISH THE DAY (WB/OWN) another DuVernay project, QUEEN SUGAR (WB/OWN) also from DuVernay, A WRINKLE IN TIME (Feature Film) directed by DuVernay , THE WATER MAN (Feature Film), MISS VIRGINIA* (Feature Film) starring our alumni, Niles Fitch and Uzo Aduba, and A TRUE CRIME (Film Short). 
* These projects star ACANY alumni who have met their representation at our programs! Kaci Walfall is set to star as the titular character in NAOMI on the CW, and Niles Fitch stars as James in Netflix's MISS VIRGINIA. You can read more on our Student Achievement Page!
Focus of Class:
• Perform Dramatic Film & TV sides for associate casting director, Robyn Owen
• Learn proper on-camera and audition technique
• Learn important on-camera lingo and terminology
• Receive feedback and coaching from associate casting director, Robyn Owen
• Informative Q&A for students and their parents
LEARN MORE or CLICK TO REGISTER
+ Export Events