Be anywhere in the world and take an award-winning one or two-day Dramatic Arts Masterclass from the comfort of your own home utilizing the video conferencing app ZOOM!

May 2021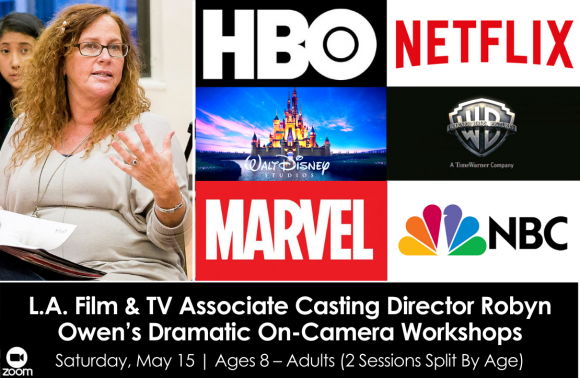 No Audition Required | Ages 8 - Adults (2 Sessions Split By Age) |  Saturday, May 15  | Cost to Participate 195.00 | Cost to Observe 40.00
Session 1: SOLD OUT! JOIN THE WAITLIST or PURCHASE AN OBSERVATION TICKET!
Session 2: SOLD OUT! JOIN THE WAITLIST or PURCHASE AN OBSERVATION TICKET!
Work one-on-one with L.A. Associate Casting Director, Robyn Owen of Robyn Owen Casting, a 20-year veteran of the casting industry!
Robyn works as an Associate Casting Director on many important big-budget feature films and television series. Some of her most recent projects include: DMZ (HBO MAX), CHERISH THE DAY (WB/OWN), QUEEN SUGAR (WB/OWN), A WRINKLE IN TIME (Feature Film), THE WATER MAN (Feature Film), MISS VIRGINIA (Feature Film), and A TRUE CRIME (Film Short). Turns out our former student, Niles Fitch, who met his agent at our workshop, stars in MISS VIRGINIA!
LEARN MORE or JOIN THE WAITLIST or PURCHASE AN OBSERVATION TICKET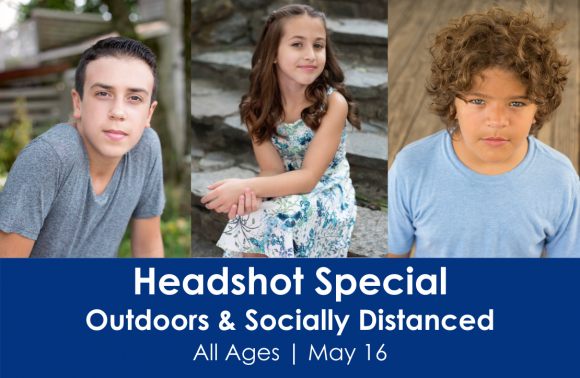 All Ages | Sunday, May 16 | Cost 155.00
3 SPOTS LEFT!
Stephanie Hedges is a renowned headshot photographer whose philosophy is to create a relaxed, successful atmosphere that allows her to capture the personality of aspiring young actors!
Outdoor Socially Distanced Mini-Session includes: 30 min. session outdoors | Online watermarked low res gallery within 3 to 5 business days | 2 High-Resolution Retouched images within 5 to 7 business days
*Rain date: Sunday, May 23
June 2021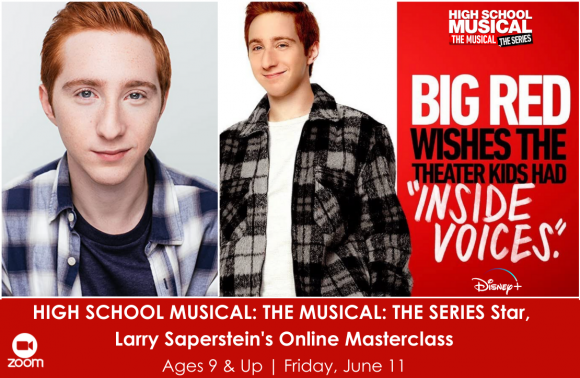 No Audition Required | Ages 9 & Up | Friday, June 11 | Cost to Participate 165.00 | Cost to Observe 40.00
Open to Singers & Non-Singers!
Larry Saperstein is an actor, best known for his role as Big Red on HIGH SCHOOL MUSICAL: THE MUSICAL: THE SERIES! Before starring in the hit Disney+ series, Larry got his start performing in local productions on Long Island. Not only that, but Larry took various workshops at our studio! Some of his early stage credit include THE MUSIC MAN and MIRACLE ON 34TH STREET. Other on-screen credits include: FAN GIRL (ABC Family) and THE FIRST WIVES CLUB (BET+).
Larry will be working one-on-one via the Zoom app with his students!
Perform a 32-bar cut OR a scene from a Disney or Nick sitcom (with a professional reader) for Larry, who will offer each participant feedback and direction!
This class is designed for singers and non-singers, alike!
Class will conclude with a fascinating and informative Q&A with this Disney+ Star!
Interested in purchasing a professional performance track? Email us your sheet music 24-48 hours in advance of the class, and we will send you a professional performance track for only $25! Purchase here!
+ Export Events