Our Dramatic Arts Masterclasses expose students to a variety of acting techniques and give actors the tools necessary to succeed on stage, on-camera or in the voice-over studio.
Instructors are prominent Broadway, On-Camera and Voice-Over Actors and Industry Pros from NYC and LA who are all working in the field today!

January 2023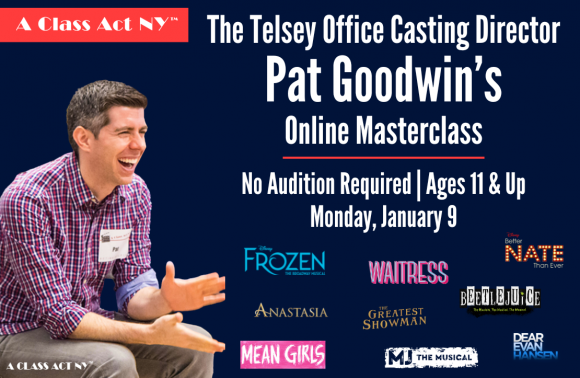 No Audition Required | Ages 11 & Up (Email us for an age exception) | Monday, January 9 | Cost to Perform 195.00 | Cost to Observe 55.00
SOLD OUT! JOIN THE WAITLIST or PURCHASE AN OBSERVATION TICKET! If someone is a no-show, pay the difference and perform in class!
Work one-on-one with Casting Director, Pat Goodwin (CSA) of The Telsey Office! The Telsey Office is the casting office behind Broadway and Off-Broadway hits and National Tours such as BEETLEJUICE*, MJ*, FROZEN*, ANASTASIA*, MEAN GIRLS, WAITRESS*, HAMILTON, THE PROM, BE MORE CHILL, WEST SIDE STORY, SPONGEBOB SQUAREPANTS, SOME LIKE IT HOT, THE CHER SHOW, CAROUSEL, and many other shows too numerous to mention here!
LEARN MORE or JOIN THE WAITLIST or PURCHASE AN OBSERVATION TICKET
May 2023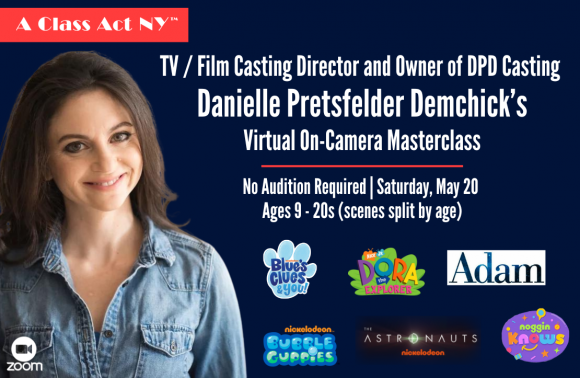 No Audition Required | Ages 9 - 20s (scenes split by age) | Saturday, May 20 | Cost to Participate 195.00 | Cost to Observe 55.00
Work via Zoom, with Top TV & Film Casting Director, Danielle Pretsfelder Demchick of DPD Casting, an 18-year veteran of the casting industry!
Danielle worked as a Casting Director at NICKELODEON for over 14 years, where she tapped into her love of developing young talent.  
Some highlights from her NICKELODEON years include BLUES CLUES, THE ASTRONAUTS, THE BARBARIAN AND THE TROLL, BUBBLE GUPPIES, DRAMA CLUB, DORA THE EXPLORER, WELCOME TO THE WAYNE and more!
Since her departure from Nickelodeon to open her own casting office in April 2022, she has cast AMERICAN GIRL: CORINNE TAN, the first American Girl of the Year film, which tells the story of the first Chinese American Girl, for HBOMax and Marvista Entertainment, LAST WEEK TONIGHT with John Oliver and worked as the kids casting director/consultant on several films including YOU ARE SO NOT INVITED TO MY BAT MITZVAH. She is currently casting an unscripted girl group for Republic Records and JYP Entertainment and continues to cast Viacom Kids & Family content, including a collaboration with Alvin Ailey!
Danielle also serves as the CO-VP of Advocacy for the Casting Society of America.
Focus of Class:
• Perform Film & TV Sides for Casting Director, Danielle Pretsfelder Demchick
• Learn Proper On-Camera Acting and Audition Technique with a special focus on how to have an awesome Zoom Audition
• Learn how to give a nuanced and authentic performance for the Camera
• Receive Feedback and Coaching from Casting Director, Danielle Pretsfelder Demchick
• Informative Q&A for Students and Parents of Minors
LEARN MORE or CLICK TO REGISTER
+ Export Events