Our Musical Theatre Masterclasses give students the unique opportunity to work on the three essential disciplines that make up musical theatre: singing, dancing and acting. Instructors include prominent Broadway Stars, Casting Directors and Talent Representatives who will provide a superior education in a fun and supportive environment!

September 2022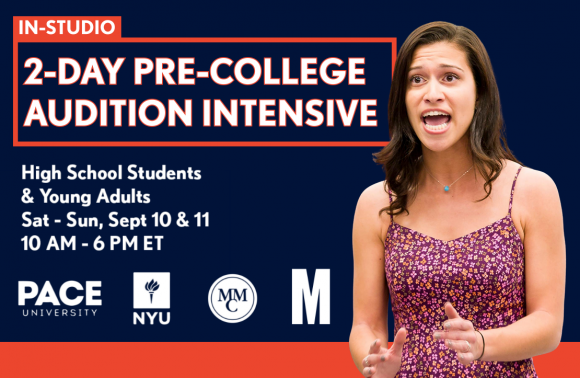 No Audition Required | High School Students & Young Adults | Saturday, September 10 & Sunday, September 11 | 10 AM - 6 PM Eastern | 595.00
ONLY 3 SPOTS LEFT!
Instructor: College Admissions Officer, Wayne Petro of Pace University
Calling high school students and young adults with aspirations of attending a top BFA, BM, or BA Musical Theatre College Program!
It's never too early to start preparing for college auditions!
Do you need guidance on the college admissions process like, how do I go about choosing the right material that showcases me, my vocal range and my unique personality? How do I create a professional and memorable pre-screen video? Do you want to know what college admissions officers are looking for?
If you have answered yes to any of these questions, ACANY's 2-Day Pre-College Audition Intensive is for YOU!
Work all weekend alongside a college admissions officer, and a professional music director to prepare for the showcase with more admissions officers coming in on Sunday! This 2-Day College Prep Intensive will leave you confident and ready to take on the daunting task of applying to college musical theatre programs!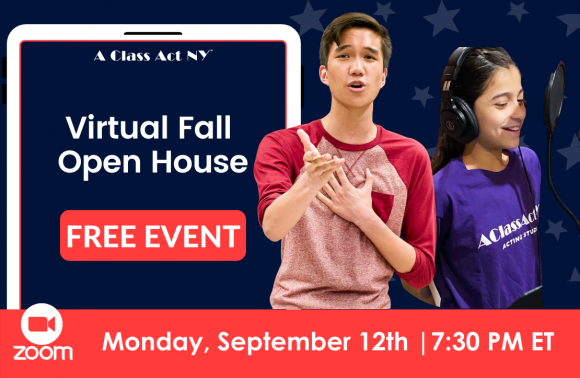 For Parents & Prospective Students Ages 7-20s | Monday, September 12 | 7:30-9:30 PM ET | Free
Join A Class Act NY, the award-winning acting studio, on ZOOM, for a FREE preview of what our Fall 2022 Programs will look like!
This Fall, we'll be offering both In-Studio and Virtual Musical Theatre, On-Camera, Voice-Over and Dramatic Arts Programs taught by amazing Broadway Veterans, On-Camera Actors, Voice-Over Artists and L.A. and NYC Industry Pros including TV/Film Directors, Casting Directors and Agents & Managers!
Join us for some, or all of the sessions, and feel free to Zoom in and out as you wish!
The Open House Will Cover:
• A quick introduction to our programs
• A demo of how select programs will be run featuring ACANY students and members of our faculty
• A Q&A with ACANY's administrative staff to answer your questions
These sessions will just scratch the surface of what we'll be covering throughout the Fall!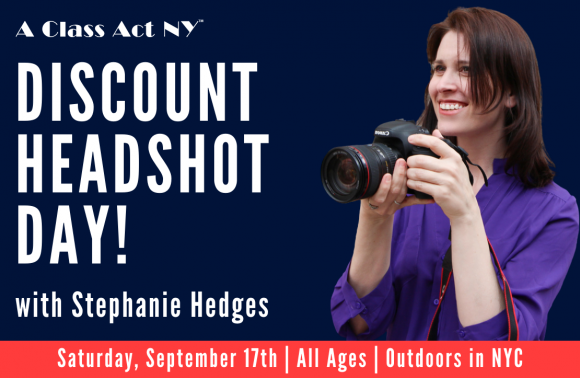 All Ages | Saturday, September 17 | Cost 155.00
Stephanie Hedges is a renowned headshot photographer whose philosophy is to create a relaxed, successful atmosphere that allows her to capture the personality of aspiring actors!
Booking for this special discount is only available through A Class Act NY registration!
Outdoor Session includes:
• 30 min photoshoot
• Online watermarked low res gallery within 3 to 5 business days
• 2 High-Resolution Retouched images within 5 to 7 business days
Where: TriBeCa Location
When: Saturday, September 17, All Day
Cost: 155.00
PLEASE NOTE: A CLASS ACT NY DOES NOT HANDLE SCHEDULING FOR THIS EVENT. YOU WILL BE SENT A LINK TO SIGN UP FOR A TIME WITH THE PHOTOGRAPHER AFTER YOU REGISTER!
+ Export Events