Industry Showcase Ages 4- mid 20s
The biggest agencies and management firms in town attend our showcases including CESD, A3 Artists (formerly Abrams Artists), Stewart Talent, DDO Artists, Zuri, Carson Adler, Carson Kolker, Parkside Management, Sinclair Management and many more.

May 2023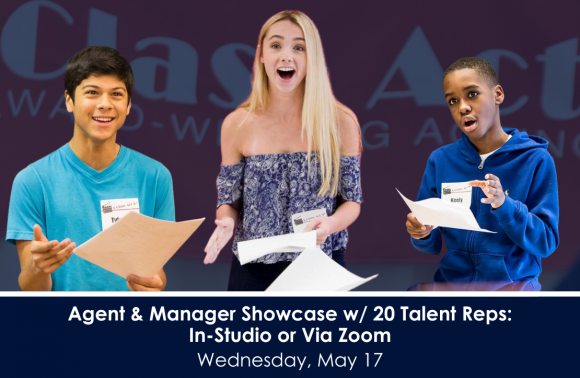 No Audition Required | Ages 4 - Mid 20s | Wednesday, May 17 | Cost 385.00
Payment Plans Available – please call our office at 212.315.3010 or email us to set up a payment plan today!
Perform in this Showcase In-Studio OR Via Zoom!
It's often challenging to get in front of Talent Agents and Managers. A Class Act NY's industry showcases provide aspiring actors the unbelievable opportunity to perform for 20 scouting agents & managers in one evening.
Previous participants are now working professionally! Many are booking television series, films, voice-overs, commercials and Broadway shows. Click here to read about some of our students' professional progress.
The biggest agencies and management firms in town have attended our showcases including Stewart Talent, Avalon Artists, DDO Artists Agency, Zuri Agency, The Mine, The Price Group, Calli Company, Lil Angels, GD3 Management, Kreativ Artists, Ingrid French, and many more.
The Showcase Includes:
• The chance to perform in the audition room for 20 Scouting Agents & Managers either In-Person or via Zoom
• A 50-minute virtual coaching session with:
     • Non-Singers: A Broadway/TV/Film Coach
     • Singers: A Broadway/TV/Film Coach and a Broadway Music Director 
** An in-person coaching is available for an additional $125 fee.
+ Export Events