By Audition Only Summer Intensives
A Class Act NY's by Audition Only Summer Intensives are for a select group of artists who are ready for the challenge of honing their singing, dancing, & acting skills through exploring more advanced work. Instructors are Broadway Stars and Professional Music Directors.
Payment Plans are available, please contact us for more information!

August 2022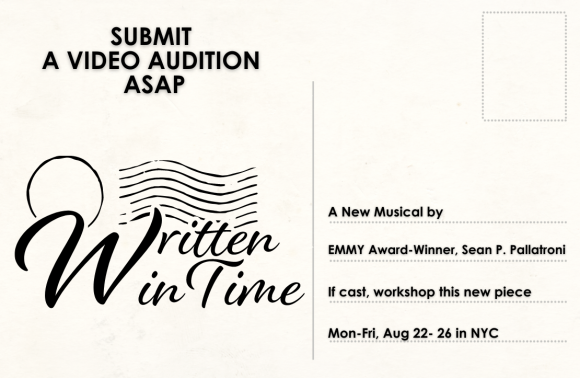 By Audition Only | Ages 9-20s | Submit a video audition ASAP! | Program Dates: Monday, August 22 - Friday, August 26 from 9 AM - 5 PM | Cost (if cast): 1050.00 
Payment Plans & Hotel Deals Available – please call our office at 212.315.3010 or email here to inquire about a payment plan and hotel deal today!
Be in the WORLD PREMIERE of a brand new work written by an EMMY® Award-winning composer!
Learn about the rewards and challenges of creating a character from the ground up and working with a developing script.
Staged Performance in NYC:
The program will culminate in the WORLD PREMIERE of WRITTEN IN TIME for an audience filled with family, friends, and industry guests!
This is the 6th Original work produced by A Class Act NY! Past Productions Include: FOUND. by Lauren "Coco" Cohn and Stacia Fernandez, MAJOR & MINOR ADJUSTMENTS (IN THE KEY OF QUARANTINE) and THE ROAD TO SOC-CON by Sean P. Pallatroni, ESCAPE! by Matt Patrick Walsh, and PSYKIDZ by Bobby Cronin! All of these works are still being developed today!
Submit a video audition ASAP!
Prepare: Please prepare one monologue and one song from the Dropbox, here and email it to auditions@aclassactny.com. Click here for self-tape guidelines and video submission instructions.
+ Export Events