On-Camera Weekly Classes give students the unique opportunity to work on scenes and audition sides from television shows, films, and commercials. Each program focuses on the different acting techniques needed to excel in that particular art form. Classes are taught by Television and Film Actors, NYC Casting Directors and Talent Reps.
Payment plans are available, please contact us for more information!

November 2021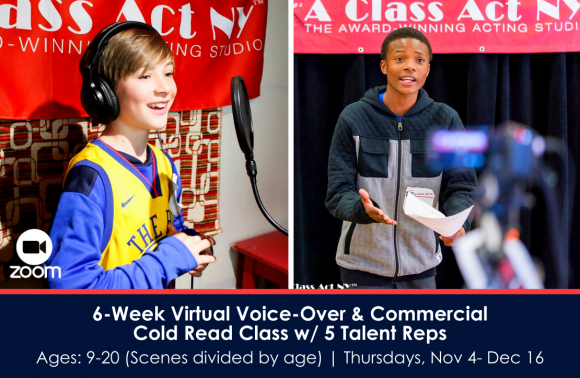 No Audition Required | Ages: 9-20 (scenes divided by age, email us for an age exception) | Thursdays, November 4- December 16 from 5-7 PM Eastern | Cost 650.00
Instructor: Voice-Over Actor, Sean Patrick Doyle (THE BOXTROLLS, RUBY TUESDAY'S, BLUE CROSS BLUE SHIELD)

Payment Plans Available – please call our office at 212.315.3010 or email us to set up a payment plan today!
GREAT NEWS: There have been an abundance of Voice-Over and Commercial jobs throughout the Pandemic! 
Why?!? 
Because actors can record voice-over auditions, and even the actual jobs, from the comfort of their own home with very little equipment! And with proper testing and safety precautions in place, the entertainment industry has figured out how to get back to filming commercials!
Learn the techniques needed to start booking voice-over and commercial jobs today! 
Final Presentation for 5 Scouting Talent Reps
Perform for five scouting Voice-Over & Commercial Agents and Managers. Family and friends are also invited to attend!
+ Export Events