On-Camera Weekly Classes give students the unique opportunity to work on scenes and audition sides from television shows, films, and commercials. Each program focuses on the different acting techniques needed to excel in that particular art form. Classes are taught by Television and Film Actors, NYC Casting Directors and Talent Reps.
Payment plans are available, please contact us for more information!

January 2021
March 2021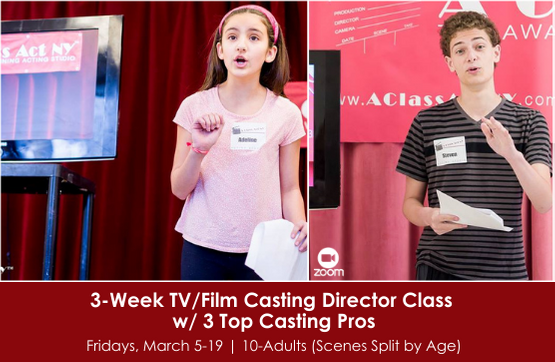 No Audition Required | Ages 10 - Adults (scenes split by age) | Fridays, March 5-19 | 4:30-6:30 PM EST | Cost 435.00
SOLD OUT! JOIN THE WAITLIST
Each week, a new casting pro will work with students on TV and Film scenes. Learn how to give a natural, nuanced and subtle performance by working on active listening skills and identifying intentions. The Casting Directors will teach you the skills you need to stand out in TV & Film auditions and offer tips on how to create a beautiful and professional self-tape from home.
April 2021
July 2021
+ Export Events