On-Camera Weekly Classes give students the unique opportunity to work on scenes and audition sides from television shows, films, and commercials. Each program focuses on the different acting techniques needed to excel in that particular art form. Classes are taught by Television and Film Actors, NYC Casting Directors and Talent Reps.
Payment plans are available, please contact us for more information!
For In-Studio NYC Programs: in accordance with New York City mandates, students and instructors, ages 5 – up, must be vaccinated to enter the classroom and theatrical venues. The most current masking guidelines will be followed.

January 2022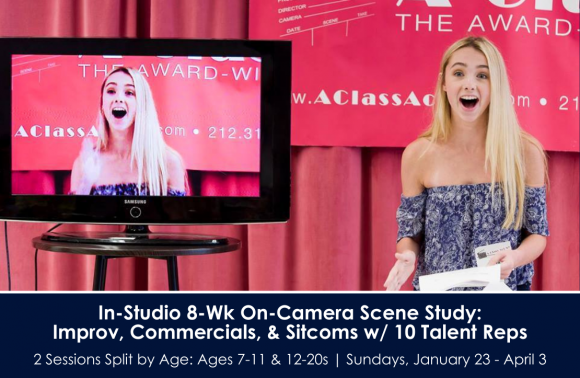 No Audition Required | 2 Sessions Split by Age: Ages 7-11 & 12-20s | Sundays, January 23 - April 3 | 11 AM -1 PM | Cost: 895.00
Payment Plans Available – please call our office at 212.315.3010 or email us to set up a payment plan today!
Junior Session Instructor Ages 7-11: On-Camera Actor, Ashley Kate Adams (THE UNBREAKABLE KIMMY SCHMIDT, ROYAL PAINS, PITCHING TENTS)
Senior Session Instructor Ages 12-20s: TV/Film Actor, Arielle Goldman (THE MARVELOUS MRS. MAISEL, THE DAILY REALNESS, THE KNICK)
In this comprehensive course, learn about 2 major types of on-camera acting that include a fair amount of improvisation: Commercials & Sitcoms!
Focus of Class:
• Explore improvisation skills through games and exercises
• Get tips on how to pick up a piece of copy and put it into your own words
• Learn how to show up for yourself in a cold read audition, which 99% of commercial auditions are
• Learn how to bring out the funny in sitcom scenes by cultivating and connecting to your personal joy and opening your comic receptors
• Work on physical comedy skills and movement
• Use a camera and monitor to master your on-camera acting technique
• Learn the tricks of the trade and professional hacks to help you nail your next audition
• Perform for 10 industry reps who are actively scouting for new clients
Final Industry Showcase:
Perform material you have workshopped for 10 scouting agents and managers and loved ones in a final showcase.
Already have rep? No worries! You can still take this class for its educational value!
February 2022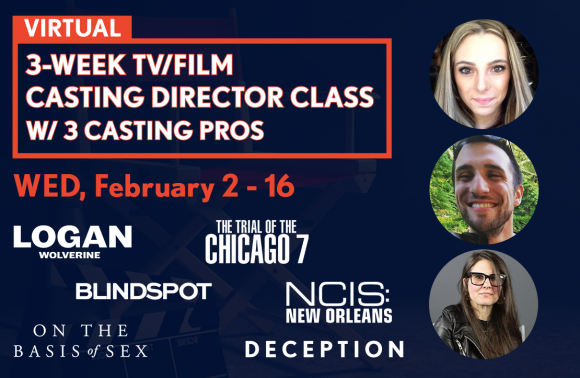 No Audition Required | Ages 10 - 20s (Scenes Split By Age) | Wed, February 2, 9 & 16 | 6-8 PM ET | Cost 435.00
Payment Plans Available – please call our office at 212.315.3010 or email us to set up a payment plan today!
Improve your on-camera acting and audition skills with 3 Top Casting Directors!
February 2nd Instructor: TV/Film Casting Director, David O'Hara (LOGAN, BRAWL IN CELL BLOCK 99, THE GET DOWN)
February 9th Instructor: TV/Film Casting Director, Mia Cusumano (Golden Globe-Winning RAMY, HBO's THE LEFTOVERS, Amy Schumer's I FEEL PRETTY)
February 16th Instructor: TV/Film Casting Director, Lisa Kitay Shipper (NCIS: NEW ORLEANS, BLINDSPOT, DECEPTION, GOD FRIENDED ME)
Each week, a different casting pro will work with students on TV and Film scenes. Learn how to give a natural, nuanced and subtle performance by working on active listening skills and identifying intentions. The Casting Directors will teach you the skills you need to stand out in TV & Film auditions and offer tips on how to create a beautiful and professional self-tape from home.
Focus of Class:
• Script Analysis & Character Development
• Understanding Intentions
• Active Listening Skills
• On-Camera Audition Technique
• Tips on How to Self-Tape from Home
+ Export Events