On-Camera | All Skill Levels
On-Camera Weekly Classes give students the unique opportunity to work on scenes and audition sides from television shows, films, and commercials. Each program focuses on the different acting techniques needed to excel in that particular art form. Classes are taught by Television and Film Actors, NYC Casting Directors and Talent Reps.
Payment plans are available, please contact us for more information!

September 2019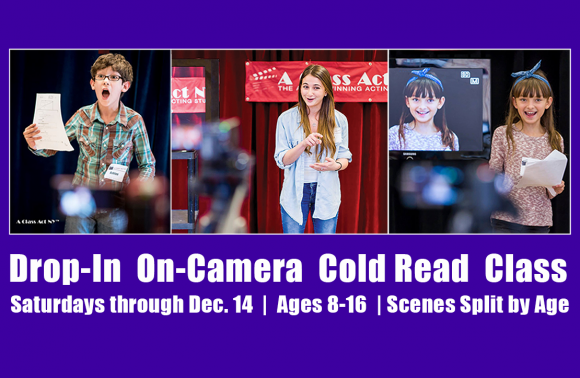 Ages 8-16 Scenes Split by Age | No Audition Required | Saturdays through December 14 | 11 AM - 12:30 PM | Cost: 80.00 per class
TV/Film & Broadway Instructor: Lauren 'Coco' Cohn: (CATCH ME IF YOU CAN, MORNING GLORY, MAMMA MIA!)
Learn how to quickly pick up text with no time to prepare, break down the script and bring your best self to the audition room despite your lack of time with the material. Every week, students will be presented with new material!
Have an on-camera audition coming up? Coach your audition sides! Depending on registration there will be at least 10 minutes to dedicate to reviewing your material with the instructor.
Final Showcase: On the last day, there will be a final showcase attended by a few talent reps and loved ones! Even if you haven't been with us for the entire semester, you are invited to participate in the showcase and perform a cold read!
January 2020
+ Export Events