On-Camera Weekly Classes give students the unique opportunity to work on scenes and audition sides from television shows, films, and commercials. Each program focuses on the different acting techniques needed to excel in that particular art form. Classes are taught by Television and Film Actors, NYC Casting Directors and Talent Reps.
Payment plans are available, please contact us for more information!

January 2021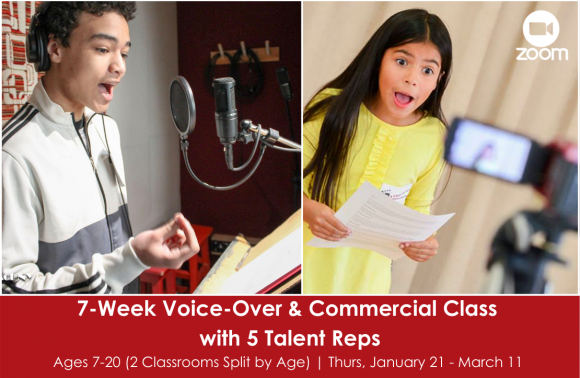 No Audition Required | Ages 7-20 (2 Classrooms Split by Age) | Thursdays, January 21 - March 11 from 4:30-6:30 PM EST | Cost: 735.00
Limited to 12 Students per Classroom!
Payment Plans Available – please call our office at 212.315.3010 or email here to set up a payment plan today!
Session 1 Instructor: Voice-Over & On-Camera Actor, Sean Patrick Doyle 
Session 2 Instructor: Voice-Over & On-Camera Actor, Morgan Weed
Perform in a Final Showcase for 5 Industry Pros including 3 Scouting Talent Agents, a Talent Manager and a Top Casting Director!
GREAT NEWS: There have been an abundance of Voice-Over and Commercial jobs throughout the Pandemic! 
Why?!? 
Because actors can record and film auditions from the comfort of their own home with very little equipment! And in some cases, a small crew will be sent to film the commercial.
Learn the techniques needed to start booking voice-over and commercial jobs today! 
In our final class, perform for 3 scouting Talent Agents, a Talent Manager and a top Voice-Over Casting Director! 
Weeks 1-3 Voice-Over Acting:
• Learn how to create animated characters for cartoons and feature films
• Work on naturalistic reads for commercials and radio spots
• Learn how to stand out from the rest in your voice-over auditions
Weeks 4-6 Commercial Acting:
• Learn how to analyze and break down commercial copy to find the selling points within the text
• Learn how to sell a product without being too over the top
• Work on proper commercial acting and audition technique
Week 7: Final Presentation for 5 Industry Pros:
Perform for three scouting Voice-Over & Commercial Agents, a Talent Manager, and a Top Casting Director, who will provide students with written feedback. Family and friends are also invited to attend!
March 2021
April 2021
+ Export Events