On-Camera Weekly Classes give students the unique opportunity to work on scenes and audition sides from television shows, films, and commercials. Each program focuses on the different acting techniques needed to excel in that particular art form. Classes are taught by Television and Film Actors, NYC Casting Directors and Talent Reps.
Payment plans are available, please contact us for more information!

September 2020
November 2020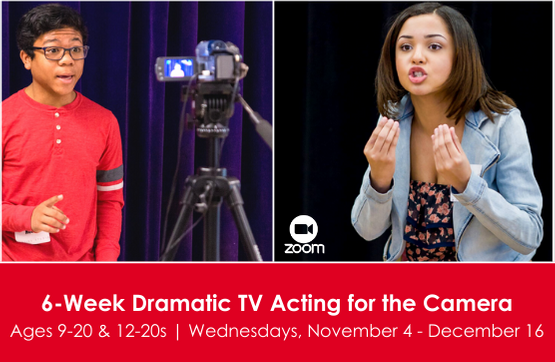 No Audition Required | 2 Sessions: Ages 9-20 w/ RJ and Ages 12-20s w/ James | Wednesdays, November 4 - December 16  from 4-6 PM ET | Cost: 650.00
RJ Brown's Class (ages 9-20): A FEW SPOTS LEFT!
James Leo Ryan's Class (ages 12-20s): SOLD OUT! JOIN THE WAIT LIST!
Limited to 12 Students!
Payment Plans Available – please call our office at 212.315.3010 or email here to set up a payment plan today!
Instructor (Ages 9-20): TV Actor, RJ Brown (13 REASONS WHY, CHICAGO PD, GIRLS)
Instructor (Ages 12-20s): TV Actor, James Leo Ryan (THE BLACKLIST, LAW & ORDER: SVU, NCIS)
In this comprehensive course, we will cover the ins and outs of 2 wildly popular forms of TV series: Procedurals (series that focuses on how crimes are solved or some other aspect of a law enforcement agency) and Serial Dramas (continuing plot that unfolds in a sequential episode-by-episode fashion).
Examples of Procedurals (LAW & ORDER, THE BLACKLIST, SCANDAL)
Examples of Serial Dramas (13 REASONS WHY, RIVERDALE, THE CHILLING ADVENTURES OF SABRINA)
Actors will learn how to give nuanced, subtle performances and create authentic and believable characters.
We'll begin our sessions by working on dramatic monologues from plays, and then dive into various types of on-camera scene work, where students will have the opportunity to work alongside a scene partner.
Focus of Class:
• Learn how to give a natural, nuanced and subtle performance
• Scene Study & Script Analysis
• Master Physicality for Performing Dramatic TV Material
• Work on Active Listening Skills and Identifying Intention
• Learn On-Camera Technique to Set You Apart in Auditions
Final Showcase with 4 Talent Reps: 
Together, we will work towards an online final showcase in which family, friends, 2 scouting agents, and 2 scouting managers will Zoom in to see your performance!
+ Export Events