On-Camera Weekly Classes give students the unique opportunity to work on scenes and audition sides from television shows, films, and commercials. Each program focuses on the different acting techniques needed to excel in that particular art form. Classes are taught by Television and Film Actors, NYC Casting Directors and Talent Reps.
Payment plans are available, please contact us for more information!

January 2023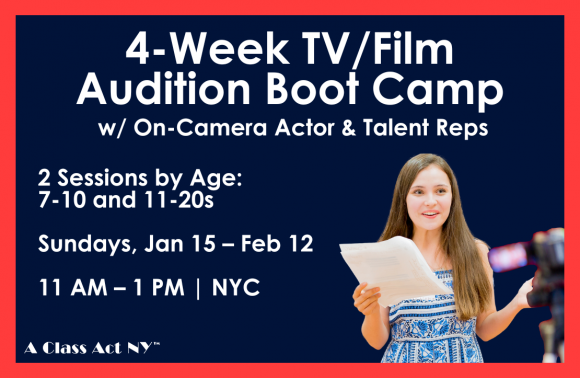 No Audition Required | 2 Sessions by Age: 7-10 and 11-20s | Sundays, January 15 – February 12 from 11 AM – 1 PM | Cost 575.00
Payment Plans Available – please call our office at (212) 315-3010 or email us to set up a payment plan today!
Senior Instructor: TV/Film Actor, John Patrick Hayden (DAREDEVIL, YOUNGER, LAW & ORDER: SVU)
Junior Instructor: TV/Film Actor, Alexis Bronkovic (THE BLACKLIST, YOUNGER, LAW & ORDER: SVU)
Hone your TV/Film audition technique in a fun, safe and supportive environment! In this comprehensive course, learn how to give a nuanced performance, and how to create authentic and believable characters. Students will not only learn the acting techniques needed to nail an audition, they will also learn the lingo specific to on-camera acting!
Learn how to analyze audition sides and find the acting beats within the text to make a lasting impression in the audition room!
Class culminates in a Short Presentation for loved ones & 2 Scouting Talent Agents & Managers!
+ Export Events