Musical Theatre Classes | All Skill Levels
Our Musical Theatre Weekly Classes give students the unique opportunity to work on the three essential disciplines that make up musical theatre: singing, dancing and acting. Instructors include prominent Broadway Stars, Casting Directors and Talent Representatives who will provide students with a superior education in a fun and supportive environment!
Payment plans are available, please contact us for more information!

August 2020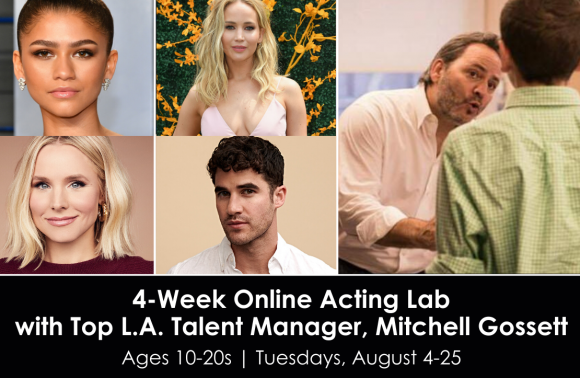 No Audition Required | Ages 10-20s | Tuesdays, August 4-25 | 4-6 PM ET | Cost 675.00
Payment Plans Available – please call our office at 212.315.3010 or email us to set up a payment plan today!
Work with powerhouse L.A. Talent Manager Mitchell Gossett of Industry Entertainment Partners in an online acting lab! Mitchell's storied success has allowed him to refer talent to agencies in NY, L.A. and across the USA.
Throughout his career as a manager and agent, Mitchell has repped, discovered and developed many noteworthy actors, including Jennifer Lawrence (THE HUNGER GAMES, SILVER LININGS PLAYBOOK), Rachel Brosnahan (THE MARVELOUS MRS. MAISEL), Darren Criss (AMERICAN CRIME STORY, GLEE), Zendaya (THE GREATEST SHOWMAN, EUPHORIA), Kristen Bell (FROZEN 1 & 2, THE GOOD PLACE), Dylan Minnette (13 REASONS WHY), Kiernan Shipka (THE CHILLING ADVENTURES OF SERENA, MAD MEN), Jojo Siwa (DANCE MOMS), Miley Cyrus (THE LAST SONG, HANNAH MONTANA), Lucy Hale (PRETTY LITTLE LIARS) and many, many others.
Each week, participants will explore a set of values that, when present in an actor of any age, can help create a structure for great acting to occur. The nature of every actor's work springs from their unique instinct and memory. The work done in the Zoom Lab will playfully explore getting beyond "good" acting. We will discover how an actor's instincts can emerge and be exercised in their work, and how this can inspire what makes up "great" acting.
Mitchell is known for running renowned scouting operations! He continues to discover the next generation of artists. Mitchell is always looking for fresh faces!
Focus of Class:
• Learn Mitchell Gossett's Approach to Great Acting
• Discover how to access your instincts and memory in your performance
• Have the chance to workshop your piece with Mitchell
• Receive insightful feedback and coaching from Mitchell
+ Export Events