In our adult workshops, you can expect to receive individual coaching and feedback from industry professionals to further hone your skill set while making invaluable connections that can help you propel your career to the next level. The focus of our adult workshops range from agent and manager showcases to workshops with Broadway stars and NYC/L.A. casting directors focused on specific skills like on-camera acting and audition technique.

December 2019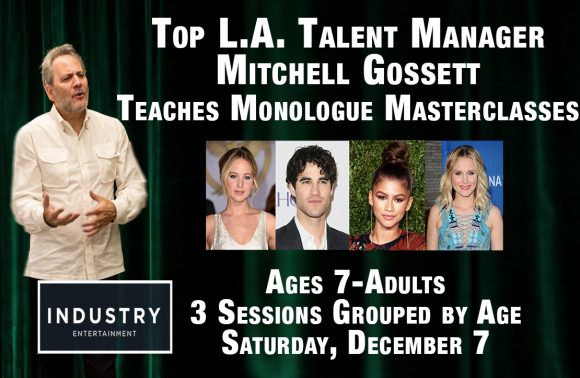 No Audition Required | Ages 7-Adults, 3 Sessions Grouped by Age | Saturday, December 7 | Cost 205.00
Session 1: 10am-1:30pm Ages 9-mid 20s
Session 2: 2pm-5:30pm Ages 7-14
Session 3: 6:15pm-9:45pm Ages 12-Adults
Work with powerhouse L.A. Talent Manager Mitchell Gossett of Industry Entertainment Partners in a monologue masterclass! Mitchell's storied success has allowed him to refer talent to agencies in NY, LA and across the USA.
Focus of Class: Learn Mitchell Gossett's 'ACTions' approach to delivering a memorable performance, perform a monologue for Mitchell Gossett, receive insightful coaching and feedback from Mitchell Gossett, and walk away with personalized feedback.
Mitchell has repped and developed many noteworthy actors, including Jennifer Lawrence (The Hunger Games), Miley Cyrus (The Last Song), Lucy Hale (Pretty Little Liars), Darren Criss (Glee), Zendaya (The Greatest Showman), and many, many others.
January 2020
+ Export Events