In-Studio On-Camera Summer Camps
Our award-winning in-studio summer programs are instructed by highly skilled Broadway actors and Industry Pros who will provide a superior education in a fun, safe, and supportive environment. We offer advanced and all skill level camps that focus on Musical Theatre, Dramatic Arts, Voice-Over and On-Camera Acting!
Find out why CBS News named us BEST ACTING CAMP!
Join us for multiple weeks throughout the summer! We never cover the same material twice!
In-Studio Summer Camp 2022 Cancellation Policy

We're so excited to be back in the studio this summer for in-person programming!
Please click here to read our policies before registering.

June 2023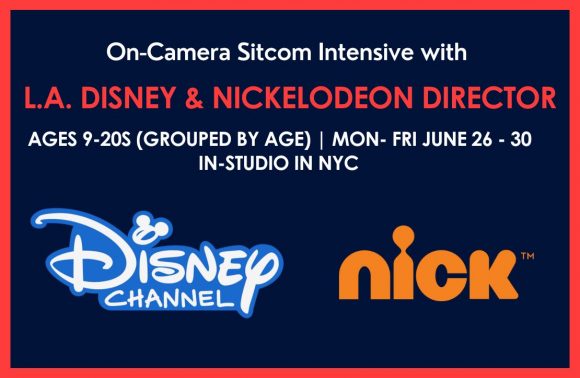 No Audition Required | Ages 9-20s (Grouped by Age) | Monday, June 26 - Friday, June 30 | 10 AM - 4 PM | Cost 1050.00
Email us for an age exception!
Payment Plans Available – please call our office at 212.315.3010 or email here to set up a payment plan today!
Have you ever wanted to know what it's like to work on a TV series? Now's your chance! In our exciting on-camera summer program, actors experience every aspect of television acting from the audition to rehearsals to the live studio audience taping! All of the scenes used for this class will be pulled from actual sitcoms!
Work with a prolific Disney & Nickelodeon Director!
Past L.A. Disney/Nickelodeon Directors we've brought in include:
• Wendy Faraone (THAT GIRL LAY LAY, SYDNEY TO THE MAX, RAVEN'S HOME, LIV AND MADDIE)
• Emmy Nominee, Jon Rosenbaum (COOP AND CAMI ASK THE WORLD, KC UNDERCOVER, BIZAARDVARK, BUNK'D)
• Emmy Winner, Shannon Flynn (HANNAH MONTANA, BEST FRIENDS WHENEVER, BELLA AND THE BULLDOGS)
• Disney Star & Director, Jason Earles (Star of HANNAH MONTANA, Director of PRINCE OF PEORIA, KICKIN' IT)
• Monica Marie Contreras (BUNK'D, RAVEN'S HOME)
• Jason Shipman (BUNK'D, JUST ADD MAGIC)
Your Week at a Glance:
• Day One: The Basics, the Breakdown, and the Audition
• Day Two: Welcome to the Show
• Day Three: Rehearsal Day
• Day Four: Block and Shoot Day
• Day Five: The Live Audience Shoot
Workshops with Guest Instructors:
Guest instructors teach improv for the camera, voice-over, scene study and other on-camera skills throughout the week.
July 2023
August 2023
+ Export Events