Upcoming Events
June 2020
October 2020
November 2020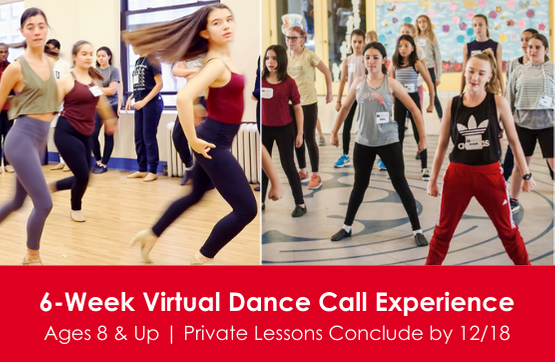 November 30
-
December 22
No Audition Required | Ages 8 & Up | Private Lessons Conclude by Dec 18  | Pro-rated Cost for Weeks 5-6: 210.00
Videos are sent weekly. Take a few days to learn the choreography and upload to Google Drive.
Payment Plans Available – please call our office at 212.315.3010 or email here to set up a payment plan today!
Instructor: Broadway Dancer / Dance Captain, Natalie Wisdom
Back by popular demand!
Join us for our Online Dance Call experience Class, for actors and singers who want to improve their dance skills in a safe and supportive environment!
Every Friday, students will be sent a video lesson from Natalie, focusing on a different musical theatre dance genre. Natalie will present a new combination for each of the six sessions. The class will not only cover choreography, but students will learn terminology and technique specific to each style.
Once you watch the weekly video, you have the weekend to film yourself performing that week's choreography and submit it to us using Google Drive by Monday. Then we'll schedule a roughly 15 min ZOOM meeting between Natalie & you based on your schedules where he will provide individual feedback on your performance. He'll also be able to break down difficult steps with you via video and watch you perform and offer guidance and feedback.
NEW COMBOS FOR RETURNING STUDENTS! Continue to hone your dance skills and join us for all weeks!
REMAINING WEEKS:
Weeks Five & Six: Contemporary Jazz
December 2020
January 2021
February 2021
March 2021
April 2021
+ Export Events