April 2023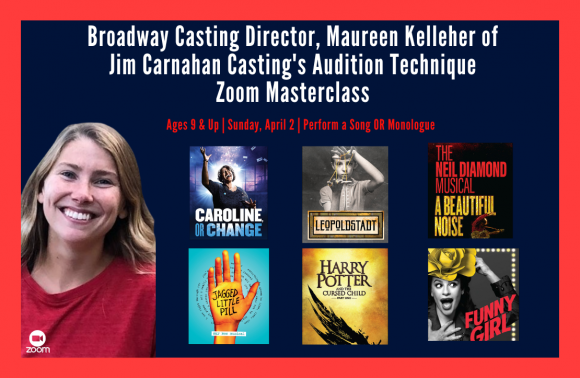 No Audition Required | Ages 9 & Up (Email us for an age exception) | Sunday, April 2 | Cost to Perform 175.00 | Cost to Observe 55.00
Work one-on-one with Casting Director, Maureen Kelleher (CSA) of Jim Carnahan Casting, one of NYC's busiest and most prestigious Broadway Theatre Casting Offices! Carnahan Casting is the office behind hit Broadway shows such as FUNNY GIRL, JAGGED LITTLE PILL, A BEAUTIFUL NOISE: THE NEIL DIAMOND MUSICAL, LEOPOLDSTADT*, ALMOST FAMOUS*, TAKE ME OUT, CAROLINE, OR CHANGE*, HARRY POTTER AND THE CURSED CHILD*, TOOTSIE, the upcoming NEW YORK, NEW YORK and many other shows too numerous to mention here!
*ACANY is proud to have many students represented in the casts of these shows! You can read more on our Student Achievement Page or our IG page!
SINGERS & NON-SINGERS - ACTOR'S CHOICE:
Students choose to perform either a 32-bar cut of a musical theatre song with a backing track (many can be found on YouTube) OR a one-minute monologue.
Focus of Class:
• Perform and receive individual feedback and coaching on your song cut or monologue from Carnahan Casting Director, Maureen Kelleher
• Learn if your piece is a good choice for you and showcases your unique talent
• Learn how to break down a monologue or song into acting beats
• Learn how to put your best foot forward in auditions
• Q&A with Maureen about the ins-and-outs of the business
May 2023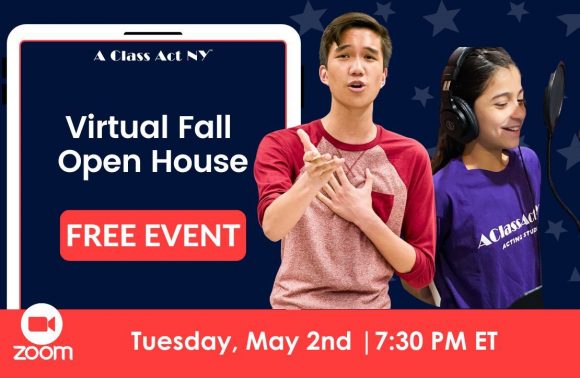 Tuesday, May 2 | 7:30-9 PM ET | For Parents & Prospective Students | Free
• Sitcom TV Acting with TV/Film Actor John Patrick Hayden (FLEISHMAN'S IN TROUBLE, YOUNGER, DAREDEVIL)
• Voice-Over Acting with Voice-Over Artist Sean Patrick Doyle (THE BOXTROLLS, RUBY TUESDAY'S, BLUE CROSS BLUE SHIELD)
• Musical Theatre Performance with Broadway Star Lauren "Coco" Cohn (MAMMA MIA!, FUN HOME, FOUND)
• Dance Class with Broadway's Katie Lombardo (BEETLEJUICE, ELF, FLASHDANCE)
Join A Class Act NY, the award-winning acting studio, on ZOOM for a FREE preview of what Summer 2023 Programs will look like!
We'll be offering In-Studio Musical Theatre, On-Camera and Voice-Over Programs taught by amazing Broadway, TV/Film and VO Actors, L.A. and NYC Industry Pros, including TV/Film Directors, Casting Directors and Agents & Managers!

Join us for some, or all of the sessions, and feel free to Zoom in and out as you wish! 
The session will include:
• A quick introduction to our programs
• A demo of how select programs will be run featuring ACANY students and a member of our faculty
• A Q&A with ACANY's administrative staff to answer your questions
These sessions will just scratch the surface of what we'll be covering throughout the Summer.
LEARN MORE or CLICK HERE TO REGISTER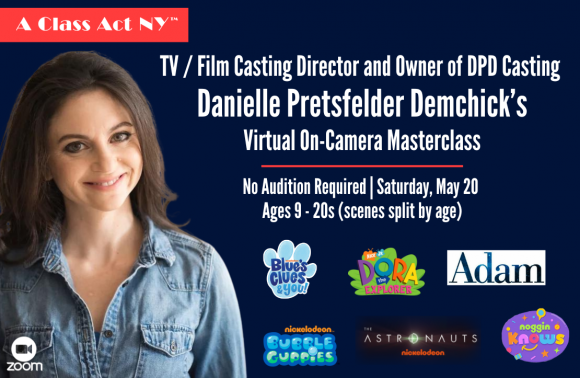 No Audition Required | Ages 9 - 20s (scenes split by age) | Saturday, May 20 | Cost to Participate 195.00 | Cost to Observe 55.00
Work via Zoom, with Top TV & Film Casting Director, Danielle Pretsfelder Demchick of DPD Casting, an 18-year veteran of the casting industry!
Danielle worked as a Casting Director at NICKELODEON for over 14 years, where she tapped into her love of developing young talent.  
Some highlights from her NICKELODEON years include BLUES CLUES, THE ASTRONAUTS, THE BARBARIAN AND THE TROLL, BUBBLE GUPPIES, DRAMA CLUB, DORA THE EXPLORER, WELCOME TO THE WAYNE and more!
Since her departure from Nickelodeon to open her own casting office in April 2022, she has cast AMERICAN GIRL: CORINNE TAN, the first American Girl of the Year film, which tells the story of the first Chinese American Girl, for HBOMax and Marvista Entertainment, LAST WEEK TONIGHT with John Oliver and worked as the kids casting director/consultant on several films including YOU ARE SO NOT INVITED TO MY BAT MITZVAH. She is currently casting an unscripted girl group for Republic Records and JYP Entertainment and continues to cast Viacom Kids & Family content, including a collaboration with Alvin Ailey!
Danielle also serves as the CO-VP of Advocacy for the Casting Society of America.
Focus of Class:
• Perform Film & TV Sides for Casting Director, Danielle Pretsfelder Demchick
• Learn Proper On-Camera Acting and Audition Technique with a special focus on how to have an awesome Zoom Audition
• Learn how to give a nuanced and authentic performance for the Camera
• Receive Feedback and Coaching from Casting Director, Danielle Pretsfelder Demchick
• Informative Q&A for Students and Parents of Minors
LEARN MORE or CLICK TO REGISTER
+ Export Events