September 2022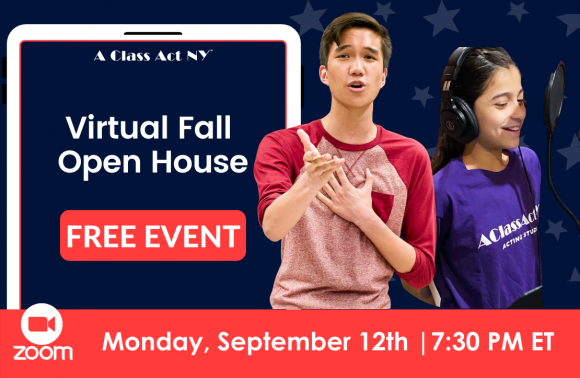 For Parents & Prospective Students Ages 7-20s | Monday, September 12 | 7:30-9:30 PM ET | Free
Join A Class Act NY, the award-winning acting studio, on ZOOM, for a FREE preview of what our Fall 2022 Programs will look like!
This Fall, we'll be offering both In-Studio and Virtual Musical Theatre, On-Camera, Voice-Over and Dramatic Arts Programs taught by amazing Broadway Veterans, On-Camera Actors, Voice-Over Artists and L.A. and NYC Industry Pros including TV/Film Directors, Casting Directors and Agents & Managers!
Join us for some, or all of the sessions, and feel free to Zoom in and out as you wish!
The Open House Will Cover:
• A quick introduction to our programs
• A demo of how select programs will be run featuring ACANY students and members of our faculty
• A Q&A with ACANY's administrative staff to answer your questions
These sessions will just scratch the surface of what we'll be covering throughout the Fall!
October 2022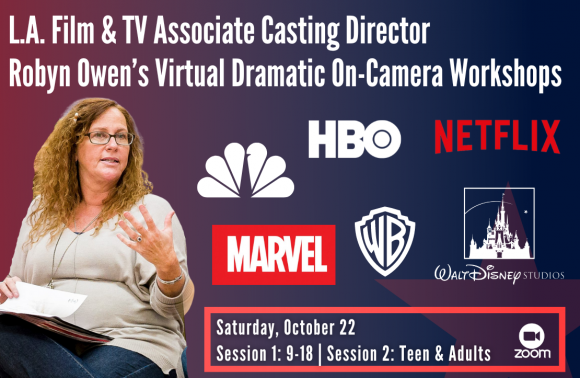 No Audition Required | Ages 9 - Adults (2 Sessions Split By Age) | Saturday, October 22 | Cost to Participate 195.00 | Cost to Observe 55.00
Work via Zoom, with L.A. Associate Casting Director, Robyn Owen of Robyn Owen Casting, a 20-year veteran of the casting industry!
Robyn works as an Associate Casting Director on important big-budget feature films and television series. Some of Robyn's most recent projects include an upcoming feature film starring Academy Award Winner Viola Davis, THE WATER MAN (Feature Film), A TRUE CRIME (Film Short), NAOMI* (WB/CW) starring ACANY alum, Kaci Walfall as Naomi, DMZ (HBO MAX), CHERISH THE DAY (WB/OWN), QUEEN SUGAR (WB/OWN), A WRINKLE IN TIME (Feature Film) and MISS VIRGINIA* (Feature Film) starring ACANY alum, Niles Fitch and Uzo Aduba.
* These projects star ACANY alum who have met their representation at our programs! Kaci Walfall stars as the titular character in NAOMI on the CW, and Niles Fitch stars as James in Netflix's MISS VIRGINIA. You can read more on our Student Achievement Page!
Robyn was also recognized for her work on SELMA with a Casting Society of America nomination for Associate Casting Director.
Focus of Class:
• Perform dramatic film & TV sides for casting director, Robyn Owen
• Learn proper on-camera acting and audition technique
• Learn important on-camera lingo and terminology
• Receive feedback and coaching from casting director, Robyn Owen
• Informative Q&A for students and parents of minor children
LEARN MORE or CLICK TO REGISTER
+ Export Events