Be anywhere in the world and take an award-winning workshop, private lesson or weekly class from the comfort of your own home utilizing the video conferencing app ZOOM!

June 2020
July 2020
August 2020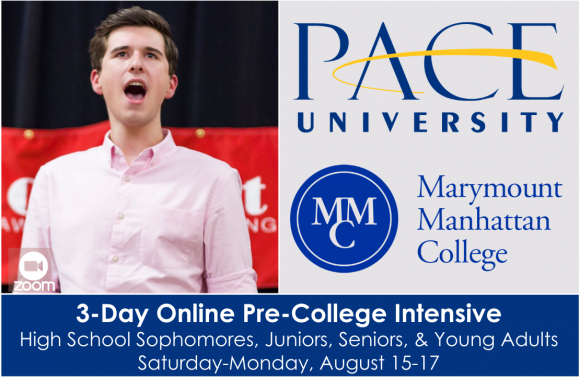 No Audition Required | High School Sophomores, Juniors, Seniors, & Young Adults | Saturday-Monday August 15-17 | Cost 375.00
ONLY 3 SPOTS LEFT!
Payment Plans Available – please call our office at 212.315.3010 or email us to set up a payment plan today!
Calling actors with aspirations of attending a top BFA, BM, or BA Musical Theatre College Program!
Do you need guidance on the college admissions process like, how do I go about choosing the right material that showcases me, my vocal range and my unique personality? How do I create a professional and memorable pre-screen video? Do you want to know what college admissions officers are looking for?
If you have answered yes to any of these questions, ACANY's 3-Day Pre-College Audition Intensive is for YOU!
Work all weekend alongside college admissions officers Wayne Petro, Associate Director of Enrollment for the School of Performing Arts at Pace University, and Kevin Kemler, Director of Fine and Performing Arts Admissions at Marymount Manhattan College!
Our college prep weekend culminates in a showcase featuring more admissions officers from different universities on Monday evening.
Our 3-Day College Prep Intensive will leave you confident and ready to take on the daunting task of applying to college musical theatre programs!
A Class Act NY's College Preparatory Programs have helped tons of students in their quest to gain admission to some of the most elite performing arts programs in the country! ACANY has students at The University of Michigan, CCM, Carnegie Mellon, NYU, Boston Conservatory, Syracuse, Ithaca, Pace, Marymount, Baldwin Wallace and more!
+ Export Events