A Class Act NY's Online Dramatic Arts weekly classes expose students to a variety of acting techniques and give actors the tools necessary to succeed on stage, on-camera or in the voice-over studio.
Instructors are prominent Broadway, On-Camera and Voice-Over Actors and Industry Pros from NYC and LA who are all working in the field today!
Payment plans are available, please contact us for more information!

January 2023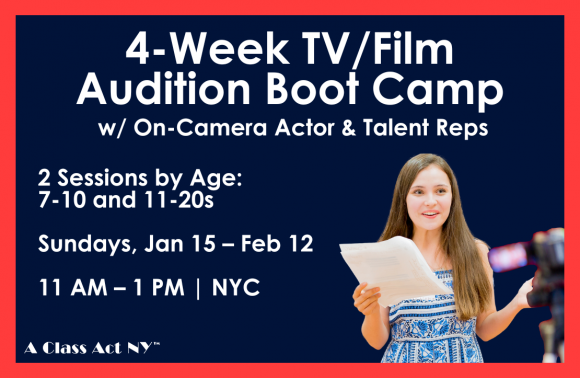 No Audition Required | 2 Sessions by Age: 7-10 and 11-20s | Sundays, January 15 – February 12 from 11 AM – 1 PM | Cost 575.00
Payment Plans Available – please call our office at (212) 315-3010 or email us to set up a payment plan today!
Senior Instructor: TV/Film Actor, John Patrick Hayden (DAREDEVIL, YOUNGER, LAW & ORDER: SVU)
Junior Instructor: TV/Film Actor, Alexis Bronkovic (THE BLACKLIST, YOUNGER, LAW & ORDER: SVU)
Hone your TV/Film audition technique in a fun, safe and supportive environment! In this comprehensive course, learn how to give a nuanced performance, and how to create authentic and believable characters. Students will not only learn the acting techniques needed to nail an audition, they will also learn the lingo specific to on-camera acting!
Learn how to analyze audition sides and find the acting beats within the text to make a lasting impression in the audition room!
Class culminates in a Short Presentation for loved ones & 2 Scouting Talent Agents & Managers!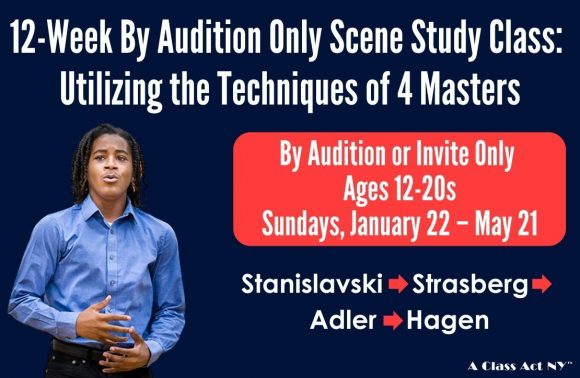 By Audition or Invite Only | Ages 12-20s | Sundays, January 22 - May 21 | 11 AM - 1 PM | Cost: 895.00
Payment Plans and Virtual Make-Up Class Available – please call our office at 212.315.3010 or email here to set up a plan today!
Audition Instructions
Perform one monologue from this Dropbox folder and email it to auditions@aclassactny.com. 
Already on ACANY's Advanced Student List? Request your invitation now!
From Stanislavski > Strasberg > Adler > Hagen
Instructor: Professional Actor TBA Soon!
Students will learn the techniques developed by four masters of acting: Constantin Stanislavski, Lee Strasberg, Stella Adler, and Uta Hagen.
This class is perfect for the actor looking to delve deeper into their work and take their acting to the next level.
With this year's Spring schedule being so disjointed due to holidays and school closings, we will break the class into consecutive segments focusing on each master.
Final Showcase:
Class culminates in a final performance in the studio for loved ones and a few scouting talent reps!
*Can't make every class? Not to worry, we will be offering a virtual make-up class!
+ Export Events