A Class Act NY's Online Dramatic Arts weekly classes expose students to a variety of acting techniques and give actors the tools necessary to succeed on stage, on-camera or in the voice-over studio.
Instructors are prominent Broadway, On-Camera and Voice-Over Actors who are working in the field today!
Payment plans are available, please contact us for more information!

July 2021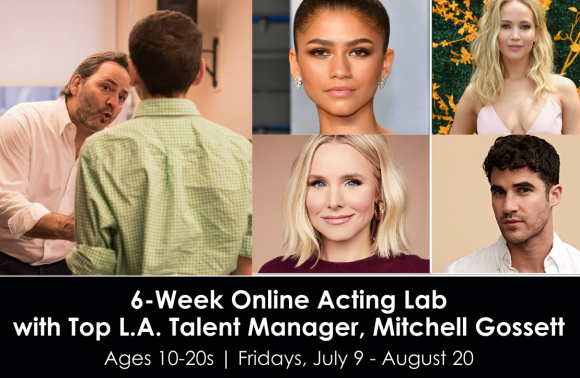 No Audition Required | Ages 10-20s | Fridays, July 9 - August 20 (no class August 6) | 4-6 PM Eastern | Cost 845.00
Payment Plans Available – please call our office at 212.315.3010 or email us to set up a payment plan today!
Work with powerhouse L.A. Talent Manager Mitchell Gossett of Industry Entertainment Partners in an online acting lab! Mitchell's storied success has allowed him to refer talent to agencies in NY, L.A. and across the USA.
Throughout his career as a manager and agent, Mitchell has repped, discovered and developed many noteworthy actors, including Jennifer Lawrence, Rachel Brosnahan, Darren Criss, Zendaya, Kristen Bell, Dylan Minnette, Kiernan Shipka, Jojo Siwa, Miley Cyrus, Lucy Hale and many, many others.
Focus of Class:
• Learn Mitchell Gossett's Approach to Great Acting
• Discover how to access your instincts & memory in your performance
• Have the chance to workshop your piece with Mitchell
• Receive insightful feedback & coaching directly from Mitchell
Final Performance with Talent Reps:
Together, we will work towards an online final performance in which family, friends, and a few of Mitchell's industry friends will Zoom in to see you perform!
+ Export Events