A Class Act NY's Online Dramatic Arts weekly classes expose students to a variety of acting techniques and give actors the tools necessary to succeed on stage, on-camera or in the voice-over studio.
Instructors are prominent Broadway, On-Camera and Voice-Over Actors and Industry Pros from NYC and LA who are all working in the field today!
Payment plans are available, please contact us for more information!

September 2021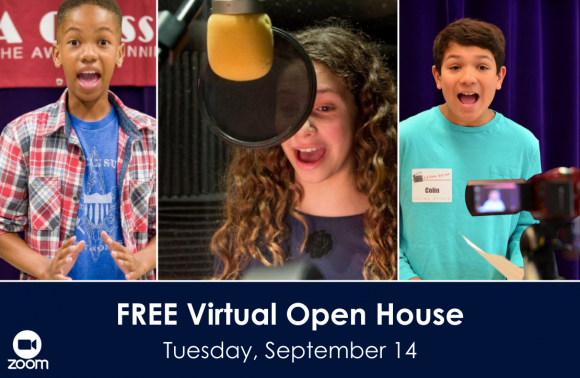 Tuesday, September 14 | 7:30 - 9:30 PM Eastern | Free
Join A Class Act NY, the award-winning acting studio, on ZOOM for a FREE preview of what Fall 2021 Programs will look like!
We'll be offering both Virtual and In-Studio Musical Theatre, On-Camera, Voice-Over and Dramatic Arts Programs taught by amazing Broadway Veterans, and L.A. and NYC Industry Pros including TV/Film Directors, Casting Directors and Agents & Managers!
Join us for some, or all of the sessions, and feel free to Zoom in and out as you wish!
The session will include:
• A quick introduction to our programs
• A demo of how select programs will be run featuring ACANY students and a member of our faculty (Faculty may include Broadway Stars, Professional TV/Film & Voice-Over Actors, and a Top Industry Pro)
• A Q&A with ACANY's administrative staff to answer your questions
These sessions will just scratch the surface of what we'll be covering throughout the fall.
Schedule of Camp Fair Events:
7:30 PM ET: Introduction
7:30-7:40 PM ET: Dance w/ A Broadway Dancer
7:40-8 PM ET: Voice-Over w/ Voice-Over Actor & Coach
8-8:15 PM ET: Song Interpretation w/ a Broadway Star
8:15-8:55 PM ET: Sitcom Acting w/ either a Casting Director, TV/Film Director or On-Camera Actor
8:55-9:30 PM ET: Q&A w/ ACANY's Artistic Director, Jessica R. Grosman and ACANY's Administrative Staff
No Audition Required | Ages: 10-20's (scenes divided by age, email us for an age exception) | Thursdays, September 23 - October 28 from 5-7 PM Eastern | Cost 650.00
Payment Plans Available – please call our office at 212.315.3010 or email us to set up a payment plan today!
Become a more versatile actor by working on both comedic and dramatic TV and Film sides. 
Students will learn about and utilize different acting techniques and methods developed by renowned teachers such as Meisner, Stanislavski, Adler, and Hagen. Renowned actors employ these techniques to achieve a more realistic, emotional, and grounded performance.
Focus of Class:
• Begin to utilize specific acting techniques and methods to help you become a more grounded and authentic performer
• Learn how to identify operative words, objectives, conflict, tactics and acting beats within the text
• Work on character development and physicality
• Comedic Acting: Learn the formulaic structure of sitcoms, and how to bring out the comedy in the script
• Dramatic Acting: Learn how to give a more nuanced, subtle performance
• Learn how to be a present and generous scene partner
+ Export Events