In-Studio Dramatic Arts Summer Camps
Our award-winning in-studio summer programs are instructed by highly skilled Broadway actors and Industry Pros who will provide a superior education in a fun, safe, and supportive environment. We offer advanced and all skill level camps that focus on Musical Theatre, Dramatic Arts, Voice-Over and On-Camera Acting!
Find out why CBS News named us BEST ACTING CAMP!
Join us for multiple weeks throughout the summer! We never cover the same material twice!
In-Studio Summer Camp 2022 Cancellation Policy

We're so excited to be back in the studio this summer for in-person programming!
Please click here to read our policies before registering.

May 2022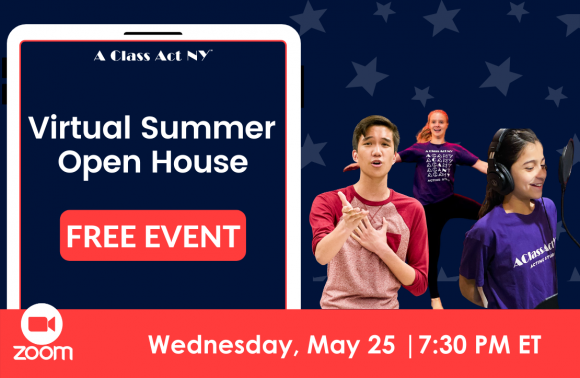 Ages 7-20s | Wednesday, May 25 | 7:30-9:30 PM ET | For Parents & Prospective Students | Free
Join A Class Act NY, the award-winning acting studio, on ZOOM for a FREE preview of what Summer 2022 Programs will look like!
We'll be offering both In-Studio and Virtual Musical Theatre, On-Camera, Voice-Over and Dramatic Arts Programs taught by amazing Broadway Veterans, and L.A. and NYC Industry Pros including TV/Film Directors, Casting Directors and Agents & Managers!

Join us for some, or all of the sessions, and feel free to Zoom in and out as you wish!
The session will include:
• A quick introduction to our programs
• A demo of how select summer programs will be run featuring ACANY students and members of our faculty
• A Q&A with ACANY's administrative staff to answer your questions
These sessions will just scratch the surface of what we'll be covering throughout the Summer!
Schedule of Open House Events:
7:30-7:40 PM ET: Dance with Broadway Actress, Whitney Sprayberry (SPIDERMAN: TURN OFF THE DARK, JAGGED LITTLE PILL)
7:40-8:00 PM ET: Voice-Over Acting with Voice-Over Artist, Amy Marcs (Commercial Radio Spots for JOHNSON AND JOHNSON, MASTERCARD, IBM, and KMART)
8:00-8:15 PM ET: Song Interpretation with Broadway Star, Lauren "Coco" Cohn (MAMMA MIA!, FUN HOME, FOUND)
8:15-8:50 PM ET: Sitcom Acting with On-Camera Actor, Morgan Weed (THE GOOD FIGHT, ELEMENTARY, THE GREATEST SHOWMAN)
8:55-9:30 PM ET: Q&A with ACANY's Artistic Director, Jessica R. Grosman and ACANY's Administrative Staff
LEARN MORE or CLICK HERE TO REGISTER
July 2022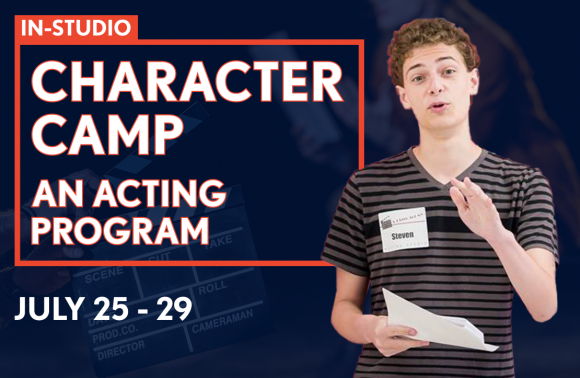 No Audition Required | Ages 8-19 (Grouped by Age) | Monday, July 25 - Friday, July 29 | 10 AM - 4 PM | Cost 850.00
Payment Plans Available – please call our office at 212.315.3010 or email here to set up a payment plan today!
Build a strong acting foundation in our 5-day in person dramatic arts camp!
Hone your acting chops in a fun, safe and supportive environment in Character Camp, an acting program with amazing On-Camera, Voice-Over and Broadway faculty!
Explore four different areas of performance: stage acting, film, television and voice-over. Learn how to make bold and interesting character choices and deepen performance skills through a series of workshops and rehearsals. Campers will learn to use their physicality and intellect to create compelling characters!
Add new skills to your actor's toolbox!
+ Export Events