Past Events
March 2022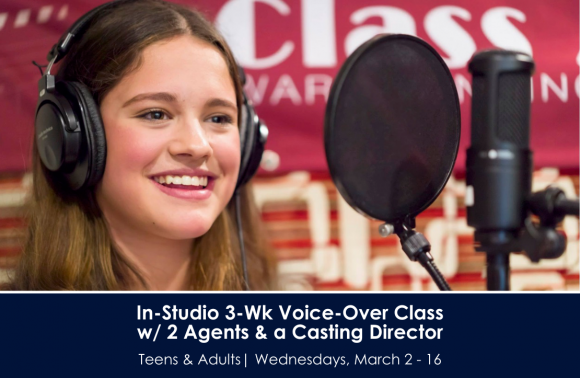 March 2, 2022 @ 7:00 pm
-
March 16, 2022 @ 9:00 pm
EST
No Audition Required | Ages: Teens & Adults | Wednesdays, March 2 - 16 | 7-9 PM | Pro-rated Cost for Week 3: 145.00
Missed the 1st Class? Pro-rating Available!
ONLY 2 SPOTS LEFT!
Instructor: Voice-Over Actor, Lauren "Coco" Cohn (Verizon, McDonald's, Voice of Betty Boop)
In addition to having many VO credits, Coco also ran the VO department at Hervey Grimes Talent Agency in Los Angeles!
What better way to learn the art of voice-over acting than with a top VO actor in a state of the art recording booth?
Focus of Class:
• Week 1 - Animation: Learn how to create characters for cartoons, video games and animated feature films.
• Week 2 - Commercial: Work on naturalistic reads for commercial reads, radio spots and promos.
• Learn how to record and upload voice-over auditions and jobs from home, and how to market yourself as a VO actor
• Learn proper mic technique to avoid feedback, popping sounds, and reverberation
• Work on your voice-over audition technique in a state of the art recording booth
Final Presentation and Q&A with 2 Talent Agents and a VO Casting Director Present material you have honed during our three weeks for 2 scouting Voice-Over Talent Agents and a top Voice-Over Casting Director. We'll also have a Q&A with our industry guests about the business!
LEARN MORE or CLICK HERE TO REGISTER
April 2022
May 2022
June 2022
July 2022
August 2022
September 2022
October 2022
November 2022
December 2022
January 2023
February 2023
March 2023
April 2023
May 2023
June 2023
July 2023
August 2023
September 2023
+ Export Events