Past Events
June 2020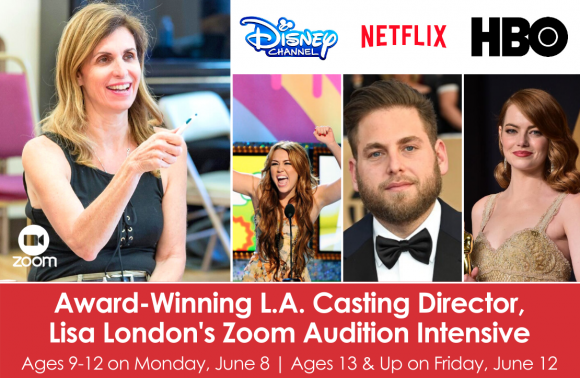 June 8, 2020 @ 3:00 pm
-
June 12, 2020 @ 6:30 pm
EDT
No Audition Required | 2 Sessions Split By Age - Monday, June 8 for Ages 9-12 and Friday, June 12 for Ages 13 & Up | Cost 205.00
Lisa is teaching two sessions; one on Monday, June 8 (ages 9-12) and one on Friday, June 12 (ages 13 and up). Please choose the appropriate session at checkout.
Work with prolific award-winning L.A. Casting Director Lisa London of London/Stroud Casting! 
Lisa currently has 20 projects in either pre or post production! 
Notable recent projects include: THE POISON ROSE starring Morgan Freeman, Brendan Fraser and John Travolta, Adam Sandler's NETFLIX Film,  SANDY WEXLER, EXTRACURRICULAR ACTIVITIES starring Angela Kinsey of THE OFFICE, FREAKS starring Emile Hirsch and Bruce Dern, THE MOSTLY GHOSTLY franchise starring BELLA THORNE and SUGAR AND TOYS for FUSE TV.
Lisa London has discovered and/or cast actors such as Emma Stone, Jonah Hill, Mark Ruffalo, Miley Cyrus, Selena Gomez, Giovanni Ribisi, Adrian R. Mante, Adam Irigoyen & Yari Shahidi to name a few!
She is the author of the book, From Start to Stardom which takes readers on a step-by-step journey, laying out what it takes to have the best shot at stardom!
Focus of Class:
• The class will cover what casting directors are looking for in auditions, and why some people get callbacks while others do not and why it's imperative to research a role
• Proper on-camera audition technique
• Perform scenes for Lisa London and receive one-on-one coaching and feedback
• Showbiz Q&A
Materials will be distributed via email approximately one week to a few days before the workshop, emulating a real audition. Students will be expected to have them accessible during the class.
July 2020
August 2020
September 2020
October 2020
November 2020
December 2020
January 2021
February 2021
+ Export Events