February 2021
March 2021
April 2021
May 2021
June 2021
July 2021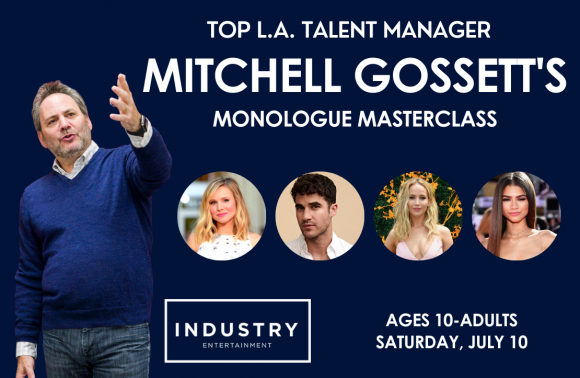 July 10, 2021 @ 2:00 pm
-
5:30 pm
EDT
No Audition Required | Ages 10-Adults | Saturday, July 10 | Cost 205.00
ONLY 2 SPOTS LEFT!
Work with powerhouse L.A. Talent Manager Mitchell Gossett of Industry Entertainment Partners in his famous Monologue Masterclass! Mitchell's storied success has allowed him to refer talent to agencies in NY, L.A. and across the USA.
Mitchell believes the most exciting way to explore material is not through thoughts alone, but through "ACTIONS" – through what you are DOING with your body. Bring ACTions into the work creates a stronger, more visceral connection to the material. But as importantly, it also provides a means of showing the most unique feature any actor can present: THEMSELVES in the work. Students will receive monologues in advance of class and Mitchell will offer direction and coaching to lucky participants!
Focus of Class:
• Learn Mitchell Gossett's 'ACTions' Approach to Delivering a Memorable Performance
• Perform a Monologue for Mitchell Gossett
• Receive Insightful Coaching and Feedback from Mitchell Gossett
• Perform a Mock Audition for Mr. Gossett
• Walk Away with a Personalized Feedback Form
• Q&A Open to his Students and Parents of Minor Students (if time permits!)
Throughout his career as a manager and agent, Mitchell has represented and discovered many noteworthy actors, including Jennifer Lawrence (THE HUNGER GAMES, SILVER LININGS PLAYBOOK), Rachel Brosnahan (THE MARVELOUS MRS. MAISEL), Darren Criss (AMERICAN CRIME STORY, GLEE), Zendaya (THE GREATEST SHOWMAN, EUPHORIA), Kristen Bell (FROZEN 1 & 2, THE GOOD PLACE), Brandon Victor Dixon (HAMILTON, JESUS CHRIST SUPERSTAR), Dylan Minnette (13 REASONS WHY), Kiernan Shipka (THE CHILLING ADVENTURES OF SERENA, MAD MEN), Jojo Siwa (DANCE MOMS, THE J TEAM), Miley Cyrus (THE LAST SONG, HANNAH MONTANA), Lucy Hale (PRETTY LITTLE LIARS) and many, many others.
August 2021
September 2021
October 2021
November 2021
December 2021
January 2022
March 2022
April 2022
May 2022
September 2022
December 2022
January 2023
February 2023
March 2023
April 2023
July 2023
September 2023
+ Export Events