Past Events
January 2020
February 2020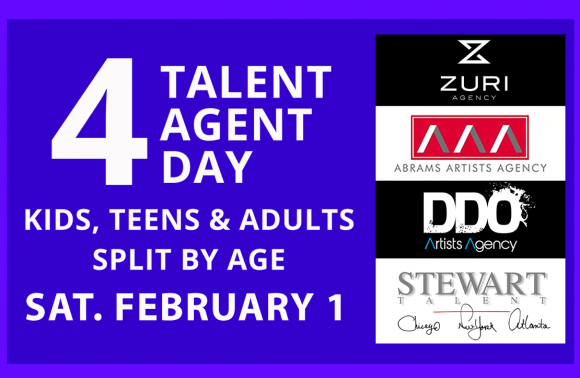 February 1 @ 10:00 am
-
4:30 pm
EST
No Audition Required | Ages 7-20s (Divided into rooms by age) | Saturday, February 1 | Cost for 1 Session: 195.00 | Cost for 2 Sessions: 290.00
Lucky participants have the amazing opportunity to work with either 2 or 4 Top Scouting Bi-Coastal Talent Agents in either a 1/2 day workshop or a full day 6.5 hour workshop!
The bi-coastal agents represent kids, teens and young adults for theatre, film, TV, commercials and voice-over!
3 Hour AM Workshop - Film & TV with 2 Top Agents
• Mock television and film auditions
• The Agents will offer guidance, feedback and coaching on both individual and chemistry read mock auditions (scenes will be sent a few days in advance as they would in a real audition scenario)
Agents: Morning Session
• David Gilbert from Zuri Agency
• Mallory Levy from DDO Artists Agency
3 Hour PM Workshop - Musical Theatre OR Monologue Performance with 2 Top Agents
• Perform either a 16-bar cut or a one-minute monologue. A music director will be provided for singers. Pre-approved monologues will be sent in advance for non-singers.
• Actors will receive one-on-one coaching on their presentation, interpretation and audition technique.
Agents: Afternoon Session
• Victoria Kress from Abrams Artists
• Bonnie Shumofsky Bloom from Stewart Talent
Learn how to snag an Agent and how to nail auditions!
Register for Both Sessions and SAVE!
March 2020
April 2020
+ Export Events