In our Adult Masterclasses, you can expect to receive individual coaching and feedback from industry professionals to further hone your skill set while making invaluable connections that can help you propel your career to the next level. The focus of our adult workshops range from agent and manager showcases to workshops with Broadway stars and NYC/L.A. casting directors focused on specific skills like on-camera acting and audition technique.

June 2020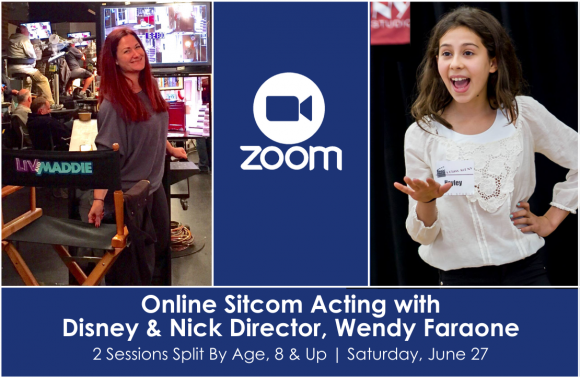 No Audition Required | 2 Sessions Split By Age, 8 & Up | Saturday, June 27 | Cost 205.00 
ONLY A FEW SPOTS LEFT IN SESSION 1!
SESSION 2 SOLD OUT! JOIN THE WAITLIST or PURCHASE A $40 OBSERVATION TICKET
Learn the art of comedic on-camera acting featured on both The Disney Channel and Nickelodeon TV from one of the industry's most in-demand professionals, Wendy Faraone! Wendy is a dynamic and influential director. She is currently directing Disney's SYDNEY TO THE MAX, RAVEN'S HOME, JUST ROLL WITH IT, BUNK'D, COOP AND CAMI ASK THE WORLD, and she directed WALK THE PRANK, KNIGHT SQUAD, among others! She was also the director of Disney's #1 family sitcom, LIV AND MADDIE.
Wendy's workshops are well known for creating an inviting and energetic environment in which students are given the tools necessary to be successful, working actors in the entertainment industry. Impressively, she has recently coached all of the newly scouted talent for Disney Channel's latest boot camp and showcase!
Focus of Class:
• Learn what it takes to be a successful actor on the set of a Disney and Nick show
• Rehearse Scenes from Hit Shows Wendy has directed
• Receive Coaching and Feedback directly from Wendy Faraone
• Learn how to Land Jokes, Make Turns and Bring out the Funny in the Audition Room and On Set
• Showbiz Q&A with Wendy and Artistic Director of A Class Act NY, Jessica R. Grosman
July 2020
August 2020
October 2020
December 2020
January 2021
March 2021
July 2021
August 2021
September 2021
October 2021
November 2021
December 2021
January 2022
March 2022
April 2022
May 2022
July 2022
September 2022
October 2022
November 2022
December 2022
January 2023
February 2023
March 2023
+ Export Events