April 2021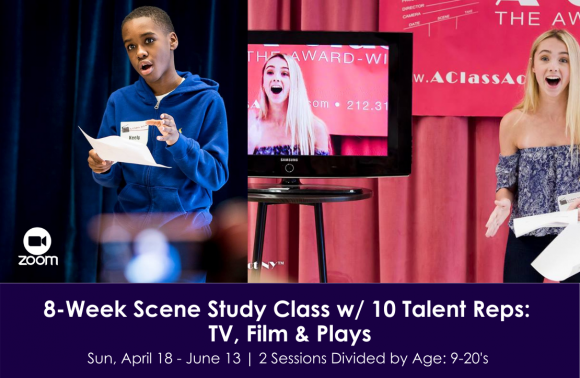 April 18 @ 4:00 pm
-
June 13 @ 6:00 pm
EDT
No Audition Required | Ages 9-20s (2 Classrooms Split by Age) | Sundays, April 18 - June 13 from 4 PM - 6 PM ET | Cost 775.00 
We are opening another session! Ages 10-20s (scenes divided by age)
Email us for an age exception.
Limited to 12 Students!
Payment Plans Available – please call our office at 212.315.3010 or email here to set up a payment plan today!
Instructors: James Leo Ryan (ANNIE, NCIS) & 10 Talent Agents & Managers
Build a strong acting foundation in our 8-week scene study class.
Become a more versatile actor by working on material from three very different acting genres: film, television, and straight plays.
Students will learn about and utilize acting techniques developed by renowned teachers as Meisner, Stanislavski, Adler, and Hagen. These are some of the most influential, widely-used acting techniques that renowned stage and screen actors employ to get realistic, emotional and natural performances.
This program is excellent for aspiring professional actors who are seeking representation, as well as those actors looking to deepen their performance skills in a fun, safe and supportive environment.
Focus of Class:
• Begin to utilize specific techniques such as Meisner and Method
• Learn how to identify operative words, objectives, conflict, tactics and acting beats within the text
• Work on character development and physicality
• Learn how to be a present and generous scene partner
July 2021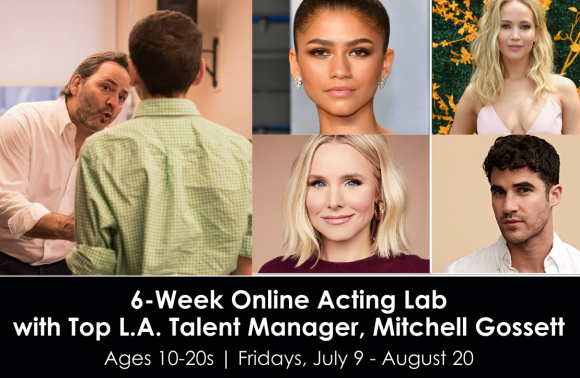 July 9 @ 4:00 pm
-
August 20 @ 6:00 pm
EDT
No Audition Required | Ages 10-20s | Fridays, July 9 - August 20 (no class August 6) | 4-6 PM Eastern | Cost 845.00
Payment Plans Available – please call our office at 212.315.3010 or email us to set up a payment plan today!
Work with powerhouse L.A. Talent Manager Mitchell Gossett of Industry Entertainment Partners in an online acting lab! Mitchell's storied success has allowed him to refer talent to agencies in NY, L.A. and across the USA.
Throughout his career as a manager and agent, Mitchell has repped, discovered and developed many noteworthy actors, including Jennifer Lawrence, Rachel Brosnahan, Darren Criss, Zendaya, Kristen Bell, Dylan Minnette, Kiernan Shipka, Jojo Siwa, Miley Cyrus, Lucy Hale and many, many others.
Focus of Class:
• Learn Mitchell Gossett's Approach to Great Acting
• Discover how to access your instincts & memory in your performance
• Have the chance to workshop your piece with Mitchell
• Receive insightful feedback & coaching directly from Mitchell
Final Performance with Talent Reps:
Together, we will work towards an online final performance in which family, friends, and a few of Mitchell's industry friends will Zoom in to see you perform!
+ Export Events