June 2024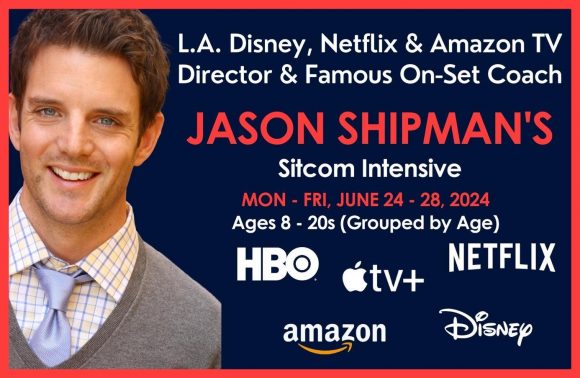 June 24, 2024
-
June 28, 2024
No Audition Required | Ages 8-20s (Grouped by Age) | Monday, June 24 - Friday, June 28 | 10 AM - 4 PM | Cost 1095.00
Email us for an age exception!
Payment Plans Available at Checkout, or if you need a custom plan, email us or call (212) 315-3010
All of the scenes used for this class are pulled from actual sitcoms!

Live out your dreams of starring on a hit TV series with L.A. Director and famous On-Set Acting Coach, Jason Shipman!
Jason's credits include a mind blowing number of projects for DISNEY, NETFLIX, AMAZON, HBO, NICKELODEON, APPLE KIDS, SYFY, and UNIVERSAL, among others. 
He made his television directing debut on AMAZON's hit serial-mystery, JUST ADD MAGIC which starred our alum, Kirrilee Berger, followed by multiple episodes of DISNEY'S Emmy Nominated sitcom and longest running series ever, BUNK'D! 
He recently directed and coached Disney's newest series, PRETTY FREAKIN' SCARY, which aired in the summer of 2023!
Recently, Jason was brought on to coach episodes of APPLE'S Emmy-Nominated GHOST WRITER, and their youth series, CIRCUIT BREAKERS, as well as HBO's WESTWORLD, RESIDENT ALIEN on SyFy, and multiple sitcoms for the DISNEY CHANNEL.
Other on-Set sitcom coaching credits include BIZAARDVARK, JESSIE, DOG WITH A BLOG, I DIDN'T DO IT, RICHIE RICH, THE FRESH BEAT BAND & more!
Selected by the Directors Guild of America, Jason was admitted to their 2020 Director Development Initiative, where he was identified as an emerging television director to watch. 
Your Week at a Glance:
• Day One: The Basics, the Breakdown, and the Audition
• Day Two: Welcome to the Show
• Day Three: Rehearsal Day
• Day Four: Block and Shoot Day
• Day Five: The Live Audience Shoot
Workshops with ACANY TV/Film Coach:
Work alongside an ACANY TV/Film Coach on improv for the camera, voice-over, scene study and dramatic on-camera acting skills throughout the week.
July 2024
August 2024
+ Export Events