June 2020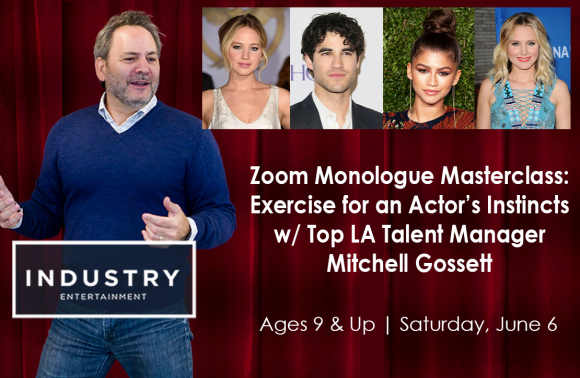 June 6 @ 10:00 am
-
6:00 pm
EDT
No Audition Required | Ages 9 & Up, 2 Sessions Grouped by Age | Saturday, June 6 | Cost 205.00
Work with powerhouse L.A. Talent Manager Mitchell Gossett of Industry Entertainment Partners in a monologue masterclass! Mitchell's storied success has allowed him to refer talent to agencies in NY, LA and across the USA.
Throughout his career as a manager and agent, Mitchell has repped and developed many noteworthy actors, including Jennifer Lawrence (The Hunger Games, Silver Linings Playbook), Rachel Brosnahan (The Marvelous Mrs. Maisel), Zendaya (The Greatest Showman, Shake It Up), Kristen Bell (Frozen 1 & 2, The Good Place), Dylan Minnette (13 Reasons Why), Kiernan Shipka (The Chilling Adventures of Serena, Mad Men), Jojo Siwa (Dance Moms), Miley Cyrus (The Last Song, Hannah Montana), Lucy Hale (Pretty Little Liars) and many, many others.
Within a fun, playful atmosphere, Mitchell lets loose the possibility of a creative free-for-all, encouraging students to go all out in their emotional, vocal, and physical commitment to a piece. He encourages students to leap at any and all opportunities to make bold, outside the box acting choices. As his great teacher and mentor Nikos Psacharopoulos was fond of saying, "If you're going to fail, fail trying to be successful. Don't fail because you're too scared to be successful."
Mitchell continues to discover the next generation of artists and is always looking for fresh faces!
Focus of Class:
• Learn Mitchell Gossett's Approach to Delivering a Memorable Performance
• Perform a Monologue for Mitchell Gossett
• Receive Insightful Coaching and Feedback from Mitchell Gossett
• Q&A for Students and Parents (if time permits!)
July 2020
September 2020
+ Export Events