August 2021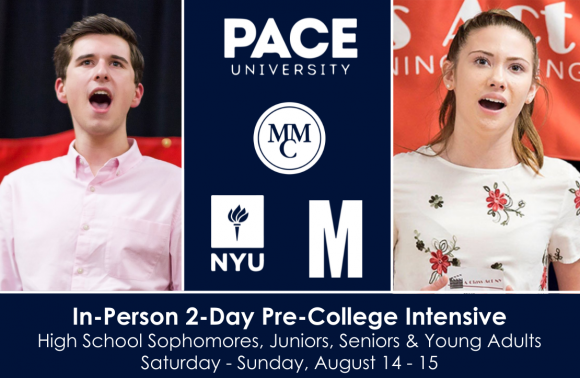 August 14 @ 10:00 am
-
August 15 @ 6:00 pm
EDT
No Audition Required | High School Sophomores, Juniors, Seniors & Young Adults | Saturday, August 14 & Sunday, August 15 | 10 AM - 6 PM Eastern | 595.00
1 SPOT OPENED!
Payment Plans Available – please call our office at 212.315.3010 or email here to set up a payment plan today!
Instructor: College Admissions Officer, Wayne Petro of Pace University
Calling sophomore, junior and senior high school students and young adults with aspirations of attending a top BFA, BM, or BA Musical Theatre College Program! Email us for an age exception.
Do you need guidance on the college admissions process like, how do I go about choosing the right material that showcases me, my vocal range and my unique personality? How do I create a professional and memorable pre-screen video? Do you want to know what college admissions officers are looking for?
If you have answered yes to any of these questions, ACANY's 2-Day Pre-College Audition Intensive is for YOU!
Work all weekend alongside college admissions officer Wayne Petro of Pace University, and a professional music director to prepare for the showcase with four admissions officers Sunday! This 2-Day College Prep Intensive will leave you confident and ready to take on the daunting task of applying to college musical theatre programs!
Panel Includes
• Wayne Petro, College Admissions Officer at Pace University
• Kevin Kemler, Director of Fine and Performing Arts Admissions at Marymount Manhattan College
• Molly Horan, Admissions Administrator at NYU Tisch Drama
• Sam McKelton, Musical Theatre Faculty at Manhattan School of Music
September 2021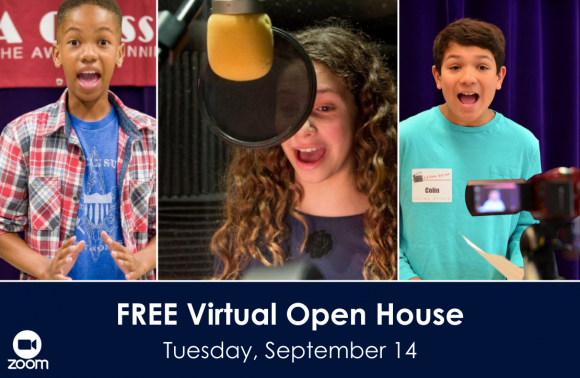 September 14 @ 7:30 pm
-
9:30 pm
EDT
Tuesday, September 14 | 7:30 - 9:30 PM Eastern | Free
Join A Class Act NY, the award-winning acting studio, on ZOOM for a FREE preview of what Fall 2021 Programs will look like!
We'll be offering both Virtual and In-Studio Musical Theatre, On-Camera, Voice-Over and Dramatic Arts Programs taught by amazing Broadway Veterans, and L.A. and NYC Industry Pros including TV/Film Directors, Casting Directors and Agents & Managers!
Join us for some, or all of the sessions, and feel free to Zoom in and out as you wish!
The session will include:
• A quick introduction to our programs
• A demo of how select programs will be run featuring ACANY students and a member of our faculty (Faculty may include Broadway Stars, Professional TV/Film & Voice-Over Actors, and a Top Industry Pro)
• A Q&A with ACANY's administrative staff to answer your questions
These sessions will just scratch the surface of what we'll be covering throughout the fall.
Schedule of Camp Fair Events:
7:30 PM ET: Introduction
7:30-7:40 PM ET: Dance w/ A Broadway Dancer
7:40-8 PM ET: Voice-Over w/ Voice-Over Actor & Coach
8-8:15 PM ET: Song Interpretation w/ a Broadway Star
8:15-8:55 PM ET: Sitcom Acting w/ either a Casting Director, TV/Film Director or On-Camera Actor
8:55-9:30 PM ET: Q&A w/ ACANY's Artistic Director, Jessica R. Grosman and ACANY's Administrative Staff
October 2021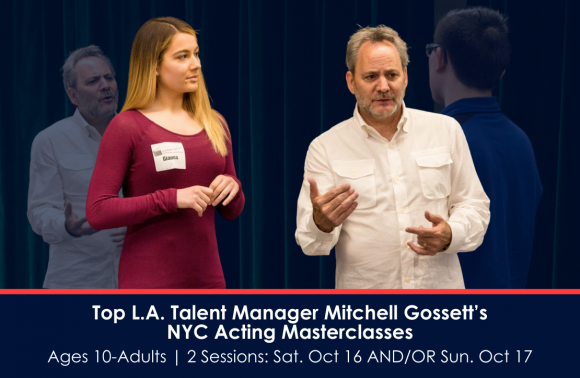 October 16 @ 10:00 am
-
October 17 @ 1:30 pm
EDT
No Audition Required | Ages 10- Adults, 2 Sessions Split by Age (Email us for an age exception) | Saturday, October 16 AND/OR Sunday, October 17 | Cost 205.00
Work with powerhouse L.A. Talent Manager Mitchell Gossett of Industry Entertainment Partners in his famous Acting Masterclass! Mitchell's storied success has allowed him to refer talent to agencies in NY, L.A. and across the USA.
Students will explore a set of values that, when present in an actor of any age, can help create a structure for great acting to occur. The nature of every actor's work springs from their unique instinct and memory. The work done in this Masterclass will playfully explore getting beyond "good" acting. We will discover how an actor's instincts can emerge and be exercised in their work, and how this can inspire what makes up "great" acting.
Focus of Class:
• Learn Mitchell's 'ACTions' Approach to Great Acting
• Discover how to access your instincts & memory in your performance
• Have the chance to workshop your piece with Mitchell
• Receive Insightful Coaching and Feedback from Mitchell Gossett
• Q&A Open to his Students and Parents of Minor Students (if time permits!)
Throughout his career as a manager and agent, Mitchell has represented and discovered noteworthy stars, including Zendaya, Jennifer Lawrence, Darren Criss, Kristen Bell, Brandon Victor Dixon, Rachel Brosnahan, Dylan Minnette, Kiernan Shipka, Jojo Siwa, Miley Cyrus, Lucy Hale and many, many others.
LEARN MORE or CLICK TO REGISTER
+ Export Events