Industry Showcase Ages 4-20s | By Audition Only
The biggest agencies in town attend our showcases including CESD, Abrams Artists, Don Buchwald & Associates, Generation TV, Shirley Grant Management, Carson Adler, About Face, Carson Kolker, Zoom Management, Parkside Management, Sinclair Management, and many more.

Past Events › Industry Showcase Ages 4 - early 20s
Events List Navigation
March 2019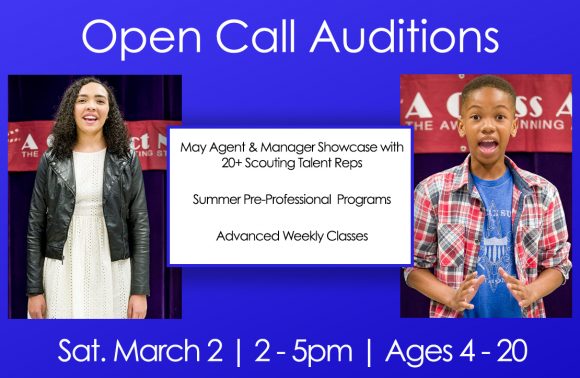 ACANY is holding auditions for our May Agent & Manager Showcase, Summer Pre-Professional Programs and Advanced Weekly Classes on Saturday, March 2.
All Actors Over The Age Of 7 Must Prepare: One-minute monologue from a published play.
All Actors Under The Age Of 7 Must Prepare: The Band-Aid commercial or the Gap commercial
All Singers Any Age: If you are a singer, please sing 32 bars a cappella of a musical theatre song.
• Note: if you are NOT a singer, please disregard this.
+ Export Events