How many times have you enjoyed watching a movie where the central character also narrates? (Think: FERRIS BUELLER'S DAY OFF, RAMONA AND BEEZUS, MERMAIDS, JUNO, THE HELP, etc.) Do you want to learn how to create animated characters for cartoons and animated films? (Think: THE SIMPSONS, DORA THE EXPLORER and FROZEN) What does it take to bring characters to life through your voice? Let's find out! ACANY's voice-over classes are all taught by industry professionals and classes take place in a real recording studio!
Payment plans are available, please contact us for more information!

September 2023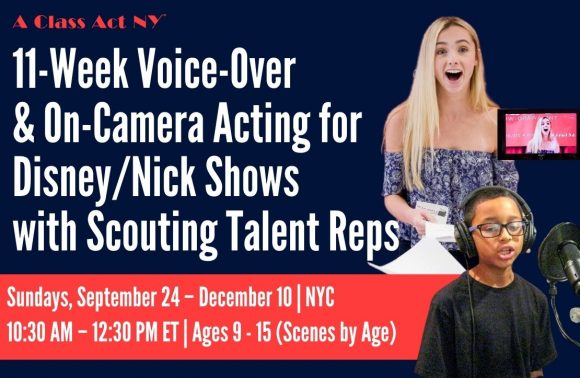 No Audition Required | Ages 9 - 15 (Scenes Split by Age, Email for age exception) | Sundays, September 24 – December 10 from 10:30 AM – 12:30 PM | Cost for 11 Weeks 895.00 | Cost for Weeks 1-4: Voice-Over Acting 385.00 | Cost for Weeks 5-11 635.00
Payment Plans Available at Checkout, or if you need a custom plan, email us or call (212) 315-3010
Join us for Voice-Over Acting (weeks 1-4) or On-Camera Acting (weeks 5-11) or BOTH and SAVE $125!
Voice-Over Instructor: Soraya Butler (ABC, CRAYOLA, MCDONALD'S)
On-Camera Instructor: Alexis Bronkovic (YOUNGER, LAW & ORDER, THE BLACKLIST)
In this comprehensive course, students explore both voice acting and sitcom acting for popular networks like Disney & Nickelodeon! 
We'll split our time between a professional recording studio, and a traditional studio with on-camera equipment.
WEEKS 1-4: VOICE-OVER ACTING
In the Voice-Over Booth at Ripley-Grier Studios

WEEKS 5-11: ON-CAMERA ACTING
For the remaining weeks, we'll work in a traditional studio with on-camera equipment.
WEEK 11: THE FINAL SHOWCASE
Perform pieces you have worked on from both the Voice-Over section and the On-Camera section for loved ones and a few scouting Agents & Managers!
+ Export Events