How many times have you enjoyed watching a movie where the central character also narrates? (Think: FERRIS BUELLER'S DAY OFF, RAMONA AND BEEZUS, MERMAIDS, JUNO, THE HELP, etc.) Do you want to learn how to create animated characters for cartoons and animated films? (Think: THE SIMPSONS, DORA THE EXPLORER and FROZEN) What does it take to bring characters to life through your voice? Let's find out! ACANY's voice-over classes are all taught by industry professionals and classes take place in a real recording studio!
Payment plans are available, please contact us for more information!

January 2021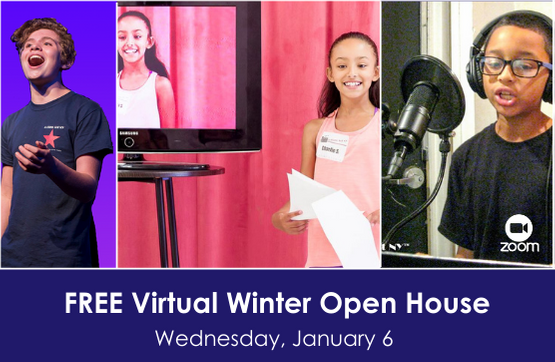 Wednesday, January 6 | For Parents & Prospective Students | FREE
Parents are invited to join A Class Act NY, the award-winning acting studio, on ZOOM for a FREE preview of what Winter and Spring 2021 programs will look like online!
We are continuing to offer online classes and workshops in musical theatre, dramatic arts, dance, on-camera, and voice-over! We will also be offering amazing virtual production opportunities! 
ACANY has been offering programs online since March 2020 to great success. Our virtual open house is for parents and students who would like to see what separates our online performing arts education from the rest! 
Join us for some or all of the evening- feel free to zoom in and out as you wish! We highly recommend watching the session with your child!
Questions about online programs? We're here to address your concerns!
The session will include:
• A quick introduction to the program
• A demo of how classes will be run featuring ACANY students and members of our faculty
• A Q&A with ACANY's administrative staff to answer any parent questions
This session will just scratch the surface of what we'll be covering throughout the winter and spring. You'll walk away with a better understanding of what a typical online class will look like. 
Most classes will be 2 hours long, and will feature small group instruction (10-12 students per classroom, max).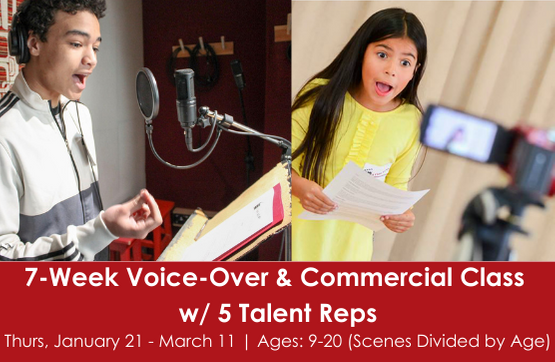 No Audition Required | Ages: 9-20 (scenes divided by age) | Thursdays, January 21 - March 11 from 4:30 -6:30 PM ET | Cost: 735.00
Limited to 12 Students!
Payment Plans Available – please call our office at 212.315.3010 or email here to set up a payment plan today!
Instructors: A top Voice-Over & Commercial Actor and 5 Industry Pros including 3 Agents, a Talent Manager and a Casting Director
GREAT NEWS: There have been an abundance of Voice-Over and Commercial jobs throughout the Pandemic! 
Why?!? 
Because actors can record and film auditions from the comfort of their own home with very little equipment! And in some cases, a small crew will be sent to film the commercial.
Learn the techniques needed to start booking voice-over and commercial jobs today! 
In our final class, perform for 3 scouting Talent Agents, a Talent Manager and a top Voice-Over Casting Director! 
Weeks 1-3 Voice-Over Acting:
• Learn how to create animated characters for cartoons and feature films
• Work on naturalistic reads for commercials and radio spots
• Learn how to stand out from the rest in your voice-over auditions
Weeks 4-6 Commercial Acting:
• Learn how to analyze and break down commercial copy to find the selling points within the text
• Learn how to sell a product without being too over the top
• Work on proper commercial acting and audition technique
Week 7: Final Presentation for 5 Industry Pros:
Perform for three scouting Voice-Over & Commercial Agents, a Talent Manager, and a Top Casting Director, who will provide students with written feedback. Family and friends are also invited to attend!
+ Export Events