How many times have you enjoyed watching a movie where the central character also narrates? (Think: FERRIS BUELLER'S DAY OFF, RAMONA AND BEEZUS, MERMAIDS, JUNO, THE HELP, etc.) Do you want to learn how to create animated characters for cartoons and animated films? (Think: THE SIMPSONS, DORA THE EXPLORER and FROZEN) What does it take to bring characters to life through your voice? Let's find out! ACANY's voice-over classes are all taught by industry professionals and classes take place in a real recording studio!
Payment plans are available, please contact us for more information!

May 2022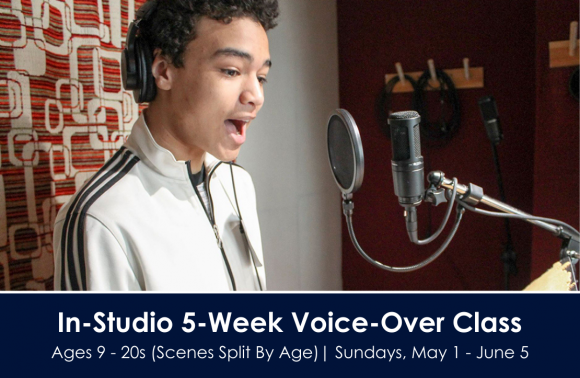 No Audition Required | Ages 9 - 20s (Scenes Split By Age) | Sundays, May 1 - June 5 | 10:30 AM - 12:30 PM | Pro-rated Cost for Weeks 2-5: 515.00
Missed the 1st Class? Pro-rating Available!
Payment Plans Available – please call our office at 212.315.3010 or email us to set up a payment plan today!
ONLY 1 SPOT LEFT!
Instructor: Voice-Over Actor, Soraya Butler (McDonald's, Crayola, Walmart)
What better way to learn the art of voice-over acting than with a top VO actor in a state-of-the-art recording booth?
Voice-over acting is unlike any other type of acting. It requires an actor to make specific and original acting choices that are outside of the box using just their voice.
Focus of class:
• Learn how to create characters for cartoons, video games and animated feature films
• Work on naturalistic reads for commercial reads, radio spots and promos
• Learn how to record and upload voice-over auditions and jobs from home, and how to market yourself as a VO actor
• Learn proper mic technique to avoid feedback, popping sounds, and reverberation
• Gain experience working in a state-of-the-art recording booth
Final Industry Showcase:
Class culminates in a final performance in the studio for loved ones and a few scouting talent reps!
Already have rep? No problem! Take this class for its educational value!
+ Export Events