How many times have you enjoyed watching a movie where the central character also narrates? (Think: FERRIS BUELLER'S DAY OFF, RAMONA AND BEEZUS, MERMAIDS, JUNO, THE HELP, etc.) Do you want to learn how to create animated characters for cartoons and animated films? (Think: THE SIMPSONS, DORA THE EXPLORER and FROZEN) What does it take to bring characters to life through your voice? Let's find out! ACANY's voice-over classes are all taught by industry professionals and classes take place in a real recording studio!
Payment plans are available, please contact us for more information!

November 2020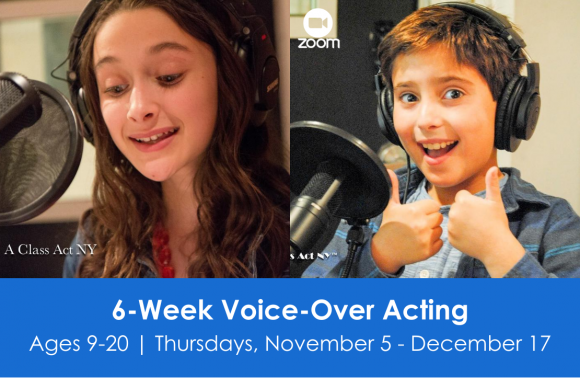 No Audition Required | Ages 9-20 | Thursdays, November 5 - December 17 from 4-6 PM ET | Cost 650.00
Previously Sold Out! We've Just Added a 2nd Session! Register ASAP!
Limited to 12 Students!
Payment Plans Available – please call our office at 212.315.3010 or email here to set up a payment plan today!
Session 1 Instructor (SOLD OUT): Voice-Over Actor, Sean Patrick Doyle (THE BOXTROLLS, Commercial Radio Spots for BLUE CROSS BLUE SHIELD and RUBY TUESDAY'S) 
Session 2 Instructor: Voice-Over, Broadway & On-Camera Actor, Morgan Weed (Axe Body & Hair Care Product, GE Refrigerators, Victoria's Secret, Educational Videos)
Voice-over acting is unlike any other type of acting. It requires an actor to make specific and original acting choices that are outside of the box using just their voice.
Learn how to create characters for cartoons and animated feature films and how to perform more naturally for commercials and radio spots!
Voice-Overs have been booming throughout the pandemic! Why?!? Because you can record auditions and jobs straight from home!
Focus of Class:
• Learn how to create animated characters for cartoons and feature films
• Work on naturalistic reads for commercials and radio spots
• Learn how to nail VO auditions
• Get tips from a pro about recording Voice-Over auditions and jobs from your home!
Final Presentation for 2 Agents and a Casting Director: Three industry guests including 2 scouting Voice-Over and Commercial agents plus a top Voice-Over casting director will come in to hear the students present the material they have honed during our final class. We'll also have a Q&A with the Casting Director, and the Instructor about the business! Family and friends will also be invited to attend this presentation.
+ Export Events