January 2021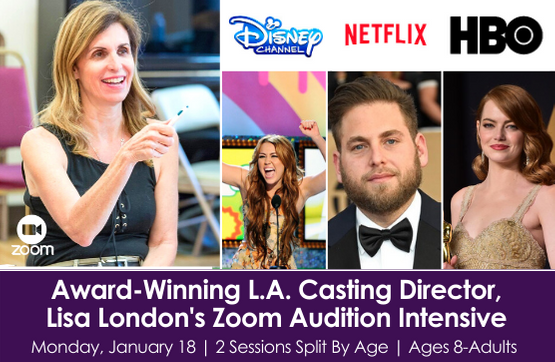 January 18 @ 10:00 am
-
6:00 pm
EST
No Audition Required | 2 Sessions Split By Age, 8 & Up | Monday, January 18 | Cost 205.00
MLK Day! No School! 
Work with prolific award-winning L.A. Casting Director Lisa London of London/Stroud Casting! 
Lisa London has discovered and/or given these actors their big break in Hollywood: Emma Stone, Jonah Hill, Mark Ruffalo, Miley Cyrus, Selena Gomez, Giovanni Ribisi, Adrian R. Mante, Adam Irigoyen & Yara Shahidi to name a few!
Notable recent projects include: THE POISON ROSE starring Morgan Freeman, Brendan Fraser and John Travolta, Adam Sandler's NETFLIX Film,  SANDY WEXLER, EXTRACURRICULAR ACTIVITIES starring Angela Kinsey of THE OFFICE, FREAKS starring Emile Hirsch and Bruce Dern, THE MOSTLY GHOSTLY franchise starring BELLA THORNE and SUGAR AND TOYS for FUSE TV.
You might also be familiar with Lisa's work on HANNAH MONTANA, SUPAH NINJAS, SUITE LIFE OF ZACK AND CODY and HOUSE BUNNY starring Emma Stone!
Focus of Class:
• The class will cover what casting directors are looking for in auditions, and why some people get callbacks while others do not and why it's imperative to research a role
• Proper on-camera audition technique
• Perform scenes for Lisa London and receive one-on-one coaching and feedback
• Showbiz Q&A
February 2021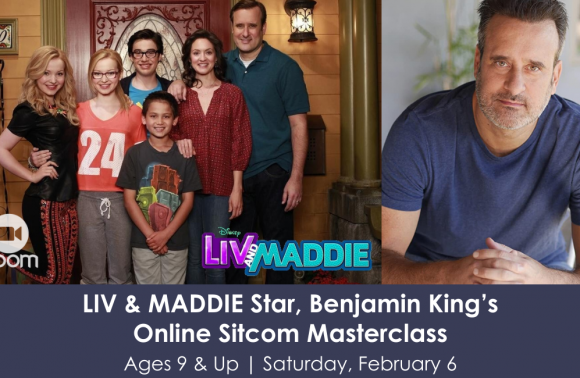 February 6 @ 4:00 pm
-
6:30 pm
EST
No Audition Required | Ages 9 & Up | Saturday, February 6 | Cost 165.00
Learn the art of sitcom acting with TV and Film Star and occasional Director, Benjamin King!
Benjamin is best known for playing the role of Pete Rooney on Disney's #1 Family Sitcom, LIV & MADDIE. He's also set to appear in the star-studded cast of the upcoming film SHRIVER, alongside Kate Hudson, Zach Braff, and Michael Shannon. 
Other notable credits include starring in David E. Kelley's series THE WEDDING BELLS, and guest appearances on many popular TV shows including: BETTER THINGS, GREY'S ANATOMY, WEEDS, MIKE & MOLLY, NCIS, BETTER OFF TED, PSYCH, CSI: CRIME SCENE INVESTIGATION, CSI: MIAMI, SCRUBS, THE KING OF QUEENS, WHAT I LIKE ABOUT YOU and more! 
While starring on LIV & MADDIE, he also directed some episodes!
Focus of Class:
• Learn what it takes to be a successful actor on a TV/Film set
• Rehearse scenes with a partner via Zoom breakout rooms
• Receive personal coaching from TV/Film Star, Benjamin King
• Learn how to give an authentic and compelling performance on set
• Work on active listening skills so you can be a more generous scene partner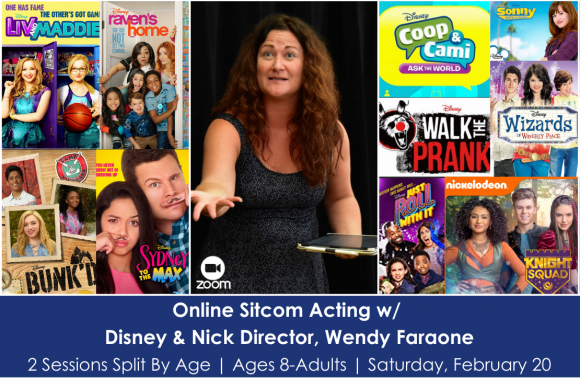 February 20 @ 10:00 am
-
5:30 pm
EST
No Audition Required | 2 Sessions Split By Age, 8 & Up | Saturday, February 20 | Cost 205.00
Learn the art of comedic on-camera acting featured on both The Disney Channel and Nickelodeon TV from one of the industry's most in-demand professionals, Wendy Faraone! Wendy is a dynamic and influential director. She is currently directing Disney's SYDNEY TO THE MAX, RAVEN'S HOME, JUST ROLL WITH IT, BUNK'D, COOP AND CAMI ASK THE WORLD, and she directed WALK THE PRANK, KNIGHT SQUAD, among others! She was also the director of Disney's #1 family sitcom, LIV AND MADDIE.
Wendy's workshops are well known for creating an inviting and energetic environment in which students are given the tools necessary to be successful, working actors in the entertainment industry. Impressively, she has recently coached all of the newly scouted talent for Disney Channel's latest boot camp and showcase!
Focus of Class:
• Learn what it takes to be a successful actor on the set of a Disney and Nick show
• Rehearse Scenes from Hit Shows Wendy has directed
• Receive Coaching and Feedback directly from Wendy Faraone
• Learn how to Land Jokes, Make Turns and Bring out the Funny in the Audition Room and On Set
• Showbiz Q&A with Wendy and Artistic Director of A Class Act NY, Jessica R. Grosman
+ Export Events