February 2024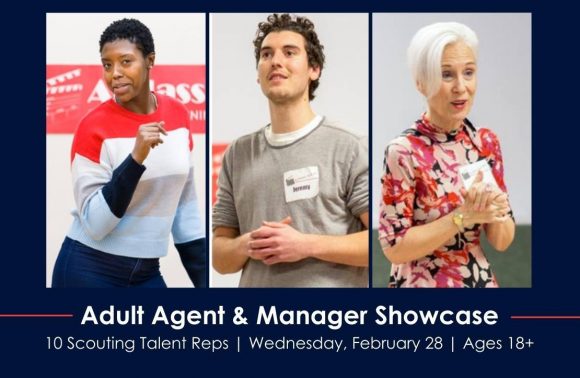 Ages 18+ | No Audition Required | Wednesday, February 28 | 6:15-8:30 PM ET | Cost 265.00
Payment Plans Available at Checkout, or if you need a custom plan, email us or call (212) 315-3010
Perform In-Studio OR Via Zoom!
Looking for an Agent? A Manager? Both? We're here to offer you the exclusive opportunity to perform for 10 scouting agents and managers in one evening!
A Class Act NY has been helping aspiring actors meet their representation and start successful careers for years. Don't believe us? Check out our impressive Student Achievement Page or our Instagram page, which is updated more regularly!
Participating actors should plan to prepare the following:
NON-SINGERS:
• A Monologue that is 90 Seconds or Less in Length
SINGERS:
• 1 Minute Monologue
• 16 Bar Cut
    • In-Studio: An accompanist will be provided. Please bring sheet music clearly marked and in a binder.
    • Virtual: You must be prepared to sing your piece with a backing track (many can be found on YouTube).
Need some extra help before the big day? 
Discounted Coaching Available:
Participants will receive a special rate on zoom or in-person coaching with our Broadway coaches and professional Music Directors!
Contact the office to set up a coaching session!
May 2024
No Audition Required | Ages: 4 - Mid 20s | Wednesday, May 22 | Cost: 385.00
Payment Plans Available at Checkout! Or, if you need a custom plan, email us or call (212) 315-3010.
Perform In-Studio OR Via Zoom!
It's often challenging to get in front of Talent Agents and Managers. A Class Act NY's industry showcases provide aspiring actors the unbelievable opportunity to perform for 20 scouting agents & managers in one evening.
Previous participants are now working professionally! Many are booking television series, films, voice-overs, commercials and Broadway shows. Click here to read about some of our students' professional progress.
The biggest agencies and management firms in town attend our showcases including CESD, Stewart Talent, DDO Artists, Zuri, Carson Kolker, Parkside Management, Avalon Artists, Calli & Co. Entertainment and many more.
The Showcase Includes:
• The chance to perform in the audition room for 20 Scouting Agents & Managers either In-Person or via Zoom
• A 50-minute virtual coaching session with:
     • Non-Singers: A Broadway/TV/Film Coach
     • Singers: A Broadway/TV/Film Coach and a Broadway Music Director
** An in-person coaching is available for an additional $125 fee.
+ Export Events