In our Adult Masterclasses, you can expect to receive individual coaching and feedback from industry professionals to further hone your skill set while making invaluable connections that can help you propel your career to the next level. The focus of our adult workshops range from agent and manager showcases to workshops with Broadway stars and NYC/L.A. casting directors focused on specific skills like on-camera acting and audition technique.

July 2023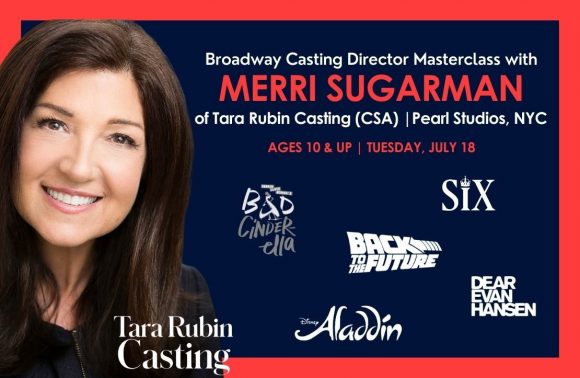 No Audition Required | Ages 10 & Up (Email us for an age exception)| Tuesday, July 18 | Cost to Perform: 195.00 | Cost to Observe: 75.00
Sing for Merri, or observe to pick up new tips!
Work one-on-one with Senior Casting Director, Merri Sugarman (CSA) of Tara Rubin Casting! Tara Rubin is the casting office behind Broadway and Off-Broadway hits and National Tours such as SING STREET*, TREVOR THE MUSICAL*, DEAR EVAN HANSEN*, SIX, AIN'T TOO PROUD, ALADDIN, PHANTOM OF THE OPERA, CHASING RAINBOWS*, LES MISERABLES*, AIDA, THE BAND'S VISIT, MISS SAIGON*, SCHOOL OF ROCK*, KING KONG, FALSETTOS*, A BRONX TALE, and many other shows too numerous to mention here!
*ACANY is proud to have many students represented in the casts of these shows! You can read more on our Student Achievement Page!
Students participating in this class perform a 32-bar cut of a musical theatre song with an accompanist.
Focus of Class:
• Sing and receive individual feedback and coaching on your song cut or monologue from Tara Rubin Casting Director, Merri Sugarman
• Learn if your piece is a good choice for you and showcases your unique talent, vocal range and personality
• Learn how to put your best foot forward in auditions
• Q&A with Merri about the ins-and-outs of the business
August 2023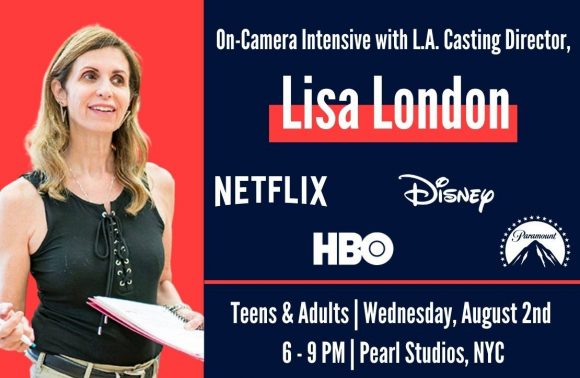 No Audition Required | Teens & Adults | Wednesday, August 2 | 6-9 PM | Cost 195.00
Performers have the unique opportunity to work with Award-Winning L.A. Casting Director, Lisa London on on-camera acting and auditioning skills.
Notable recent projects include: THE POISON ROSE starring Morgan Freeman, Brendan Fraser and John Travolta, Adam Sandler's NETFLIX Film,  SANDY WEXLER, EXTRACURRICULAR ACTIVITIES starring Angela Kinsey of THE OFFICE, FREAKS starring Emile Hirsch and Bruce Dern, THE MOSTLY GHOSTLY franchise starring BELLA THORNE and SUGAR AND TOYS for FUSE TV.
You might also be familiar with Lisa's work on HANNAH MONTANA, SUPAH NINJAS, SUITE LIFE OF ZACK AND CODY and HOUSE BUNNY starring Emma Stone!
Lisa London cast huge stars early in their careers including Emma Stone, Jonah Hill, Mark Ruffalo, Miley Cyrus, Selena Gomez & Yari Shahidi to name a few!
Currently, Lisa has over 15 projects in pre- and post-production.
Focus of Class:
• The class will cover what casting directors are looking for in auditions, and why some people get callbacks while others do not and why it's imperative to research a role
• Proper on-camera audition technique
• Perform scenes for Lisa London and receive one-on-one coaching and feedback. Sides will be sent a few days in advance, emulating a real audition
• Showbiz Q&A
+ Export Events