A Class Act NY's Online Dramatic Arts weekly classes expose students to a variety of acting techniques and give actors the tools necessary to succeed on stage, on-camera or in the voice-over studio.
Instructors are prominent Broadway, On-Camera and Voice-Over Actors and Industry Pros from NYC and LA who are all working in the field today!
Payment plans are available, please contact us for more information!

September 2023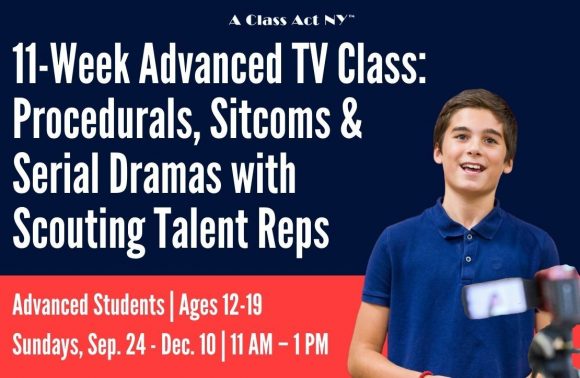 Advanced Students | Ages 12-19 (Email us for an age exception) | Sundays, Sep. 24 - Dec. 10 | 11 AM - 1 PM | 10-Week Pro-Rated Cost: 815.00
Missed the 1st Class? Pro-Rating Available!
Payment Plans Available at Checkout, or if you need a custom plan, email us or call (212) 315-3010

Instructor: On-Camera & Broadway Actor John Patrick Hayden (FLEISHMAN'S IN TROUBLE, YOUNGER, DAREDEVIL)
Advanced Student Prerequisite: A Class Act NY's advanced programs are for serious students who are seeking to take their skills to the next level. To enroll in this class, you must have taken classes or performed in shows at reputable institutions in the past. 
FOCUS OF CLASS:
In this course, we will cover the ins and outs of 3 popular forms of TV series: Procedurals, Sitcoms and Serial Dramas.
Students learn the acting techniques needed for each as well as on-camera lingo and staging technique. 
We'll cover each of these 3 genres:
• Procedurals (LAW & ORDER, THE BLACKLIST)
• Sitcoms (FRIENDS, LIV & MADDIE)
• Serial Dramas (STRANGER THINGS, ATYPICAL)
FINAL SHOWCASE WITH SCOUTING INDUSTRY GUESTS:
Perform selections from all 3 genres for family, friends, and 3 or more scouting Agents & Managers!
+ Export Events