How many times have you enjoyed watching a movie where the central character also narrates? (Think: FERRIS BUELLER'S DAY OFF, RAMONA AND BEEZUS, MERMAIDS, JUNO, THE HELP, etc.) Do you want to learn how to create animated characters for cartoons and animated films? (Think: THE SIMPSONS, DORA THE EXPLORER and FROZEN) What does it take to bring characters to life through your voice? Let's find out! ACANY's voice-over classes are all taught by industry professionals and classes take place in a real recording studio and virtually!

September 2022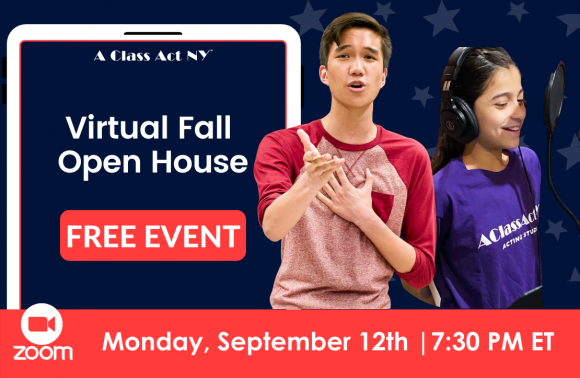 For Parents & Prospective Students Ages 7-20s | Monday, September 12 | 7:30-9:30 PM ET | Free
Join A Class Act NY, the award-winning acting studio, on ZOOM, for a FREE preview of what our Fall 2022 Programs will look like!
This Fall, we'll be offering both In-Studio and Virtual Musical Theatre, On-Camera, Voice-Over and Dramatic Arts Programs taught by amazing Broadway Veterans, On-Camera Actors, Voice-Over Artists and L.A. and NYC Industry Pros including TV/Film Directors, Casting Directors and Agents & Managers!
Join us for some, or all of the sessions, and feel free to Zoom in and out as you wish!
The Open House Will Cover:
• A quick introduction to our programs
• A demo of how select programs will be run featuring ACANY students and members of our faculty
• A Q&A with ACANY's administrative staff to answer your questions
These sessions will just scratch the surface of what we'll be covering throughout the Fall!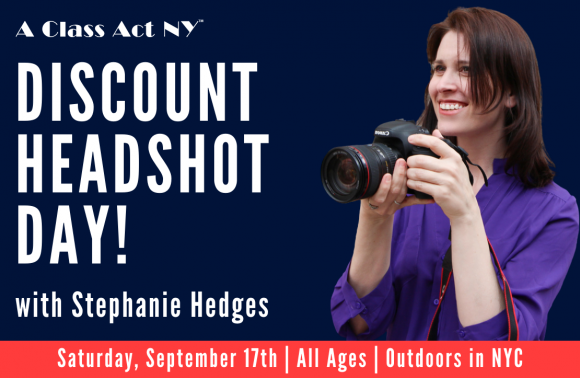 All Ages | Saturday, September 17 | Cost 155.00
Stephanie Hedges is a renowned headshot photographer whose philosophy is to create a relaxed, successful atmosphere that allows her to capture the personality of aspiring actors!
Booking for this special discount is only available through A Class Act NY registration!
Outdoor Session includes:
• 30 min photoshoot
• Online watermarked low res gallery within 3 to 5 business days
• 2 High-Resolution Retouched images within 5 to 7 business days
Where: TriBeCa Location
When: Saturday, September 17, All Day
Cost: 155.00
PLEASE NOTE: A CLASS ACT NY DOES NOT HANDLE SCHEDULING FOR THIS EVENT. YOU WILL BE SENT A LINK TO SIGN UP FOR A TIME WITH THE PHOTOGRAPHER AFTER YOU REGISTER!
+ Export Events