Our award-winning virtual summer programs are instructed by highly skilled Broadway actors and Industry Pros who will provide a superior education in a fun, safe, and supportive environment. We offer advanced and all skill level camps that focus on Musical Theatre, Dramatic Arts, Voice-Over and On-Camera Acting! We've been utilizing Zoom for our programs since March of 2020 to great success!
Find out why CBS News named us BEST ACTING CAMP!
Join us for multiple weeks throughout the summer! We never cover the same material twice!

May 2022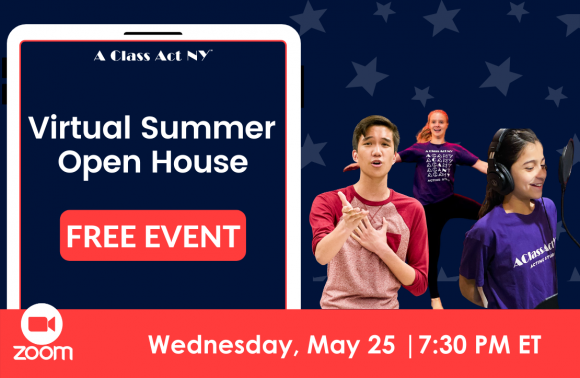 Ages 7-20s | Wednesday, May 25 | 7:30-9:30 PM ET | For Parents & Prospective Students | Free
Join A Class Act NY, the award-winning acting studio, on ZOOM for a FREE preview of what Summer 2022 Programs will look like!
We'll be offering both In-Studio and Virtual Musical Theatre, On-Camera, Voice-Over and Dramatic Arts Programs taught by amazing Broadway Veterans, and L.A. and NYC Industry Pros including TV/Film Directors, Casting Directors and Agents & Managers!

Join us for some, or all of the sessions, and feel free to Zoom in and out as you wish!
The session will include:
• A quick introduction to our programs
• A demo of how select summer programs will be run featuring ACANY students and members of our faculty
• A Q&A with ACANY's administrative staff to answer your questions
These sessions will just scratch the surface of what we'll be covering throughout the Summer!
Schedule of Open House Events:
7:30-7:40 PM ET: Dance with Broadway Actress, Whitney Sprayberry (SPIDERMAN: TURN OFF THE DARK, JAGGED LITTLE PILL)
7:40-8:00 PM ET: Voice-Over Acting with Voice-Over Artist, Amy Marcs (Commercial Radio Spots for JOHNSON AND JOHNSON, MASTERCARD, IBM, and KMART)
8:00-8:15 PM ET: Song Interpretation with Broadway Star, Lauren "Coco" Cohn (MAMMA MIA!, FUN HOME, FOUND)
8:15-8:50 PM ET: Sitcom Acting with On-Camera Actor, Morgan Weed (THE GOOD FIGHT, ELEMENTARY, THE GREATEST SHOWMAN)
8:55-9:30 PM ET: Q&A with ACANY's Artistic Director, Jessica R. Grosman and ACANY's Administrative Staff
LEARN MORE or CLICK HERE TO REGISTER
July 2022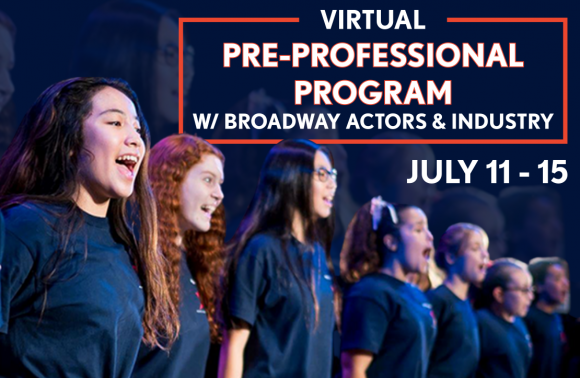 Advanced Students | Recommended Ages: 10-19 | Monday, July 11 - Friday, July 15 | 1-4:30 PM Eastern | Cost 695.00
Zoom Classrooms Limited to 12 Students!
Payment Plans Available – please call our office at 212.315.3010 or email here to set up a payment plan today!
A Class Act NY's Pre-Professional Program is for a select group of artists who are ready for the challenge of honing their singing, dancing, & acting skills through exploring more advanced work.
Private Lessons
During the week, participants will receive 2 free private lessons. Prep your final showcase material with the guidance of your Broadway Director and Music Director. Lessons take place outside of normal camp hours.
Voice: 45 Minutes with a Professional Music Director. Work on your song cut for the final showcase. This lesson will focus on acting through song, proper audition and vocal technique.
Acting: 45 Minutes with your Broadway Director. Work on your monologue for the final showcase. We'll break down your monologue beat by beat, discover operative words within the text, and identify your conflict and objective.
Advanced Masterclasses with Visiting Broadway Stars & Broadway Casting Directors
Participants take a series of advanced masterclasses with visiting Broadway Stars and Broadway Casting Directors designed to challenge and elevate our actors' skill set.
• Scene Study, Character Development, & Script Analysis
• Acting Through Song
• Dialect Coaching & Vocal Technique
• Audition Technique with a Broadway Casting Director
Broadway Star Q&A
We'll invite one of Broadway's biggest stars to zoom in for an informative Q&A! Ask them everything you've ever wanted to know about starring on Broadway, or the business of show business!
Final Showcase for 5 Scouting Talent Reps
Perform in a final showcase for loved ones and 5 scouting industry guests!
+ Export Events