Virtual Dramatic Arts Summer Camps
Our online dramatic arts summer camps expose students to a variety of acting techniques and give actors the tools necessary to succeed on stage, on-camera, or in the voice-over studio. Instructors are prominent Broadway, On-Camera, and Voice-Over Actors who are working in the field today! We've been utilizing Zoom for our programs since March of 2020 to great success!
Find out why CBS News named us BEST ACTING CAMP!
Join us for multiple weeks throughout the summer! We never cover the same material twice!

July 2021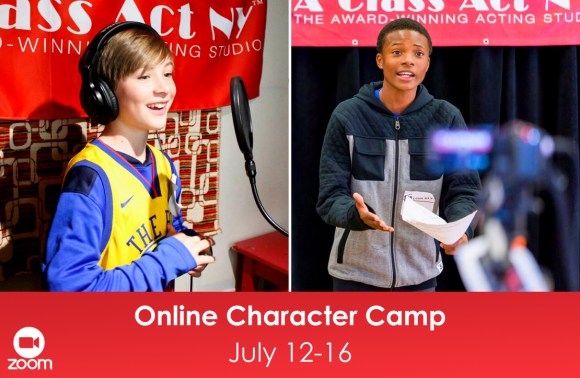 No Audition Required | Ages 8-19 (Grouped by age) | Monday, July 12 - Friday, July 16 | Time 1-4:15 PM Eastern (OR FOR WEST COAST CAMPERS, 10 AM - 1:15 PM Pacific) | Cost 645.00
Instructor: On-Camera Actor, Ashley Kate Adams (UNBREAKABLE KIMMY SCHMIDT, ROYAL PAINS)
Zoom Classrooms Limited to 14 Students!
Payment Plans Available – please call our office at 212.315.3010 or email here to set up a payment plan today!
Hone your acting chops in a fun, safe and supportive environment in Character Camp, an online acting program with amazing On-Camera, Voice-Over and Broadway faculty!
In our straight acting program, campers will explore four different areas of performance: stage acting, film, television and voice-over. Learn how to make bold and interesting character choices and deepen performance skills through a series of workshops and private lessons. Campers will learn to use their physicality and intellect to create compelling characters!
Add new skills to your actor's toolbox!
Private Lessons - Monologue Study
Campers will take a free 45-minute one-on-one session with their Main Director, Ashley Kate Adams, to work on an age-appropriate monologue. Each actor will be assigned a piece to learn before their session. With the guidance of Ashley Kate, you will break down your monologue beat by beat, discover operative words within the text, and identify your objective. Lessons will take place outside of normal camp hours.
Workshops
Take educational workshops throughout the week led by your Main Director, Ashley Kate Adams and Special Guest Instructor, Lauren 'Coco' Cohn!
Final Showcase
Campers perform in an online final showcase for family and friends! (If your loved ones can't make it live, a recorded version will be distributed via email a few weeks after camp!)
NEW MATERIAL WEEKLY! JOIN US FOR MULTIPLE WEEKS!
August 2021
+ Export Events