January 2021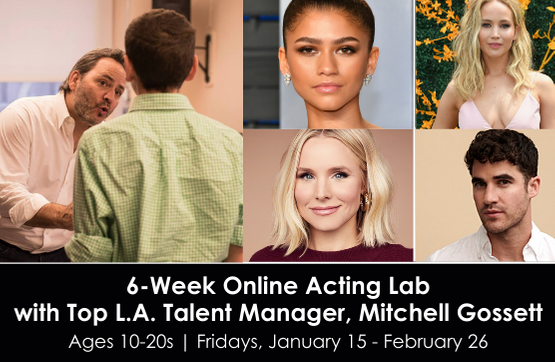 January 15 @ 4:00 pm
-
February 26 @ 6:00 pm
EST
No Audition Required | Ages 10-20s | Fridays, January 15 - February 26 | 4-6 PM ET | Cost 845.00
SOLD OUT! JOIN THE WAITLIST
Work with powerhouse L.A. Talent Manager Mitchell Gossett of Industry Entertainment Partners in an online acting lab! Mitchell's storied success has allowed him to refer talent to agencies in NY, L.A. and across the USA.
Throughout his career as a manager and agent, Mitchell has repped, discovered and developed many noteworthy actors, including Jennifer Lawrence, Rachel Brosnahan, Darren Criss, Zendaya, Kristen Bell, Dylan Minnette, Kiernan Shipka, Jojo Siwa, Miley Cyrus, Lucy Hale and many, many others.
March 2021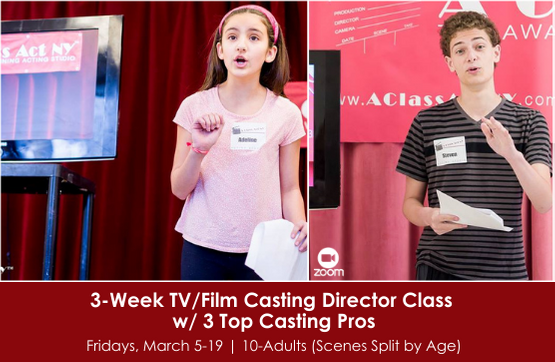 March 5 @ 4:30 pm
-
March 19 @ 6:30 pm
EST
No Audition Required | Ages 10 - Adults (scenes split by age) | Fridays, March 5-19 | 4:30-6:30 PM EST | Cost 435.00
Payment Plans Available – please call our office at 212.315.3010 or email here to set up a payment plan today!
Improve your on-camera acting and audition skills with 3 Top Casting Directors!
Each week, a new casting pro will work with students on TV and Film scenes. Learn how to give a natural, nuanced and subtle performance by working on active listening skills and identifying intentions. The Casting Directors will teach you the skills you need to stand out in TV & Film auditions and offer tips on how to create a beautiful and professional self-tape from home.
Focus of Class:
• Script Analysis
• Character Development
• Understanding Intention
• Active Listening Skills
• On-Camera Audition Technique
• Tips on How to Self-Tape from Home
+ Export Events