July 2020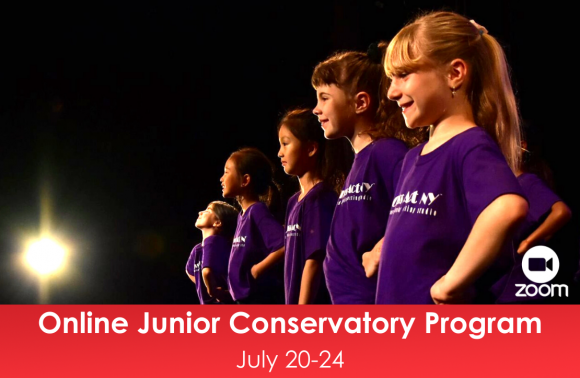 July 20 @ 1:00 pm
-
July 24 @ 4:30 pm
EDT
Advanced Students | Ages 8-11 | Monday, July 20 - Friday, July 24 | 1-4:30 PM ET (10 AM - 1:30 PM PT) | Cost 695.00
Payment Plans Available – please call our office at 212.315.3010 or email us to set up a payment plan today!
CAN'T MAKE THE JULY SESSION? SCROLL DOWN FOR OUR AUGUST 3-7 SESSION!
JOIN US FOR MULTIPLE SESSIONS! NEW MATERIAL COVERED WEEKLY!
A Class Act NY's Junior Conservatory Program is for a select group of artists who are ready for the challenge of honing their singing, dancing, & acting skills through exploring more advanced work.
We will spend 3 hours and 30 minutes together daily as a group in our online advanced intensive led by our Broadway Director. Included in the program are 2 forty-five minute lessons with the main Broadway Director and Music Director and 1 fifteen-minute dance brush up lesson with a Choreographer. Moreover, throughout the week, special visiting guest artists such as Broadway Stars and Broadway Casting Directors zoom in to teach accelerated, educational masterclasses.
This exclusive program culminates in a Final Zoom Showcase for 10 Scouting Talent Agents & Managers! Many of our past participants have been discovered at this very program. For a list of recent student achievements, click here.
Exciting Zoom features like break-out rooms make it possible for actors to work opposite one another in a small classroom setting. Since early March, Zoom has provided our advanced students with an amazing way to connect with in-demand industry pros, and with one another.
NEW FOR 2020
We are adding exciting, new elements into the Junior Conservatory Program. The intensive now includes a workshop with a Broadway Casting Director, More Scouting Talent Reps at the Final Showcase, Extended Private Lessons, and the incorporation of Monologues into our Final Showcase.
Private Lessons
During the week, participants will receive 3 free private lessons. Prep your final showcase material with the guidance of your Broadway Director, Music Director and Dance Instructor. Lessons will take place outside of normal camp hours.
Voice: 45 Minutes with your Broadway Director and a Professional Music Director. We'll work on your song cut for the final showcase. This lesson will focus on proper audition and vocal technique.
Acting: 45 Minutes with your Broadway Director. We'll work on your monologue for the final showcase. We'll break down your monologue beat by beat, discover operative words within the text, and identify your conflict and your objective.
Dance: 15 Minutes with a Professional Choreographer. While dance won't be part of Friday's showcase, it's important all well rounded musical theatre performers strengthen their dance skills. Learn how to break down difficult dance steps and make a lasting impression in a dance audition.
Advanced Masterclasses with Visiting Broadway Stars & Broadway Casting Directors
Junior Conservatory Program participants will also take a series of advanced masterclasses with visiting Broadway Stars and Broadway Casting Directors designed to challenge and elevate our actors' skill set. Masterclasses include: Scene Study, Character Development, & Script Analysis, Acting Through Song, Dialect Coaching & Vocal Technique and Audition Technique with a Broadway Casting Director
August 2020
+ Export Events