October 2020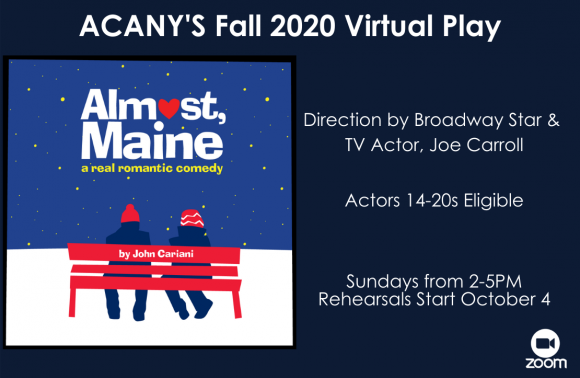 October 4 @ 2:00 pm
-
December 6 @ 5:00 pm
EDT
No Audition Required | Ages 14-20s | Sundays, October 4-December 6 from 2-5 PM ET | Cost 695.00
SOLD OUT! Join the Wait List
ACANY's Fall 2020 Virtual Play
Director: Broadway & TV Star, Joe Carroll (FROZEN, BANDSTAND, CINDERELLA, THE POLITICIAN, NEW AMSTERDAM)
Welcome to Almost, Maine, a place that's so far north, it's almost not in the United States. It's almost in Canada. And it's not quite a town, because its residents never got around to getting organized. So it almost doesn't exist. One cold, clear, winter night, as the northern lights hover in the star-filled sky above, the residents of Almost, Maine, find themselves falling in and out of love in unexpected and hilarious ways. Knees are bruised. Hearts are broken. But the bruises heal, and the hearts mend—almost—in this delightful midwinter night's dream.
ALMOST MAINE is an ensemble show written by Tony Nominated Actor and Playwright John Cariani (FIDDLER ON THE ROOF, SOMETHING ROTTEN, THE BAND'S VISIT).
The show will be edited together, and we'll be hosting a viewing party with the cast, family, friends, and scouting industry guests 2 weeks later!
November 2020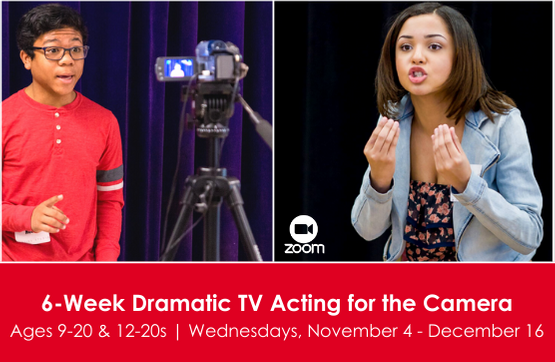 November 4 @ 4:00 pm
-
December 16 @ 6:00 pm
EST
No Audition Required | 2 Sessions: Ages 9-20 w/ RJ and Ages 12-20s w/ James | Wednesdays, November 4 - December 16  from 4-6 PM ET | Cost: 650.00
Ages 12-20s: 1 SPOT LEFT!
Ages 9-20: A FEW SPOTS LEFT!
Limited to 12 Students!
Payment Plans Available – please call our office at 212.315.3010 or email here to set up a payment plan today!
Instructor (Ages 9-20): TV Actor, RJ Brown (13 REASONS WHY, CHICAGO PD, GIRLS)
Instructor (Ages 12-20s): TV Actor, James Leo Ryan (THE BLACKLIST, LAW & ORDER: SVU, NCIS)
In this comprehensive course, we will cover the ins and outs of 2 wildly popular forms of TV series: Procedurals (series that focuses on how crimes are solved or some other aspect of a law enforcement agency) and Serial Dramas (continuing plot that unfolds in a sequential episode-by-episode fashion).
Examples of Procedurals (LAW & ORDER, THE BLACKLIST, SCANDAL)
Examples of Serial Dramas (13 REASONS WHY, RIVERDALE, THE CHILLING ADVENTURES OF SABRINA)
Actors will learn how to give nuanced, subtle performances and create authentic and believable characters.
We'll begin our sessions by working on dramatic monologues from plays, and then dive into various types of on-camera scene work, where students will have the opportunity to work alongside a scene partner.
Focus of Class:
• Learn how to give a natural, nuanced and subtle performance
• Scene Study & Script Analysis
• Master Physicality for Performing Dramatic TV Material
• Work on Active Listening Skills and Identifying Intention
• Learn On-Camera Technique to Set You Apart in Auditions
Final Showcase with 4 Talent Reps: 
Together, we will work towards an online final showcase in which family, friends, 2 scouting agents, and 2 scouting managers will Zoom in to see your performance!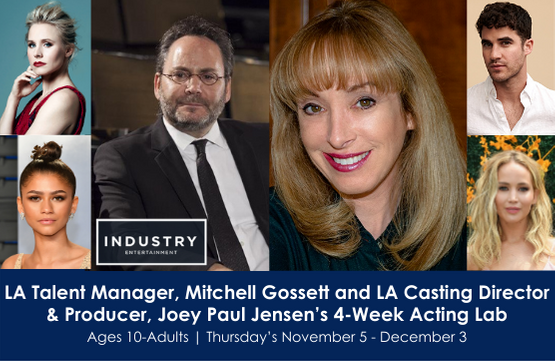 November 5 @ 4:00 pm
-
December 3 @ 6:00 pm
EST
No Audition Required | Ages 10-20s | Thursdays, November 5 - December 3 | 4-6 PM ET | Cost 675.00
3 SPOTS LEFT!
Payment Plans Available – please call our office at 212.315.3010 or email us to set up a payment plan today!
Work with both LEGENDARY Talent Manager Mitchell Gossett and LEGENDARY casting director/producer Joey Paul Jensen in an online 4-Week Zoom Acting Lab!
Mitchell Gossett is a top Los Angeles Talent Manager who runs a renowned scouting operation at Industry Entertainment Partners, a bi-coastal management firm. Mitchell has discovered and represented some of Hollywood's biggest stars including Jennifer Lawrence, Zendaya, Darren Criss, Rachel Brosnahan, Kristen Bell, among others. Joey Paul Jensen is an award-winning Los Angeles Casting Director and Producer who has mentored many actors over the course of her 20 year storied career. 
In this class, learn how to access and train your instincts to command the moment, and live the life of your character underneath the words. Discover the space where a character and an actor's own personality meet. Learn techniques that reduce natural distractions that hinder spontaneity.
Focus of Class:
• Learn and explore Mitchell and Joey's approach to Great Acting
• Learn techniques that help spontaneity flourish and develop more sensory awareness of your choices
• Build perspective on your work from the casting point of view
• Discover how your commitment to the work leaves a lasting impression
• Ease performance anxiety in front of a camera or audience into " no big deal"
• Get out of your head and into your body through monologue work, scene work, exercises and presentation
• Conquer physicality and movement concerns in self-tape auditions
• Both Mitchell Gossett and Joey Paul Jensen will provide career guidance and advice
+ Export Events