On-camera workshops give students the unique opportunity to work on scenes and audition sides from television shows, films, and commercials. Each workshop focuses on the different acting techniques needed to excel in that particular art form. Workshops are taught by prominent industry pros including NYC and L.A. Casting Directors, L.A. TV/Film Directors, On-Camera Actors, and Scouting Talent Representatives.

January 2020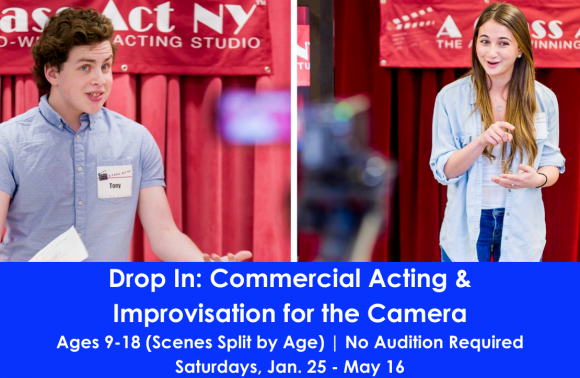 Ages 9- 18 (Scenes Split by Age) | No Audition Required | Saturdays, January 25- May 16 | 11 AM - 12:30 PM | Cost: 80.00 per class
On-Camera & Broadway Instructor: Lauren "Coco" Cohn (MORNING GLORY, CATCH ME IF YOU CAN, MAMMA MIA!)
Register as late as the morning of the class!
You might be amazing when you have time to prepare, but what about when it's a cold read?
Commercial auditions are almost always COLD READ AUDITIONS! The actors never gets the copy in advance!
Moreover, casting directors will often ask actors to IMPROV the material and put it into their own words!
In our drop in class, students will learn how to nail cold read commercial auditions and how to improv for the camera! Learn the tricks of the trade and professional hacks to help you nail cold auditions!
Every week students will be presented with new material! Have an audition coming up? Bring in your sides to receive coaching on them!
Final Showcase:
On the last day, there will be a final showcase attended by a few talent reps and loved ones! Even if you haven't been with us for the entire semester, you are invited to participate in the showcase and perform a cold read!
March 2020
April 2020
June 2020
July 2020
August 2020
+ Export Events