A Class Act NY brings their award-winning one-day workshops with Broadway Stars and Industry Pros to cities and states across the USA! We have taught in almost all 50 states!
If you're interested in bringing a one day workshop to your hometown, please call 212.315.3010 or email us for more information.

February 2023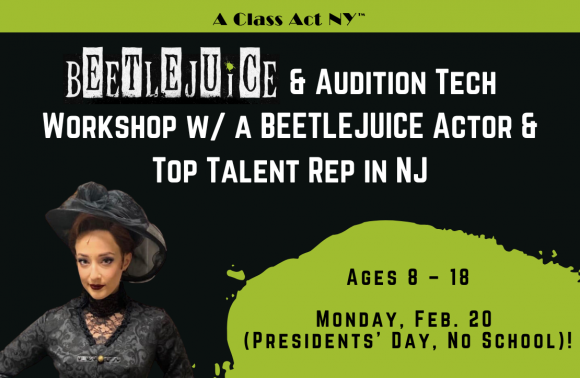 All Skill Levels  |  Ages 8 – 18  |  Monday, Feb. 20 (Presidents' Day, No School)! | Family Facility Member Cost 175.00 | Non-Member Cost 185.00
A Class Act NY returns with an exciting Musical Theatre workshop in Wayne, NJ featuring BEETLEJUICE Actor, Katie Lombardo and a Scouting Talent Rep! Learn a Broadway song and dance combo and work on audition technique in this 3 hour class! Students will also work with a Scouting Talent Rep on musical theatre audition technique. The talent rep will conduct mock auditions and offer insightful feedback and coaching. They are always looking for new clients! Class concludes with a showbiz Q&A.
Part 1: Musical Theatre Workshop w/ Broadway Actor Katie Lombardo (BEETLEJUICE)
• Students learn a song and dance combo from BEETLEJUICE with Broadway Performer, Katie Lombardo
• Q&A, photo and autograph session with BEETLEJUICE Actor, Katie Lombardo
Part 2: Audition Workshop with Top NYC Talent Rep & a Music Director
• Mock Auditions with a Top Scouting NYC Talent Rep
• Learn Proper Audition Technique & Hone Your Song Cut with the Talent Rep & MD
• Feedback and Coaching from the Top NYC Talent Rep
• Showbiz Q&A with the Top NYC Talent Rep
+ Export Events