Upcoming Events
August 2018
SPACE IS LIMITED | Ages 18 & Up | Wednesday, August 15 | Pre-Audition Prep: 6 – 7 p.m. (optional); Agent Session: 7 – 8:30 PM  |  $145.00
The impressive lineup of Agents who are actively scouting for theatre, film, TV, commercial and voiceover actors include Craig Holzberg of Avalon, Sandy Gunar of Avanti, Danny Prather of Hudson Artists Agency, and more TBA! 
Ages: 18 & Up
When: Wednesday, August 15
Time: Pre-Audition Prep: 6 – 7 p.m. (optional); Agent Session: 7 – 8:30 p.m.
Where: Pearl Studios - 500 8th Ave, NYC. Room 408
Pre-Audition Prep: 6 – 7 p.m. (optional)
If you choose, arrive at 6 p.m. and brush up and hone your audition material before performing for the agents with ACANY pros!
Agent Session: 7 – 8:30 p.m.
Perform for 4 Top Agents and receive feedback from these actively scouting industry pros!
All Skill Levels  |  Ages 7-18 (grouped by age)  |  Monday-Friday, Aug. 20-24, 9:30 a.m. – 5 p.m. | 750.00 for JCC members/ 790.00 for non-members
In this comprehensive 5-day program, campers will hone all 3 major components of Musical Theatre performance: singing, dancing and acting.
Throughout the week, campers will learn numbers from beloved Broadway musicals, see a matinee performance of Broadway's splashiest new musical SPONGEBOB SQUAREPANTS and attend a talkback, and perform in a final showcase at the JCC's state of the art 200 seat theatre!
LEARN MORE or Email Susan Kalman at skalman@sjjcc.org to register
October 2018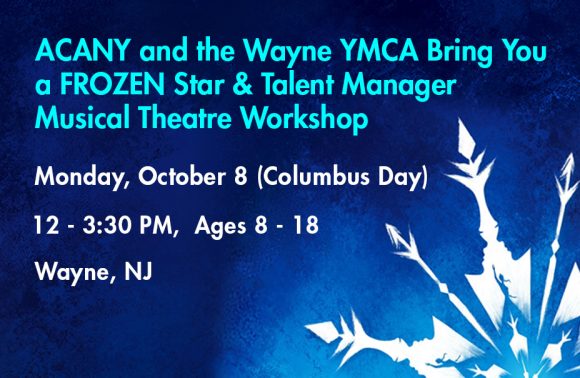 Ages 8 - 18 | All Skill Levels | Monday, Oct. 8 | 12 PM - 3:30 PM | YMCA Members: $175.00 | YMCA Non-Members: $185.00
Join a star from Broadway's newest smash hit, FROZEN and a Talent Manager on Columbus Day in Wayne, NJ!
Focus of Class:
• Students will learn a Broadway song and dance combination w/ a FROZEN star!
• Then, kids and teens can ask questions in a super fun Q&A, take photos and get autographs with the Broadway luminary!
• In the latter part of the workshop, students have the amazing opportunity to sing for a top Manager who will offer feedback and coaching on song presentation, audition technique and more!
The Manager is scouting and past participants have been discovered at these workshops! 
Learn how to make it on the Great White Way in this one day workshop with a FROZEN Star and a top NYC Talent Rep!
LEARN MORE or Contact the Wayne YMCA at 973-595-0100
+ Export Events