Be anywhere in the world and work alongside college admission pros from some of NYC's top BFA programs to demystify the college admission process and leave you confident and ready to take on the daunting task of applying to college musical theatre programs!
We also offer private coaching and can help you make a memorable pre-screen video!

August 2020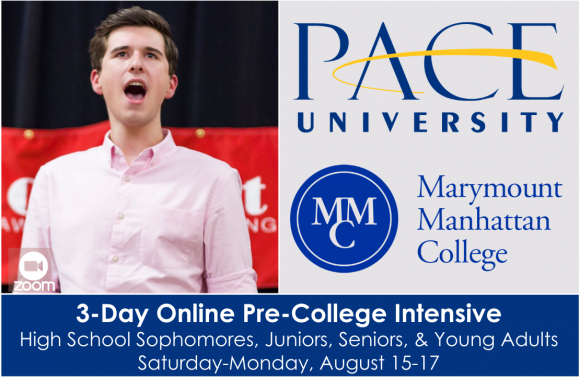 No Audition Required | High School Sophomores, Juniors, Seniors, & Young Adults | Saturday-Monday August 15-17 | Cost to Participate 375.00 | Cost to Observe 75.00
SOLD OUT! JOIN THE WAITLIST or PURCHASE AN OBSERVATION TICKET!
Calling actors with aspirations of attending a top BFA, BM, or BA Musical Theatre College Program!
Do you need guidance on the college admissions process like, how do I go about choosing the right material that showcases me, my vocal range and my unique personality? How do I create a professional and memorable pre-screen video? Do you want to know what college admissions officers are looking for?
If you have answered yes to any of these questions, ACANY's 3-Day Pre-College Audition Intensive is for YOU!
Work all weekend alongside college admissions officers Wayne Petro, Associate Director of Enrollment for the School of Performing Arts at Pace University, and Kevin Kemler, Director of Fine and Performing Arts Admissions at Marymount Manhattan College!
LEARN MORE or JOIN THE WAITLIST or PURCHASE AN OBSERVATION TICKET
+ Export Events