Virtual Summer Camps and Intensives
Our award-winning one week programs for budding thespians are moving online for summer 2020! We've been utilizing Zoom for our programs since early March to great success! Camp days will be shorter and class sizes will be smaller in this new format to ensure a positive experience for all. Instructors are highly skilled Broadway actors and Industry Pros who will provide your child with a superior education in a fun, safe, and supportive environment. We offer advanced and all skill level camps that focus on Musical Theatre, Dramatic Arts, Voice-Over and On-Camera Acting!
Join us for multiple weeks throughout the summer! We never cover the same material twice!
Payment Plans are available, please contact us for more information!
Signed up for an in-person camp and looking for more information on credits and refunds? Click here to read about our COVID-19 Cancellation Policy or contact the office.

August 2020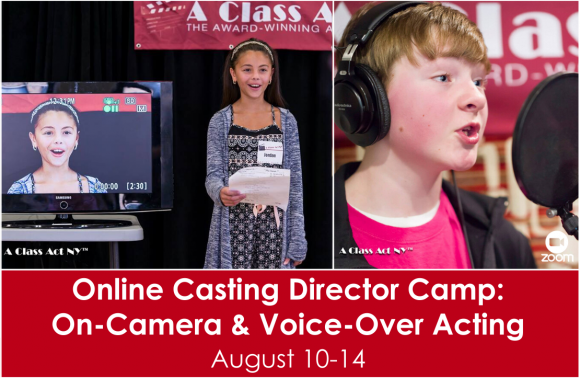 No Audition Required | Ages 8-19 (scenes divided by age) | Monday-Friday, August 10-14 | Cost 799.00 | 1-4:15 PM ET (10 AM - 1:15 PM PT)
SOLD OUT! JOIN THE WAITLIST
Hone your on-camera and voice-over performance and audition skills in a fun, safe, and supportive online environment! 
Throughout the week we'll be joined by 4 top NYC and LA Casting Directors who will provide invaluable feedback, coaching, and insight into the casting process. 
Each day we'll focus on a different type of audition:
• Sitcoms
• Dramatic TV & Film Acting
• Voice-Over
• Commercials
Daily Instruction & Showbiz Q&A's
Each day includes a 3 hour workshop with that day's casting director, followed by a 15 minute showbiz Q&A that both parents and students are invited to attend!
Weekly Schedule of Events
Monday: Voice-Over Acting 
NYC Casting Director, Colleen Piquette
Learn how to create bold and original characters for cartoons and animated feature films and how to perform more naturally for commercials and radio spots!
Tuesday: Dramatic On-Camera Acting
L.A. Casting Director Robyn Owen of Robyn Owen Casting
Learn how to give a natural, nuanced and subtle performance by working on active listening skills and identifying intentions. Develop the skills necessary to create authentic and believable characters for dramatic on-camera TV and Film acting! 
Wednesday: Sitcom Acting
L.A. Casting Director Jamie Snow of Bullock/Snow Casting
Learn the specific tone and the formula in which sitcoms are written. Learn how to land jokes, identify misleads, make turns and bring out the funny in the audition room and on set!
Thursday: Commercial Acting
NYC Top Casting Director Angela Mickey of Liz Lewis Casting Partners!
Angela is the most senior casting director at Liz Lewis Casting Partners! Learn how to analyze and break down commercial copy to find the selling points within the text. Learn how to sell a product without being too over the top. Learn how to handle a cold read- commercial auditions are almost always cold reads
Learn how to analyze and break down commercial copy to find the selling points within the text. Learn how to sell a product without being too over the top. 
Friday: Final Showcase with 2 Top Scouting Talent Representatives
Under the guidance of an ACANY instructor, review what you have learned during the week and get ready to present it live for family, friends, and two top scouting talent reps, an agent and a manager!
Final Showcase
Zoom in to watch performers present what they have learned throughout the week! Two top scouting talent reps will also be zooming in to watch your performance!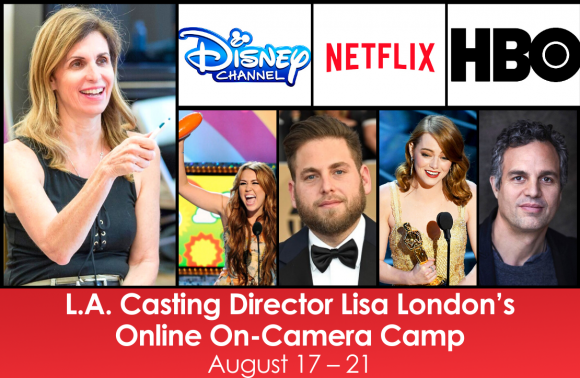 All Skill Levels | Ages 9-20s  (scenes split by age) | Monday-Friday, August 17-21 | 1-4:15 PM ET  (OR FOR WEST COAST CAMPERS, 10 AM - 1:15 PM PT) | Cost 735.00
SOLD OUT! JOIN THE WAITLIST
In this 5-day program, campers will have the unique opportunity to work with Award-Winning L.A. Casting Director, Lisa London, on on-camera acting and auditioning skills.
Lisa currently has 20 projects in either pre- or post-production!
Notable recent projects include: THE POISON ROSE starring Morgan Freeman, Brendan Fraser and John Travolta, Adam Sandler's NETFLIX Film,  SANDY WEXLER, EXTRACURRICULAR ACTIVITIES starring Angela Kinsey of THE OFFICE, FREAKS starring Emile Hirsch and Bruce Dern, THE MOSTLY GHOSTLY franchise starring BELLA THORNE and SUGAR AND TOYS for FUSE TV.
You might also be familiar with Lisa's work on HANNAH MONTANA, SUPAH NINJAS, SUITE LIFE OF ZACK AND CODY and HOUSE BUNNY starring Emma Stone!
Lisa London has discovered and/or given these actors their big break in Hollywood: Emma Stone, Jonah Hill, Mark Ruffalo, Miley Cyrus, Selena Gomez, Giovanni Ribisi, Adrian R. Mante, Adam Irigoyen & Yara Shahidi to name a few!
Focus of Lisa's On-Camera Camp:
• Actors will perform a mock audition for Lisa and learn how to prepare for auditions
• We will be recording the classes and analyzing scenes together with the group. Lisa will share her screen with her campers and play every scene back. Get amazing constructive criticism from this casting pro!
• Actors will be paired up with "co-stars" in zoom breakout rooms and will begin to dissect and analyze their scenes. Lisa will join the breakout rooms and work with her students semi-privately in these small online classrooms
• Actors will gain invaluable feedback and training from Lisa London throughout the week
• In addition to directing everyone's scenes, Lisa will also offer amazing feedback and coaching to all of her students
• Parents and friends will zoom in on our final day to watch campers perform their scenes and showcase the new on-camera skills they have learned throughout the week. (If your loved ones can't make it live, a recorded version will be distributed via email a few weeks after camp!)
• Following the showcase, we'll have a Q&A with Lisa and ACANY's Artistic Director, Jessica R. Grosman for Parents and Campers!
Lisa will also use improvisation, an important skill to have both on-set and in auditions. She will run fun exercises that keep actors' minds sharp, focused and keep the creative juices flowing.
Not only will campers get to work on scenes with Lisa London, they'll also take daily workshops with Lisa and guest instructors! Workshops include: Scene / Script Analysis, Voice-Over Technique, Commercial Acting and Audition Technique and Audition Improvisation Skills.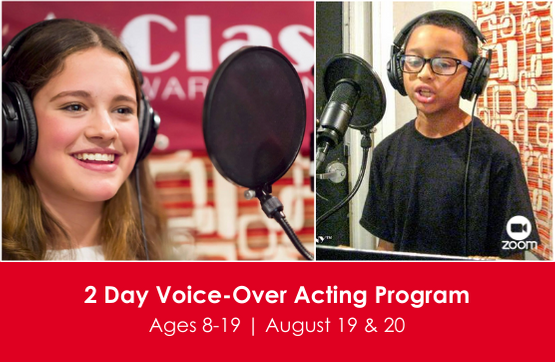 No Audition Required | Ages 8-19 | Wednesday, August 19 and Thursday, August 20 | 260.00
Voice-over acting is unlike any other type of acting. It requires an actor to make specific and original acting choices that are outside of the box using just their voice.
This two-day intensive will focus on how to create characters for cartoons, video games and commercial promos.
Towards the end of the 2nd day, students will have the opportunity to perform for family, friends and a top voice-over agent!
Voice-Overs are a great way to make money, be creative and stay anonymous and nowadays, you can record in your pajamas from the comfort of your own home!
Unlike other parts of the entertainment industry that were impacted negatively during the pandemic, voice-over has been going strong!
The Voice-Over Talent Agent is always looking for new clients!
Learn the art of Voice-Over Acting and Break Into Voice-Over Industry Today!
Focus of Class:
• Learn how to create animated characters for cartoons and feature films
• Work on naturalistic reads for commercials and radio spots
• Learn how to nail VO auditions
At the end of the class, we'll have a short Q&A for parents and students (time permitting).
+ Export Events