ACANY's Spring MainStage Production!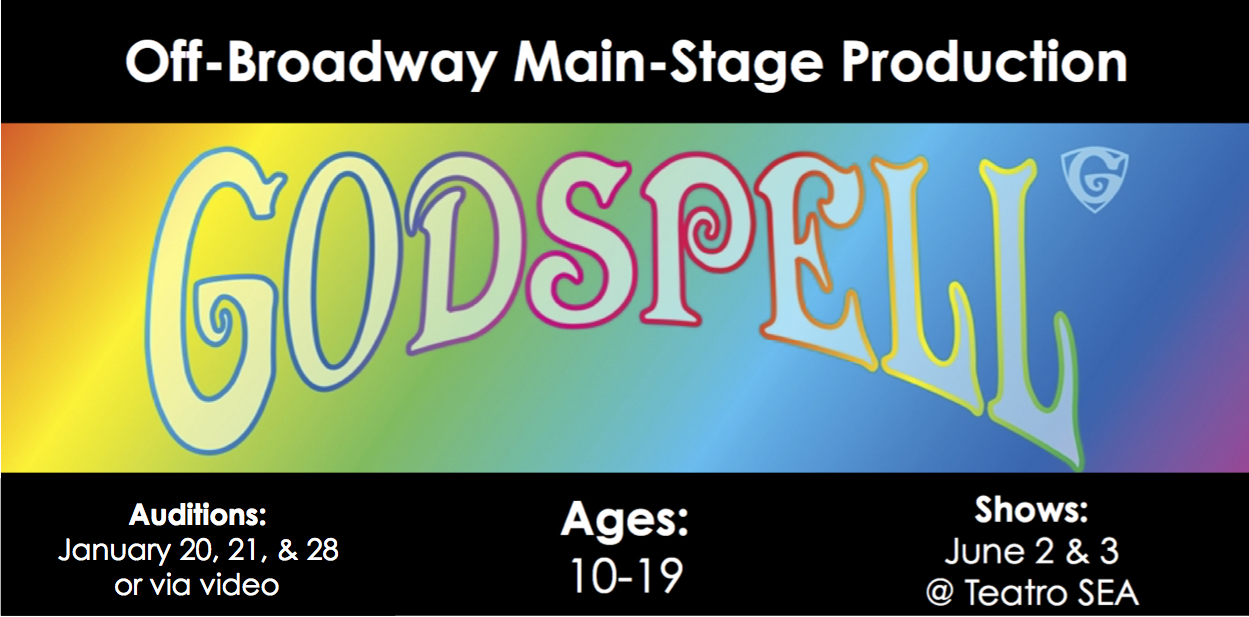 By Audition Only! Ages 10-19! Gender Neutral Casting!
Godspell was the first major musical theatre offering from three-time Grammy and Academy Award winner, Stephen Schwartz (Wicked, Pippin, Children of Eden), and it took the world by storm. Led by the international hit, "Day by Day," Godspell features a parade of beloved songs.
A small group of people help Jesus Christ tell different parables by using a wide variety of games, storytelling techniques and hefty doses of comic timing. An eclectic blend of songs, ranging in style from pop to vaudeville, is employed as the story of Jesus' life dances across the stage. Dissolving hauntingly into the Last Supper and the Crucifixion, Jesus' messages of kindness, tolerance and love come vibrantly to life.
Audition and Callback Information
Click here for audition materials!
In Person
Saturday, Jan. 20
Time: 3:00 – 7:00 PM
Where: Ripley Grier Studios – 305 W38th St. in room 212
Sunday, Jan. 21
Time: 12:00 – 5:00 PM
Where: The Riverside Theatre – 91 Claremont Ave. in room 10T
Sunday, Jan. 28
Time: 1:00 – 4:00 PM
Where: Ripley Grier Studios – 520 8th Ave (between 36th & 37th St) in room 17I
Students may be asked to submit a video for a Callback. 
Via Video Submission
Click here for guidelines!
Deadline: Friday, Jan. 26
Click here for more info and to sign up for your audition today! Additional dates just added!
ACANY's Spring Full Scale Production!

Horton the Elephant, the Cat in the Hat and all of your favorite Dr. Seuss characters spring to life onstage in Seussical JR., a fantastical musical extravaganza from Tony-winners, Lynn Ahrens and Stephen Flaherty in which the powers of friendship, loyalty, family and community are challenged and emerge triumphant!
Rehearsal Schedule
When: Sundays, Jan. 28; Feb. 4, 11 ; Mar. 4, 11, 18, 25; Apr. 15, 22
Time: 1:30 – 5:30 p.m.
Where: Pearl Studios – 500 8th Ave., NYC
Tech Week: Tuesday, Apr. 24 – Friday, April 27, 5 – 9 p.m. at Teatro SEA, 107 Suffolk St., NYC (Each cast will be called for 2 of the 4 tech nights)
Performance Dates
When: Saturday, Apr. 28 and Sunday, Apr. 29 (each cast will perform 2 shows, 1 per day)
Show Times: TBD
Where: Teatro SEA, 107 Suffolk St., NYC
Fall 2017: The Little Mermaid Jr. and Les Miserables School Edition at The Riverside Theatre
Spring 2017: Aladdin Jr. and Spamalot Young@Part at the 52nd St. Project
Fall 2017: Annie Jr. and Urinetown at the 52nd St Project
Spring 2016: Beauty and the Beast Jr. at the 52nd St Project
Fall 2016: Honk Jr. Thoughoughly Modern Millie Jr. at the 52nd St Project
Spring 2015: Legally Blonde Jr. at the 52nd St Project
Fall 2014: Seussical Jr. and High School Musical Jr. at The York Theatre
Spring 2014: The Little Mermaid Jr. at Manhattan Movment and Art Center
Fall 2013: Into the Woods Jr. Manhattan Movment and Art Center