Be anywhere in the world and take an award-winning one-day voice-over masterclass from the comfort of your own home utilizing the video conferencing app ZOOM!

June 2020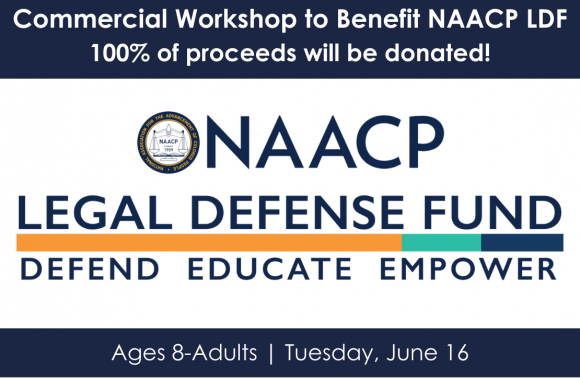 No Audition Required | Ages 8 - Adults | Tuesday, June 16 | Cost to Participate 25.00 | Cost to Observe 10.00
100% OF THE PROCEEDS FROM THIS WORKSHOP WILL BE DONATED TO THE NAACP Legal Defense and Educational Fund.
We stand with our black brothers and sisters at this time, and always. Together, let's fight for equality and justice for all!
100% of the proceeds from this commercial workshop will be donated to the NAACP Legal Defense and Educational Fund. We hope to raise significant funds through this charity workshop. We have 16 participation spots available at just $25, and 280 observer spots available for purchase at just $10.
Help us in the fight to end injustice!
The NAACP Legal Defense and Educational Fund, Inc. is America's premier legal organization fighting for racial justice. Through litigation, advocacy, and public education, LDF seeks structural changes to expand democracy, eliminate disparities, and achieve racial justice in a society that fulfills the promise of equality for all Americans. LDF also defends the gains and protections won over the past 75 years of civil rights struggle and works to improve the quality and diversity of judicial and executive appointments.
LDF is a 501(c)(3) nonprofit organization.
In this 2-hour workshop, you will learn the art of commercial acting and audition technique from A Class Act NY's Artistic Director, Jessica R. Grosman. Before founding A Class Act NY in 2005, Jessica worked in commercial casting in both NYC and California!
Commercial acting is harder than it looks and is very different from other genres of acting like Stage, Film or TV acting.
Learn how to analyze commercial copy and find the acting beats within the text to make a lasting impression in the audition room and on advertising execs!
Focus of Class:
• How to analyze and break down commercial copy to find the selling points within the text
• Learn how to nail your slate
• Learn how to sell a product without being too over the top
• Work on proper commercial acting and audition technique
• Learn lingo that is specific to commercial auditions and on-camera acting
+ Export Events