Be anywhere in the world and take an award-winning one-day voice-over masterclass from the comfort of your own home utilizing the video conferencing app ZOOM!

August 2020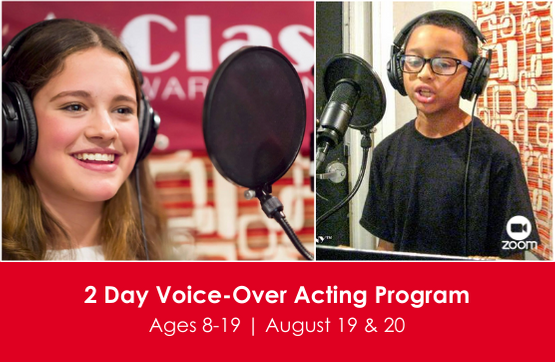 No Audition Required | Ages 8-19 | Wednesday, August 19 and Thursday, August 20 | 260.00
Voice-over acting is unlike any other type of acting. It requires an actor to make specific and original acting choices that are outside of the box using just their voice.
This two-day intensive will focus on how to create characters for cartoons, video games and commercial promos.
Towards the end of the 2nd day, students will have the opportunity to perform for family, friends and a top voice-over agent!
Voice-Overs are a great way to make money, be creative and stay anonymous and nowadays, you can record in your pajamas from the comfort of your own home!
Unlike other parts of the entertainment industry that were impacted negatively during the pandemic, voice-over has been going strong!
The Voice-Over Talent Agent is always looking for new clients!
Learn the art of Voice-Over Acting and Break Into Voice-Over Industry Today!
Focus of Class:
• Learn how to create animated characters for cartoons and feature films
• Work on naturalistic reads for commercials and radio spots
• Learn how to nail VO auditions
At the end of the class, we'll have a short Q&A for parents and students (time permitting).
+ Export Events