Ripley-Grier Studios
520 8th Ave.




New York

,

NY

10018

United States
May 2020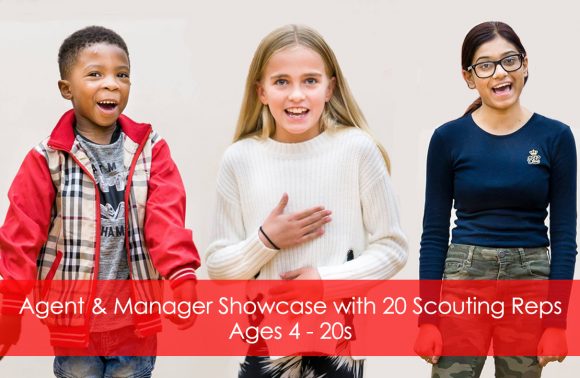 Ages 4 - early 20s | There will be 2 private coaching sessions prior to the showcase | Cost (if cast) $385.00
Admissions on a rolling basis. No spots will be held.
This event is by audition or invitation only. If you are interested in participating please submit a video audition. If you have any additional questions please call our office at  212.315.3010 or email info@aclassactny.com.
Audition Guidelines
Prepare: One-minute contemporary age appropriate monologue. Monologues MUST be memorized.
If you are a Singer: Sing 32 bars a cappella of a musical theatre song that is age-appropriate.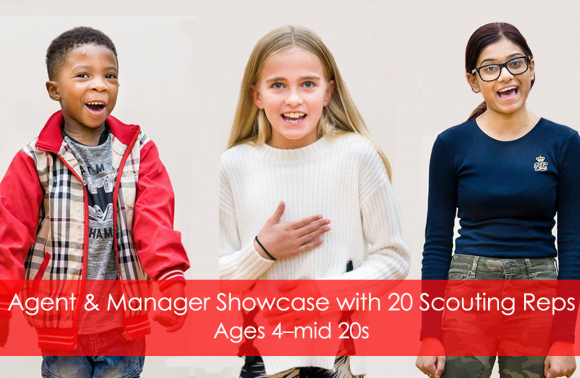 Ages 4 – mid 20s | By Audition Only | Wednesday, May 20th
It's Still Happening! This Showcase may be moved online using the Zoom app! More info to come in the next month!
Submit your Video Auditions HERE ASAP!
Accepting auditions on a rolling admissions basis!
It's often challenging to get in front of Talent Agents and Managers. A Class Act NY's industry showcases provide aspiring actors the unbelievable opportunity to perform for over 20 scouting agents & managers in one evening.
The biggest agencies in town attend our showcases including CESD, Abrams Artists (A3), Generation T.V., Shirley Grant Management, Carson Adler, Carson Kolker, Zoom Management, Parkside Management, Sinclair Management and many more.
If cast, the fee to participate is 385.00 (Payment Plans Available). This includes 2 private coaching sessions prior to the showcase.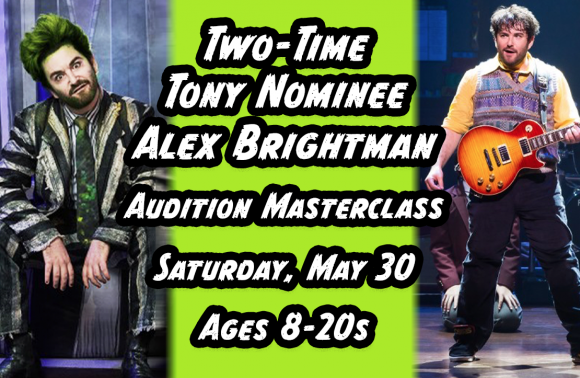 May 30 @ 9:45 am
-
1:00 pm
EDT
June 2020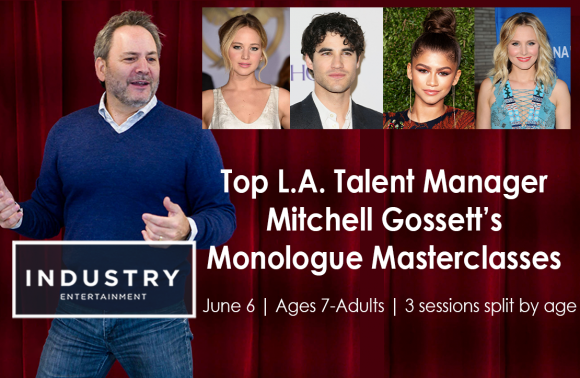 June 6 @ 10:00 am
-
9:45 pm
EDT
No Audition Required | Ages 7-Adults, 3 Sessions Grouped by Age | Saturday, June 6 | Cost 205.00
Work with powerhouse L.A. Talent Manager Mitchell Gossett of Industry Entertainment Partners in a monologue masterclass! Mitchell's storied success has allowed him to refer talent to agencies in NY, LA and across the USA.
Mitchell believes the most exciting way to explore material is not through thoughts alone, but through "ACTIONS" – through what you are DOING with your body. Bring ACTions into the work creates a stronger, more visceral connection to the material. But as importantly, it also provides a means of showing the most unique feature any actor can present: THEMSELVES in the work. Students will receive monologues in advance of class and Mitchell will offer direction and coaching to lucky participants!
Mitchell has repped and developed many noteworthy actors, including Jennifer Lawrence, Darren Criss, Miley Cyrus, Zendaya, Lucy Hale, Selena Gomez and many, many others.
Session 1: 10 AM - 1:30 PM Ages 9-mid 20s 
Session 2: 2 PM - 5:30 PM Ages 7-14 
Session 3: 6:15 PM - 9:45 PM Ages 12-Adults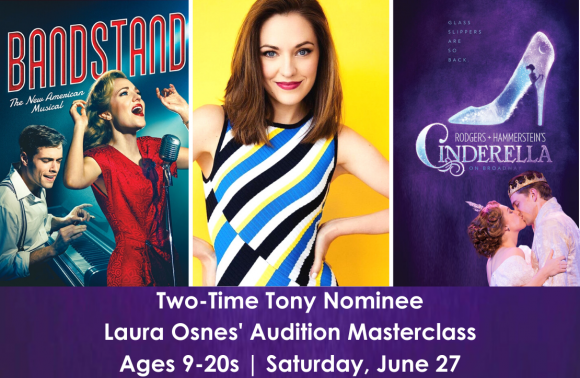 June 27 @ 9:45 am
-
1:00 pm
EDT
No Audition Required | Ages 9-20s | Saturday, June 27 | Cost 195.00
Laura Osnes is a two-time Tony Nominee, best known for her roles in Rodgers + Hammerstein's CINDERELLA, BANDSTAND, BONNIE AND CLYDE, SOUTH PACIFIC, ANYTHING GOES and GREASE! Since her last role on Broadway, she co-developed and starred in THE BROADWAY PRINCESS PARTY at Feinstein's/54 Below and starred in THE KEY OF LOVE and A HOMECOMING FOR THE HOLIDAYS on the Hallmark Channel.
Laura will be working one-on-one with her students! Sing a 32-bar mock audition for Laura who will offer each participant individual guidance and feedback on their audition technique, song interpretation and presentation!
Learn if your song is a good showcase of your unique talents and vocal range!
Class will conclude with a Q&A, photo and autograph session with this Tony Nominee!
July 2020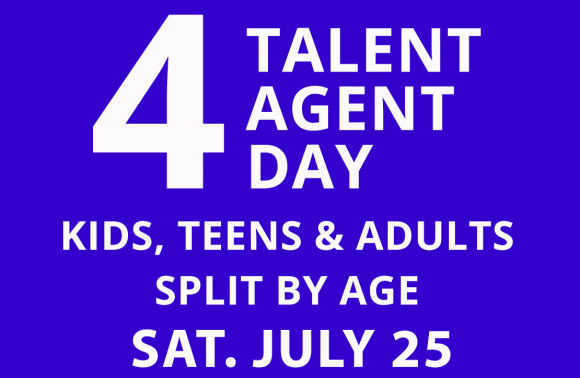 July 25 @ 10:00 am
-
4:30 pm
EDT
No Audition Required | Ages 7-20s (Divided into rooms by age) | Saturday, July 25 | Cost for 1 Session: 195.00 | Cost for 2 Sessions: 290.00
Lucky participants have the amazing opportunity to work with either 2 or 4 Top Scouting Talent Agents in either a 1/2 day workshop or a full day 6.5 hour workshop!
The agents represent kids, teens and young adults for theatre, film, TV, commercials and voice-over!
3 Hour AM Workshop - Film & TV with 2 Top Agents
• Mock television and film auditions
• The Agents will offer guidance, feedback and coaching on both individual and chemistry read mock auditions (scenes will be sent a few days in advance as they would in a real audition scenario)
3 Hour PM Workshop - Musical Theatre OR Monologue Performance with 2 Top Agents
• Perform either a 16-bar cut or a one-minute monologue. A music director will be provided for singers. Pre-approved monologues will be sent in advance for non-singers.
• Actors will receive one-on-one coaching on their presentation, interpretation and audition technique.
Learn how to snag an Agent and how to nail auditions!
Agents TBA Soon!
Register for Both Sessions and SAVE!
August 2020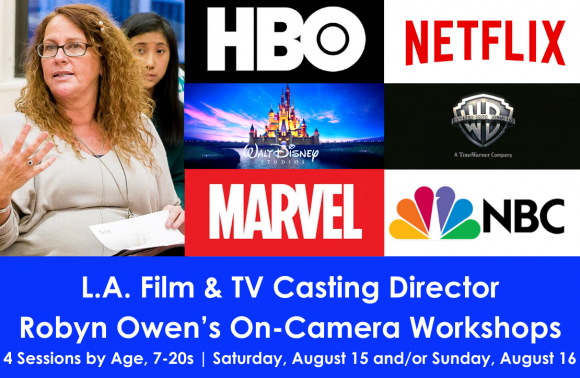 August 15 @ 10:00 am
-
August 16 @ 5:30 pm
EDT
No Audition Required | 4 Sessions by Age, 7-Adults | Saturday, August 15 and/or Sunday, August 16 | Cost: 195.00
Work one-on-one with Robyn Owen of Robyn Owen Casting, a 20-year veteran of the casting industry!
Robyn casts important big-budget feature films and television series, and has collaborated with Academy Award Nominated Filmmaker Ava DuVernay on multiple projects including: CHERISH THE DAY (WB/OWN), QUEEN SUGAR (WB/OWN), A WRINKLE IN TIME (Feature Film), DMZ (HBO MAX), and she did some contributing work on WHEN THEY SEE US (Netflix), which won a Primetime EMMY award for Outstanding Casting for a Limited Series, Movie, or Special.
Other recent projects include THE WATER MAN (Feature Film), MISS VIRGINIA (Feature Film), and A TRUE CRIME (Film Short). Former student, Niles Fitch, met his agent at our workshop and stars in MISS VIRGINIA!
Focus of Class:
• Perform film & TV sides for casting director, Robyn Owen
• Learn proper on-camera and audition technique
• Learn important on-camera lingo and terminology
• Receive feedback and coaching from casting director, Robyn Owen
Take this amazing opportunity to study on-camera acting and audition technique with one of the industry's most acclaimed Casting Directors!
September 2020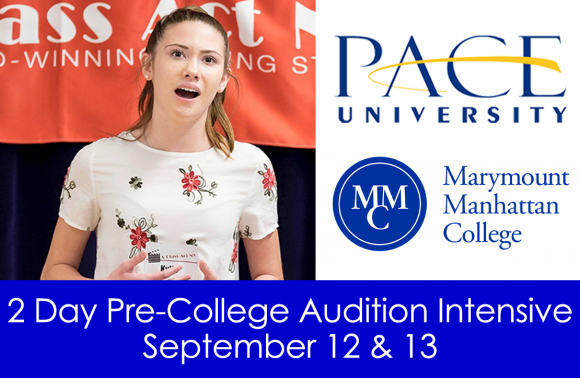 September 12 @ 10:00 am
-
September 13 @ 6:00 pm
EDT
Ages: High School Juniors, Seniors, & Young Adults | No Audition Required | Saturday, September 12 & Sunday, September 13 | 10 AM - 6 PM | Cost: 595.00
Calling junior and senior high school students and young adults with aspirations of attending a top BFA, BM, or BA Musical Theatre College Program!
Do you need guidance on the college admissions process like, how do I go about choosing the right material that showcases me, my vocal range and my unique personality? How do I create a professional and memorable pre-screen video? Do you want to know what college admissions officers are looking for?
If you have answered yes to any of these questions, ACANY's 2 Day Pre-College Audition Intensive is for YOU!
Work all weekend alongside college admissions officers Wayne Petro, Associate Director of Enrollment for the School of Performing Arts at Pace University, and Kevin Kemler, Director of Fine and Performing Arts Admissions at Marymount Manhattan College, to prepare for the showcase with more admissions officers Sunday! This 2-Day College Prep Intensive will leave you confident and ready to take on the daunting task of applying to college musical theatre programs!
+ Export Events