Ripley-Grier Studios
520 8th Ave.




New York

,

NY

10018

United States
July 2020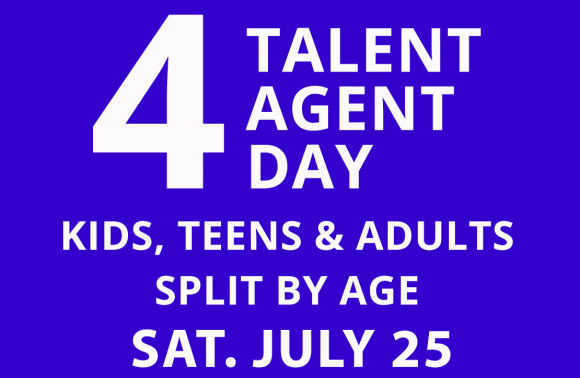 July 25 @ 10:00 am
-
4:30 pm
EDT
No Audition Required | Ages 7-20s (Divided into rooms by age) | Saturday, July 25 | Cost for 1 Session: 195.00 | Cost for 2 Sessions: 290.00
Lucky participants have the amazing opportunity to work with either 2 or 4 Top Scouting Talent Agents in either a 1/2 day workshop or a full day 6.5 hour workshop!
The agents represent kids, teens and young adults for theatre, film, TV, commercials and voice-over!
3 Hour AM Workshop - Film & TV with 2 Top Agents
• Mock television and film auditions
• The Agents will offer guidance, feedback and coaching on both individual and chemistry read mock auditions (scenes will be sent a few days in advance as they would in a real audition scenario)
3 Hour PM Workshop - Musical Theatre OR Monologue Performance with 2 Top Agents
• Perform either a 16-bar cut or a one-minute monologue. A music director will be provided for singers. Pre-approved monologues will be sent in advance for non-singers.
• Actors will receive one-on-one coaching on their presentation, interpretation and audition technique.
Learn how to snag an Agent and how to nail auditions!
Agents TBA Soon!
Register for Both Sessions and SAVE!
August 2020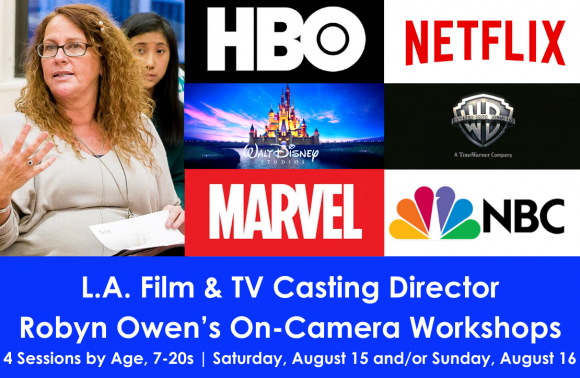 August 15 @ 10:00 am
-
August 16 @ 5:30 pm
EDT
No Audition Required | 4 Sessions by Age, 7-Adults | Saturday, August 15 and/or Sunday, August 16 | Cost: 195.00
Work one-on-one with Robyn Owen of Robyn Owen Casting, a 20-year veteran of the casting industry!
Robyn casts important big-budget feature films and television series, and has collaborated with Academy Award Nominated Filmmaker Ava DuVernay on multiple projects including: CHERISH THE DAY (WB/OWN), QUEEN SUGAR (WB/OWN), A WRINKLE IN TIME (Feature Film), DMZ (HBO MAX), and she did some contributing work on WHEN THEY SEE US (Netflix), which won a Primetime EMMY award for Outstanding Casting for a Limited Series, Movie, or Special.
Other recent projects include THE WATER MAN (Feature Film), MISS VIRGINIA (Feature Film), and A TRUE CRIME (Film Short). Former student, Niles Fitch, met his agent at our workshop and stars in MISS VIRGINIA!
Focus of Class:
• Perform film & TV sides for casting director, Robyn Owen
• Learn proper on-camera and audition technique
• Learn important on-camera lingo and terminology
• Receive feedback and coaching from casting director, Robyn Owen
Take this amazing opportunity to study on-camera acting and audition technique with one of the industry's most acclaimed Casting Directors!
September 2020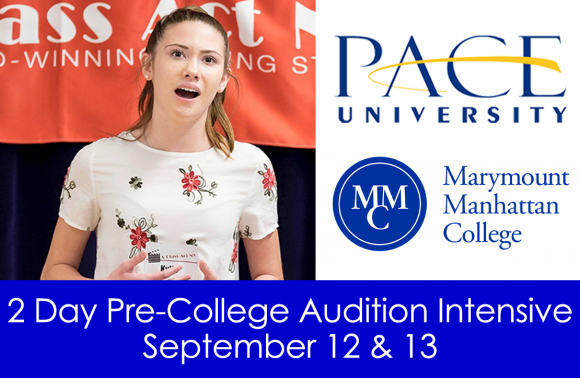 September 12 @ 10:00 am
-
September 13 @ 6:00 pm
EDT
Ages: High School Juniors, Seniors, & Young Adults | No Audition Required | Saturday, September 12 & Sunday, September 13 | 10 AM - 6 PM | Cost: 595.00
Calling junior and senior high school students and young adults with aspirations of attending a top BFA, BM, or BA Musical Theatre College Program!
Do you need guidance on the college admissions process like, how do I go about choosing the right material that showcases me, my vocal range and my unique personality? How do I create a professional and memorable pre-screen video? Do you want to know what college admissions officers are looking for?
If you have answered yes to any of these questions, ACANY's 2 Day Pre-College Audition Intensive is for YOU!
Work all weekend alongside college admissions officers Wayne Petro, Associate Director of Enrollment for the School of Performing Arts at Pace University, and Kevin Kemler, Director of Fine and Performing Arts Admissions at Marymount Manhattan College, to prepare for the showcase with more admissions officers Sunday! This 2-Day College Prep Intensive will leave you confident and ready to take on the daunting task of applying to college musical theatre programs!
+ Export Events