December 2021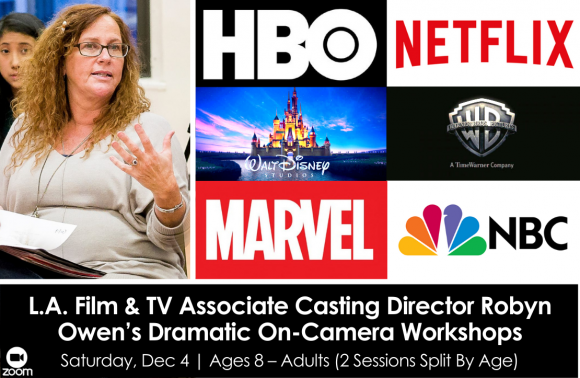 December 4 @ 10:00 am
-
5:30 pm
EST
No Audition Required | Ages 8 - Adults (2 Sessions Split By Age) |  Saturday, December 4  | Cost to Participate 195.00 | Cost to Observe 55.00
Work one-on-one with L.A. Associate Casting Director, Robyn Owen of Robyn Owen Casting, a 20-year veteran of the casting industry!
Robyn works as an Associate Casting Director on important big-budget feature films and television series, many from acclaimed Academy Award Nominated Director, Writer, and Producer, Ava DuVernay. Some of her most recent projects include: the upcoming CW TV Series from Ava DuVernay, NAOMI* (WB/CW) which stars our alumna, Kaci Walfall, DMZ (HBO MAX) also from DuVernay, CHERISH THE DAY (WB/OWN) another DuVernay project, QUEEN SUGAR (WB/OWN) also from DuVernay, A WRINKLE IN TIME (Feature Film) directed by DuVernay , THE WATER MAN (Feature Film), MISS VIRGINIA* (Feature Film) starring our alumni, Niles Fitch and Uzo Aduba, and A TRUE CRIME (Film Short). 
* These projects star ACANY alumni who have met their representation at our programs! Kaci Walfall is set to star as the titular character in NAOMI on the CW, and Niles Fitch stars as James in Netflix's MISS VIRGINIA. You can read more on our Student Achievement Page!
Focus of Class:
• Perform Dramatic Film & TV sides for associate casting director, Robyn Owen
• Learn proper on-camera acting and audition technique
• Learn important on-camera lingo and terminology
• Receive feedback and coaching from associate casting director, Robyn Owen
• Informative Q&A for students and their parents
LEARN MORE or CLICK TO REGISTER
January 2022
June 2022
July 2022
+ Export Events