Upcoming Events
June 2020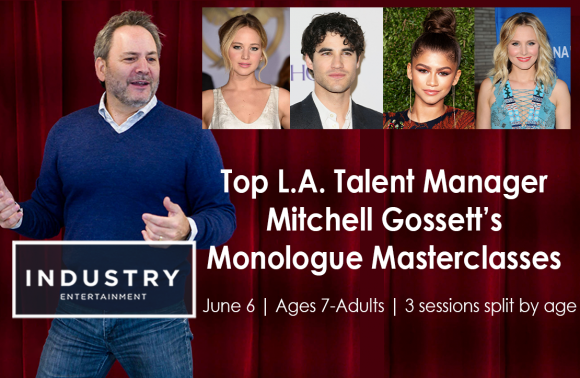 June 6 @ 10:00 am
-
9:45 pm
EDT
No Audition Required | Ages 7-Adults, 3 Sessions Grouped by Age | Saturday, June 6 | Cost 205.00
Work with powerhouse L.A. Talent Manager Mitchell Gossett of Industry Entertainment Partners in a monologue masterclass! Mitchell's storied success has allowed him to refer talent to agencies in NY, LA and across the USA.
Mitchell believes the most exciting way to explore material is not through thoughts alone, but through "ACTIONS" – through what you are DOING with your body. Bring ACTions into the work creates a stronger, more visceral connection to the material. But as importantly, it also provides a means of showing the most unique feature any actor can present: THEMSELVES in the work. Students will receive monologues in advance of class and Mitchell will offer direction and coaching to lucky participants!
Mitchell has repped and developed many noteworthy actors, including Jennifer Lawrence, Darren Criss, Miley Cyrus, Zendaya, Lucy Hale, Selena Gomez and many, many others.
Session 1: 10 AM - 1:30 PM Ages 9-mid 20s 
Session 2: 2 PM - 5:30 PM Ages 7-14 
Session 3: 6:15 PM - 9:45 PM Ages 12-Adults 
July 2020
August 2020
+ Export Events