September 2019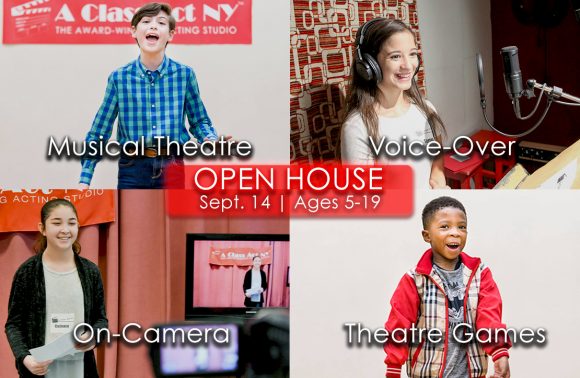 September 14 @ 11:00 am
-
2:00 pm
EDT
All New Students | Ages 5-19 | Saturday, September 14 | 11AM-2PM | FREE
New students are invited to join A Class Act NY, the award-winning acting studio, for a FREE day full of activities! 
Work with some of our wonderful Broadway, On-Camera and Voice-Over instructors, get all of your questions answered, and see what separates ACANY from the rest!
Schedule of Events is Below 
11AM-12PM Commercial Acting for Ages 7-11 
11AM-12PM Voice-Over Acting (Session 1) Ages 10-19
12-12:45PM Musical Theatre Song & Dance with a Broadway Star for Ages 7-19
1-1:30PM Musical Theatre Enrichment & Theatre Games for ages 5-6
1-2PM On-Camera Scene Study and Improvisation for Ages 11-19
1-2PM Voice-Over Acting (Session 2) Ages 10-19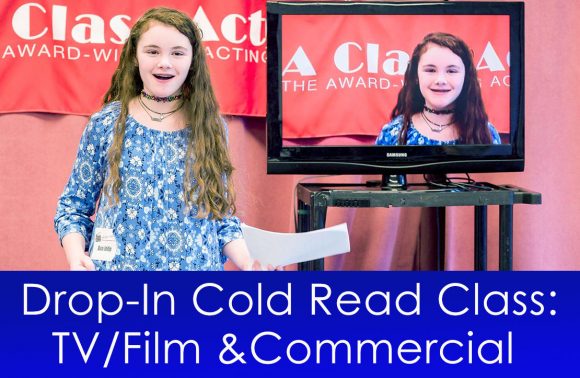 September 21 @ 11:00 am
-
December 14 @ 12:30 pm
EDT
Ages 8-14 | No Audition Required | 12 Saturdays, September 21- December 14 | 11 AM - 12:30 PM | Cost: $80 per class or $895 for all 12
Learn how to quickly pick up text with no time to prepare, break down the script and bring your best self to the audition room despite your lack of time with the material. Every week, students will be presented with new material!
Can't commit to all 12 classes? Come for one class, sign up for a few, or take all 12! Pay for all 12 at once, or pay by the class! SAVE $$$ when you commit to all 12-weeks!
Final Showcase: On the last day, there will be a final showcase attended by a few talent reps and loved ones! Even if you haven't been with us for the entire semester, you are invited to participate in the showcase and perform a cold read!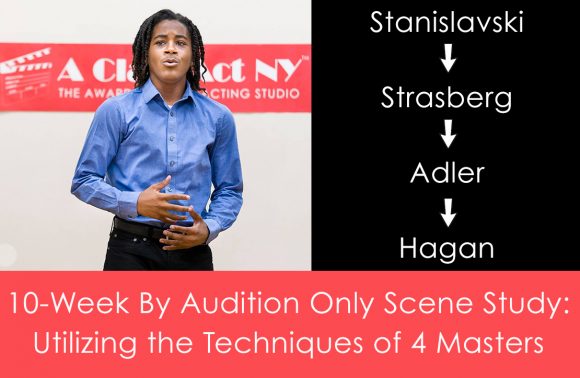 September 22 @ 11:00 am
-
November 24 @ 1:00 pm
EDT
Ages 12-19 | By Audition or Invite Only | Sundays, September 22 - November 24 | 11 AM - 1 PM | Cost: 895.00
From Stanislavski > Strasberg > Adler > Hagan
Payment Plans & Make-Up Class Available – please call our office at 212.315.3010 or email here to set up a payment plan today!
Students will learn to utilize these techniques in performances as well as in auditions, and will be able to determine which guru's style works best for them.
This class is perfect for the actor looking to delve deeper into their work and take their acting to the next level.
Final Showcase: Actors will present their scene work to loved ones and scouting Talent Reps.
+ Export Events