All events for 5-Week By Audition Only: On-Camera Teen Drama
Events List Navigation
January 2018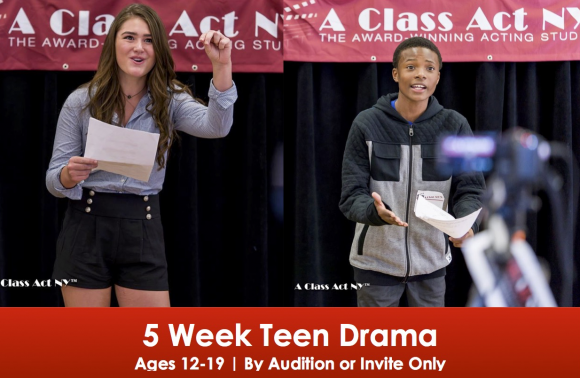 January 28 @ 11:00 am
-
1:00 pm
EST
Ages 12-19! By Audition Only! NEW SESSION JUST ADDED!
Video Audition Instructions:
Please perform a one-minute monologue from a play. Monologues MUST be memorized. If you need help finding a monologue, please contact our office. Click here for self-tape guidelines and video submission instructions.
Teen Drama is an on-camera class geared toward actors interested in learning techniques found in popular teen dramas, such as RIVERDALE, VAMPIRE DIARIES, THE BOLD TYPE, PRETTY LITTLE LIARS, GOSSIP GIRL, THE O.C. and SECRET LIFE OF THE AMERICAN TEENAGER!
Students will also learn to identify clues within the text as well as physical techniques to deliver the material that will help set them apart in their auditions. The class is geared toward young actors who are serious about their work. A considerable amount of memorization and homework will be required.
Events List Navigation