Voice-over acting is unlike any other type of acting! It requires that the actor make bold, gutsy choices that are original and specific and outside of the box! Learn how to create living, breathing characters for cartoons, animated feature films, commercials, and radio spots! ACANY's voice-over workshops give students the opportunity to learn this skill from industry professionals!

July 2019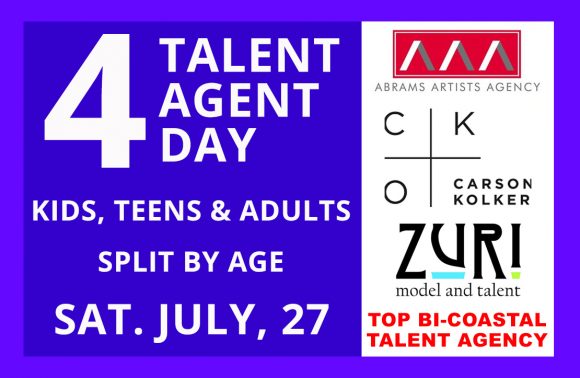 All Skill Levels | Ages 7-20s (Divided into rooms by age) | Saturday, July 27 | Cost: 195.00/290.00
Lucky participants have the amazing opportunity to work with either 2 or 4 Top Talent Agents in either a 1/2 day workshop or a full day 6.5 hour workshop!
3 Hour AM Workshop - Film & TV with 2 Top Agents
• Mock television and film auditions
• The Agents will offer guidance, feedback and coaching on both individual and chemistry read mock auditions (scenes will be sent a few days in advance)
3 Hour PM Workshop - Musical Theatre OR Acting with 2 Top Agents
• Perform either a one minute monologue OR a 16-bar cut. A music director will be provided for singers. Monologues will be sent in advance for non-singers.
• Actors will receive one-on-one coaching on their presentation, interpretation and audition technique.
Agents: Morning Session
• David Gilbert from Zuri Model & Talent
• Top Bi-Coastal Talent Agent (call or email us to find out who the agent is!)
Agents: Afternoon Session
• Sam Yabrow from Abrams Artists
• Barry Kolker from Carson Kolker
+ Export Events