In our adult workshops students can expect to receive coaching and feedback to further hone their skills while making industry connections that can help move their careers to the next level. The focus of our adult workshops range from seminars on the business of show business to agent showcases to workshops focused on specific skills like dance or on-camera acting.

November 2018
December 2018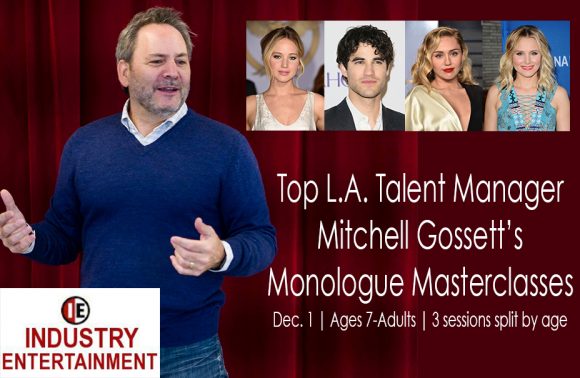 All Skill Levels | Ages 7-Adults, 3 Sessions Grouped by Age | Saturday, Dec. 1 | Cost 195.00
Sold Out! Join The Waitlist!
Work with powerhouse L.A. Talent Manager Mitchell Gossett of Industry Entertainment Partners in a monologue masterclass! Mitchell's storied success has allowed him to refer talent to agencies in NY, LA and across the USA.
Focus of Class: Learn Mitchell Gossett's 'ACTions' approach to delivering a memorable performance, perform a monologue for Mitchell Gossett, receive insightful coaching and feedback from Mitchell Gossett, perform a mock audition for Mr. Gossett, and walk away with personalized feedback.
Class will conclude with a Q&A and session for parents and students!
Mitchell has repped and developed many noteworthy actors, including Jennifer Lawrence (The Hunger Games), Miley Cyrus (The Last Song), Lucy Hale (Pretty Little Liars), Darren Criss (Glee), Zendaya (The Greatest Showman), and many, many others.
January 2019
February 2019
March 2019
April 2019
May 2019
June 2019
+ Export Events